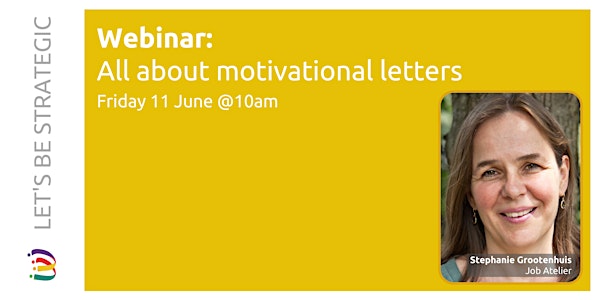 Let´s be Strategic Webinar: All about Motivational Letters
Let's be Strategic Webinar: All about Motivational Letters
About this event
Let's Be Strategic - Webinar: All about motivational letters Friday 11 June 10am
The motivational letter attached to any job application is the first glimpse that any potential employer has of you. So it is essential to ensure that it captures the attention of its reader. Why not join Career, Motivation & Leadership Coach Stephanie Grootenhuis for this interactive event covering the do's and don'ts of how to write a convincing motivational letter. Various examples will be showcased during the event, giving you a broader idea of the possibilities.
______________________________________________________________________________________________________
More about the event leader: Stephanie Grootenhuis
Born in Germany, raised partially in Canada and educated in Münster (MBA), Stephanie's first career was focused on market research. For companies of all shapes and sizes, from small to corporate, from local to global, she analysed human behavior, their wants and needs. After getting married, raising two children and spending many years in research and consulting as well as leading teams, she decided to live her passion for bringing hidden potential to life in a profession with more opportunities to do so.
Since 2014, Stephanie has been coaching others to find and venture into their dream job. As a trained Systemic Career & Leadership Master Coach, she specialises in career development and professional reorientation as well as leadership and motivational coaching.
*** Registered iwibdus Members please make use of the non-transferable promo code available on the members only section of the website (this will ensure that your event entry remains free) Link to Members Promo Code ***