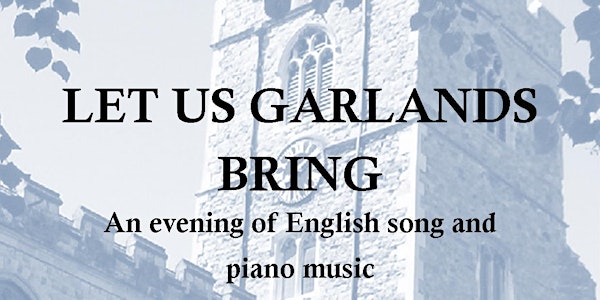 Let us Garlands Bring - an evening of English song and piano music
Location
All Saints, Fulham
Bishops Park
London
SW6 3LA
United Kingdom
All Saints Fulham is delighted to welcome Thomas McGowan and Benjamin Collyer for an evening of English song and Piano Music!
About this event
Programme:
Sea Fever - Ireland
Columbine - Ireland
The Vagabond - Vaughan Williams
The Towing Path - Ireland
Salley Gardens - Britten
O Waly Waly - Britten
Interval
King David - Howells
Master Finzi: His Ghoste - Pott
Let us Garlands Bring - Finzi
ABOUT THE PERFORMERS:
Thomas McGowan (Baritone)
Thomas McGowan is currently studying for a MA in vocal studies at the Guildhall School of Music and Drama, studying with Robert Dean and Stephan Loges. He is also currently a choral scholar at All Saints Fulham His singing career began as a treble at St. Mary's, Barnes under the direction of Daniel Turner.
In 2013, Thomas started at St. Paul's School where he further developed his singing as a baritone, regularly performing in recitals and as a soloist in larger orchestral works as well as taking on leading roles in musicals. Thomas began singing as a choral scholar in Christ Church Cathedral Choir, Oxford in 2018 where he learned under Bronwen Mills whilst studying for a BA in music.
As a keen solo singer, Tom has performed in a number of prestigious venues in the UK. Thomas made his operatic debut in 2019 with New Chamber Opera under the direction of Michael Burden playing the Count in Cimarosa's Il Matrimonio Segreto. More recent projects have included a Schumann Lieder recital at the Barbican's Milton court and several performances around London as part of the Guildhall School's Cantata ensemble.
Ben Collyer (Pianist)
Ben Collyer is a postgraduate organist studying at the Royal College of Music, where he holds the Richard Newton Scarth award. He is taught by David Graham, Andy Dewar and Sophie-Véronique Cauchefer-Choplin.
Ben is also the William and Irene Miller Organ Scholar at St Paul's Cathedral, London where he plays and conducts regularly for services.
Ben began his musical education at the age of 7 singing as a treble in the choir of St Thomas', Mellor. From 2016, he began studies at Chetham's School of Music with Christopher Stokes, during which he was awarded an A.R.C.O diploma from the Royal College of Organists. In 2018, Ben was awarded the Organ Scholarship at Christ Church Cathedral, Oxford, where he also studied for a BA in musicology.
During his time at Christ Church, Ben was appointed as one of the directors of Christ Church College Choir, which tours numerous cathedrals in the UK. He was also heavily involved with piano accompaniment, regularly performing in lunchtime recitals around Oxford.
As a solo organist, Ben has given recitals in prestigious locations both in the UK and abroad. Recent venues include L'Église Saint-Vincent de Carcassonne, Gloucester Cathedral and Sidney Sussex college, Cambridge. As a piano accompanist, Ben has recently begun working as a student repetiteur at the Royal College of Music and regularly accompanies singers across London.