Description
Let's Do China.
Grow your business. Expand your opportunities.
Calling ambitious and dynamic UK businesses!
Let's Do China is refreshing your current views on trading with China by exploring international trade initiatives.
This first workshop, in a series of events, showcases the opportunities awaiting you in the Golden Era 2.0.
It consolidates government and private sector perspectives - from a provincial outlook on import strategy to how to succeed alongside China's commerce giants - so you can kickstart or upgrade your China market presence.
It's going to be an interactive session, with an exclusive look at a UK brand's success in one of China's top e-platforms. Gain deeper insights into China's local trade relationships and embrace the opportunity to take the next, or beginning step in your trade journey to China.
#LetsDoChina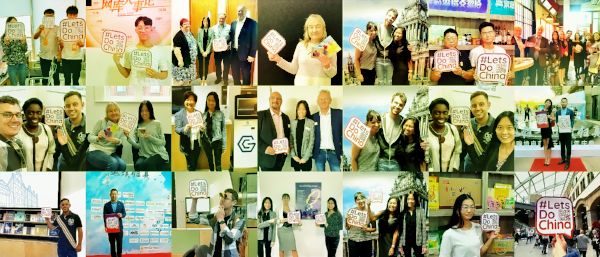 ---
China's e-commerce market accounts for over 40% of the global e-commerce transactions. China's cross-border e-commerce transactions (including retail and B2B) reached ¥6.7 trillion yuan ($1.01 trillion) in 2016 and increased significantly to ¥7.6 trillion in 2017. For 2018, that figure will likely jump to ¥9 trillion.
China is opening up wider for business, and it's calling for business to ride the wave of opportunities it offers.
Bringing together private and public sector perspectives, we'll equip you with the essentials that you need to know.
Here's what you can learn:
How you can consider IP protection and the new E-Commerce law into your export strategy

How the upscaled 35 cross-border e-commerce pilot zones, accelerating trade, benefits your business

The latest reductions of China import duties, trade policies, as well as logistics & customs

The practical side of Chinese e-commerce opportunities, including Alibaba's Tmall, JD.com, and VIP.com, via an in-depth case study

The increasing importance of social commerce, particularly WeChat and XiaoHongShu (Little Red Book), and third-party payments like WeChat Pay and Alipay
---
Refreshments and breakfast will be provided on all dates. Registration begins at 9AM. Book early, places are limited.
DATES & LOCATIONS:
Tuesday, 20 November 2018

Thursday, 22 November 2018

Wednesday, 28 November 2018
Organisers
ACOLINK, with our ambitions to bring global opportunities closer to local businesses, recognises that business leaders need accurate and up-to-date market information to put their best foot forward as China opens up wider to the world.

Our partnership with China Government agencies means that we're in an excellent position to relay the changes in China's market directly to you.
With the support of the China International Electronic Commerce Centre (CIECC), BQ, Ward Hadaway, Department for International Trade, and Chamber International, this Let's Do China event is a refreshing take on the path to China.