Craft4Smiles C.I.C. invites you to a fun paper crafting taster - try your hand at quilling and take home your own beautiful creation!
About this event
Craft4Smiles C.I.C. invites you to come along and try your hand at quilling, as a taster of the many paper crafts they work with. No previous experience is needed for this fun and friendly session. There will be small groups and a craft demonstration to help you make your own beautiful creation to take home. If anyone would like to take part but is unable to do so for health/mental health reasons, there are10 places for people to access via Zoom. If this would be the only option for you, email fiona@craft4smiles-cic.org.uk before booking. Advance booking only. Tickets: £5 per person.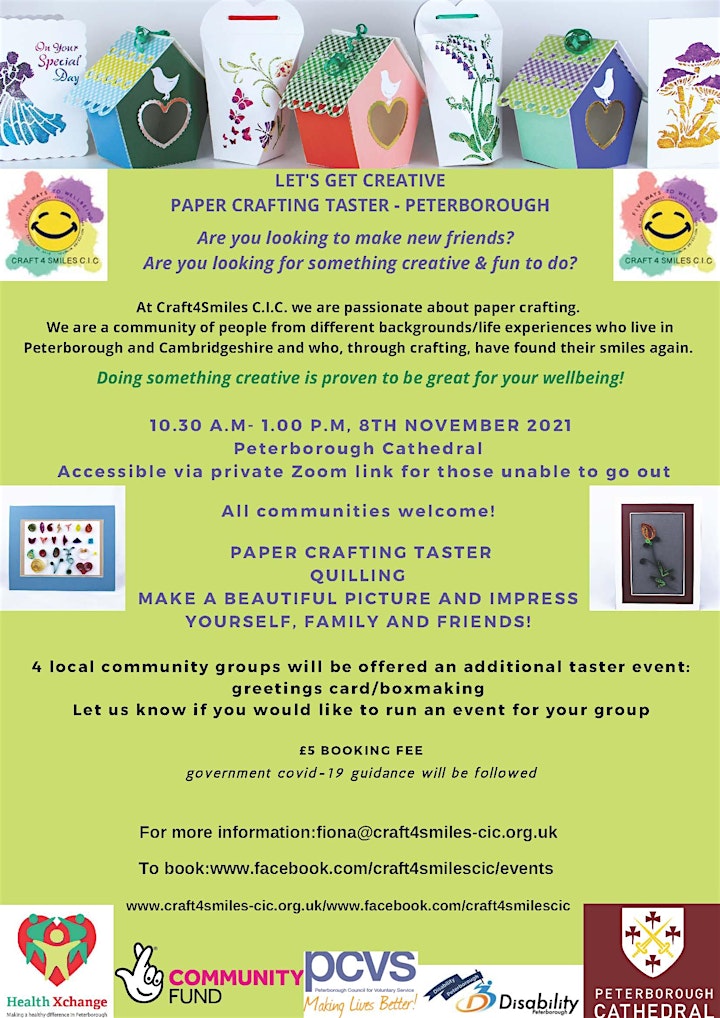 Organiser of Let's Get Creative - Paper Crafting Taster - Peterborough
Craft4Smiles C.I.C. is a community that is passionate about crafting and ensuring that as many people as possible have the opportunity to participate in the activities that have been of significant benefit to our own mental wellbeing. We specialize in paper crafting and mixed media work. Established as a social enterprise to work with adults aged 18 years and over, we aim to help to improve the life chances of adults who are experiencing mental health problems, isolation/loneliness and other issues that lead to exclusion, including Covid-19. We deliver online and face to face pop-up/taster events, 5 and 10 week and 1 to 2 year long craft courses for fun and to promote wellbeing. Workforce wellbeing is of increasing concern and we also run events for team awaydays and courses to support individuals returning from absence/sick leave.