Free movement performance, bringing to life the stories of those who lived and worked along the canal
About this event
Join us for a free community movement performance lead by ME dance company.
-
ME Dance have partnered with the Canal & River Trust to deliver a series of free performances and workshops along the canal from Birmingham to Netherton in preparation for the Commonwealth Games. A lot of the spaces used are post-industrial areas that have been reclaimed by nature, and then by people. Part of understanding the impact of the industrial revolution is understanding the changes it made not only in the lives of people, but in the world around it, and how those perceptions have and continue to impact on the climate emergency. ME Dance will share stories of those who lived and worked along the waterways including the chain-makers, nurses who came over as part of the Windrush and women such as the Pit-brow and Idle women.
This performance will take place at Bumble Hole and will explore the lives of the Idle Women who worked on the canal boats during WW2 and the community that greeted them.
This will be a boat performance and the audience will have the opportunity to watch from the towpath.
Schedule:
Arrival: 12pm
Performance:12:30pm
Optional Movement workshop (sign up on the day): 13:15 - 14:00
*Please note:
Under 16s must be accompanied by an adult. This event will have optional adapted seated movement. We encourage participants to come suitably dressed for movement and weather and bring their own water
Book now
COVID-19 compliance 2021
1, If you or a person in your support bubble have any symptoms of COVID-19 please do not attend the event
2, Spectators and participants, the rule of 6 applies
3, All equipment will be sanitised before each session
4, Hand sanitizer must be used prior to the event.
5, Where possible a 2 metre distance should be observed
We make the events as safe and fun as possible under the current circumstances
Walk ins will not be accepted. If you can no longer attend, please cancel your ticket via Eventbrite or please get in touch with us to allow another person(s) a chance to take part. Social distancing measures will be in place and all equipment will be cleaned in between sessions.
Donate to Let's Activity!
The Canal & River Trust's Let's Activity campaign is free to attend as part of our work as a waterways and wellbeing charity to help everyone get out, get active and make their lives better by water. You can now support the work our teams do with children and families and make a donation on our website here.
The Canal & River Trust are proud to be a founding partner of United by Birmingham 2022, the community brand of Birmingham 2022 Commonwealth Games. We share a common purpose - to have a positive impact on local communities, help the delivery of the Games and create a legacy for the future. We are doing this through three strands work - our Let's Activity programme which is delivering physical and cultural activities along our canals, Commonwealth Games Volunteering helping us make our canals and towpaths Games ready and Plastic Challenge 22 which seeks to tackle the global battle against plastic waste.
Follow us on social media
Be sure to follow us on Facebook and Twitter to keep up to date with the latest news and events.
Be sure to follow ME dance company on Facebook and Instagram.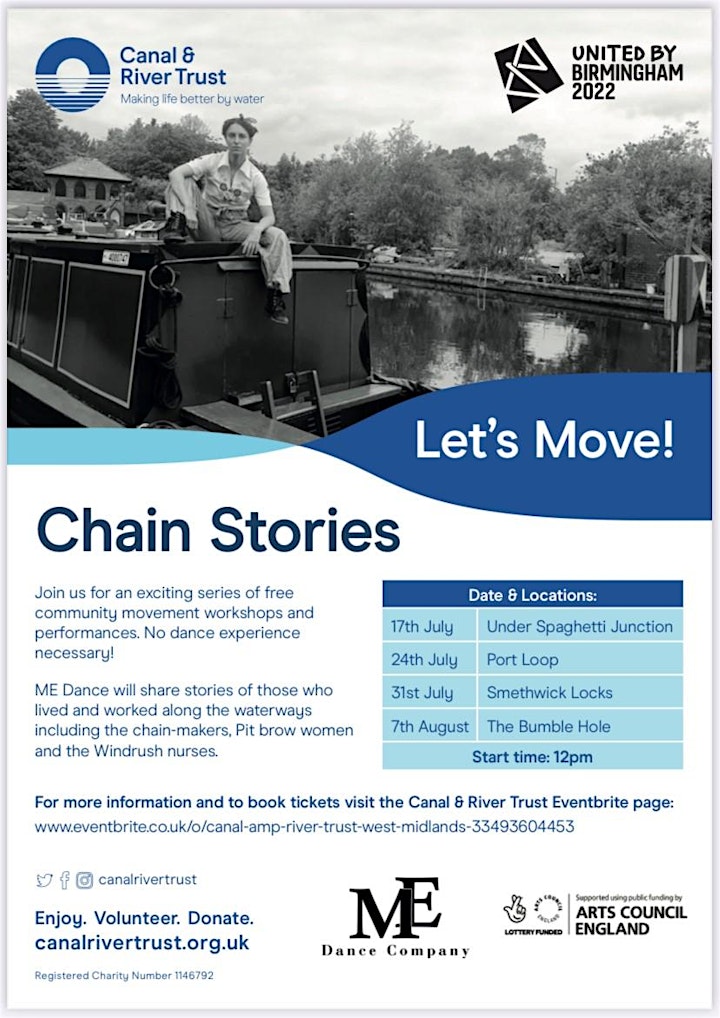 Organiser of Let's Move - Chain Stories (Bumble Hole)
We're the charity who look after and bring to life 2,000 miles of waterways, because we believe that life is better by water.

Our research shows that spending time by water, whether it be your lunchbreak, daily commute or just a weekend stroll, really can make us feel happier and healthier.

With ever increasing rates of obesity, stress and declining mental health in the UK, we are uniquely placed to make a significant contribution to improving the wellbeing of millions of people. Our canals and rivers run through some of the most heavily populated communities in England and Wales, providing accessible green and blue space where it's needed the most.

That's why, here at the Trust, we're working with volunteers and communities across England and Wales to transform canals and rivers into spaces where local people want to spend time and feel better. We know this will bring wellbeing opportunities to millions.

Our work involves not only looking after our waterways, but promoting them widely to the eight million plus people who have waterways on their doorstep so that many more people benefit from our free, accessible and local source of wellbeing.

We have a range of events which you will be able to take part in around your local waterways.