Let's Ride Pop Up - Ready Set Ride - Balance Bike (LEARN TO RIDE) Drop In
About this Event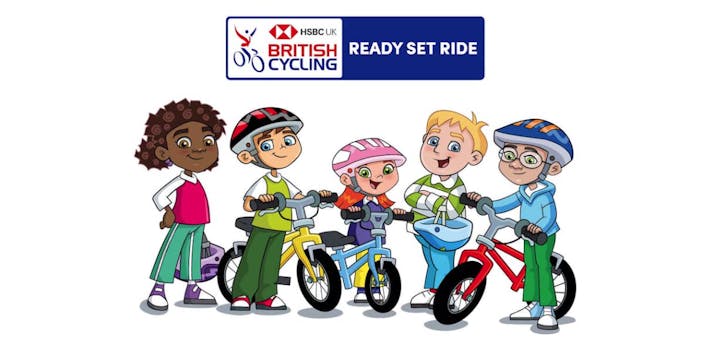 HSBC UK Go Ride are running their Ready Set Ride - Skill 2 Ride - Balance Bike Drop In session alongside the British Cycling Let's Ride Pop Up Newcastle.
This session is aimed for children who would love to learn how to ride their bikes.
This session is a drop in and an opportunity for you to bring your young rider along to work on their skills and also ask questions. This event is in partnership with the British Cycling Newcastle Let's Ride Pop Up in Exhibition Park. This event is about parents supporting their children learning to ride using the www.Readysetride.co.uk resources. There will be a number of activities available for the parent to try out with there child/children. Please know that coaches will try and help your child on to pedals but due to number of children this may not be possible and the coach will only try this with children that they believe are ready.
It is recommended you bring your own bike (we only have a small amount of bikes available on the day) for children to borrow. If you have any queries regarding this event please email melissamarshall@britishcycling.org.uk
Below is all the information you need regarding the Let's Ride Pop Up. If you would like to come along as a family you can book your family on through this link. https://www.letsride.co.uk/rides/lets-ride-pop-up-exhibition-park-newcastle . Gosforth Road Club will also be on hand if you would like to talk to them about their Go Ride (youth) section of the club including when they run, how they run and opportunity for you to speak to the club coaches.
----------------------------------------------------------------------------------------
FOR TRYING SOMETHING NEW. FOR CYCLING A MILE OR TWO. FOR EVERYONE. Why not try out come along to Exhibition Park for the Newcastle Let's Ride Pop Up.
Come and join us at Exhibition Park for a free taster of all things cycling in Newcastle!
Whether you want to ride for fun or fitness, this free monthly pop-up event gives you the chance to ride a traffic-free cycle circuit as many times as you want, at a pace that suits you.
The event is open to all ages and abilities and the circuit is easy to ride, with volunteers on hand throughout, ensuring peace of mind and safety for all cyclists.