About this Event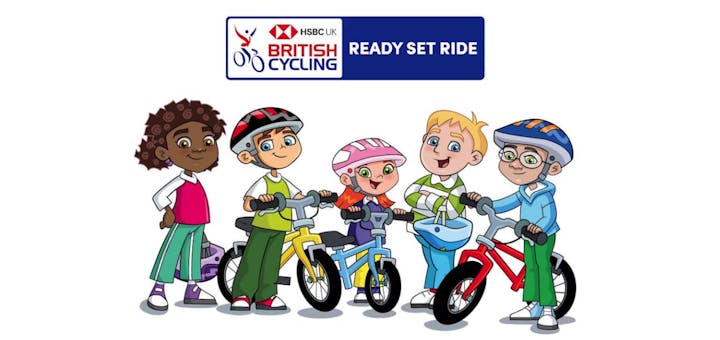 HSBC UK Go Ride are running their Ready Set Ride - Skill 2 Ride - Parent Led Balance Bike session alongside the British Cycling Let's Ride Pop Up Newcastle.
This session is to support parents who are wanting to teach their children how to ride a bike. The session is a drop in and an opportunity for you to bring your young rider along to support their cycling journey.
The session will have a number of balance bike activities that parents will be able to do with their children. All the activities are from the British Cycling Ready Set Ride resource (for more information you can check out www.readysetride.co.uk ) . The activities are aimed at the balance bike level and are simple to follow and will help you get a better understanding of where your child is in terms of their progress. The activities are aimed at parents so you can expect all activities to be aimed at a level that you fully understand. The resources also have ways to make activities easier or harder for your child depending on where they are in their cycling journey. The resources have a range of questions which gets you and your child talking about what they are doing so they get a full understanding of why they are doing the activity.
The coach and volunteers will be on hand to support parents who have questions and will show parents how they can transfer their children on to pedals. The coach and volunteers will not be doing 1 to 1 with any children at the sessions, we are happy to show you tricks and tips on getting your child on to pedal but please understand that we will expect you to get involved in the session. This event is in partnership with the British Cycling Newcastle Let's Ride Pop Up in Exhibition Park. Below is all the information you need regarding the Let's Ride Pop Up. If you would like to come along as a family you can book your family on through this link. https://www.letsride.co.uk/rides/lets-ride-pop-up-exhibition-park-Newcastle .
It is recommended you bring your own bike (we only have a small amount of bikes available on the day for children to borrow) If you do need to borrow a bike please understand that if all bikes are being used you will be asked to wait which is why we recommend bringing your own. If you have any queries regarding this event please email melissamarshall@britishcycling.org.uk
----------------------------------------------------------------------------------------
FOR TRYING SOMETHING NEW. FOR CYCLING A MILE OR TWO. FOR EVERYONE. Why not try out come along to Exhibition Park for the Newcastle Let's Ride Pop Up.
Come and join us at Exhibition Park for a free taster of all things cycling in Newcastle!
Whether you want to ride for fun or fitness, this free monthly pop-up event gives you the chance to ride a traffic-free cycle circuit as many times as you want, at a pace that suits you.
The event is open to all ages and abilities and the circuit is easy to ride, with volunteers on hand throughout, ensuring peace of mind and safety for all cyclists.