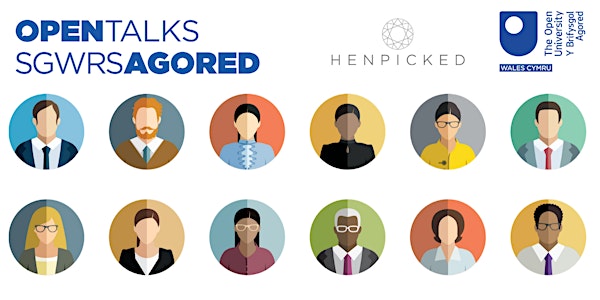 Let's talk about menopause / Gadewch i ni drafod y menopos
Location
The Angel Hotel - part of The Cairn Collection
Castle Street
Cardiff
CF10 1SZ
United Kingdom
Sales Have Ended
Registrations are closed
Thank you for booking. We really look forward to seeing you on Tuesday 25th February at 17.15. The event will open for registration at 17:15. There will be refreshments before the audience is seated at 17:30. Please make sure you bring your ticket with you, either electronically or printed out. If you have any queries in advance, please contact wales-events@open.ac.uk. Diolch am drefnu lle. Edrychwn ymlaen at eich gweld ddydd Mawrth 25 Chwefror am 17:15. Bydd y digwyddiad yn agor er mwyn cofrestru am 17:15. Darperir lluniaeth cyn bod pawb yn cymryd eu seddi am 17:30. Gwnewch yn siŵr eich bod yn dod â'ch tocyn gyda chi, naill ai'n electronig neu wedi'i argraffu. Os bydd gennych unrhyw ymholiadau cyn y digwyddiad, cysylltwch â wales-events@open.ac.uk.
Did you know that menopausal women are the fastest-growing population at work?
About this event
Menopause is often thought of as a private, even taboo, subject and one which has nothing to do with employment.
However, there are many reasons why employers need to pay attention to the menopause, such as:
8 out of 10 menopausal women are in work
3 out of 4 experience symptoms and as many as 1 in 4 have serious symptoms
Half have never consulted a healthcare professional about their menopause
Research also shows that most women are unwilling to discuss menopause-related health problems with their line managers or ask for any support they may need.
OU academic, Professor Jo Brewis, will draw on research findings and discuss menopause in the workplace. She'll explore the effects it can have on people's experiences at work and, equally, the effects of the workplace on menopausal symptoms.
Jo will be joined by Julie Glyn-Jones, a registered nurse and trainer for Henpicked. Julie will explore menopause in the workplace from a health perspective, discussing ways of managing symptoms and the medical, diet, holistic and lifestyle interventions available.
We'll take an overall look at why menopause should be understood at work and, importantly, that it's not just a "women's issue". There'll be opportunity to discuss and debate this topic and ask our experts your questions.
Wyddoch chi mai menywod sy'n mynd drwy'r menopos yw'r boblogaeth sy'n tyfu gyflymaf yn y gwaith?
Yn aml, caiff y menopos ei ystyried yn bwnc preifat, yn dabŵ hyd yn oed, ac yn rhywbeth nad yw'n ymwneud â chyflogaeth o gwbl.
Fodd bynnag, mae nifer o resymau pam bod angen i gyflogwyr dalu sylw i'r menopos, megis:
mae 8 ym mhob 10 o fenywod sy'n mynd drwy'r menopos yn gweithio
mae 3 ym mhob 4 yn cael symptomau ac mae cynifer ag 1 ym mhob 4 yn cael symptomau difrifol
nid yw hanner ohonynt erioed wedi siarad â gweithiwr gofal iechyd proffesiynol ynglŷn â'u menopos
Mae gwaith ymchwil hefyd yn dangos bod y rhan fwyaf o fenywod yn amharod i drafod problemau iechyd sy'n gysylltiedig â'r menopos gyda'u rheolwyr llinell neu ofyn am unrhyw gymorth sydd ei angen arnynt.
Bydd academydd y Brifysgol Agored, yr Athro Jo Brewis, yn tynnu ar ddarganfyddiadau gwaith ymchwil ac yn trafod menopos yn y gweithle. Bydd yn archwilio'r effeithiau y gallai eu cael ar brofiadau pobl yn y gwaith ac yn yr un modd, effeithiau'r gweithle ar symptomau'r menopos.
Yn ymuno â Jo fydd Julie Glyn-Jones, nyrs gofrestredig a hyfforddwr Henpicked. Bydd Julie yn archwilio menopos yn y gweithle o bersbectif iechyd, yn trafod ffyrdd o reoli symptomau a'r ymyraethau meddygol, dietegol, holistig a'r ymyraethau ynglŷn â ffordd o fyw sydd ar gael.
Byddwn yn edrych yn gyffredinol ar pam y dylid ennill dealltwriaeth o'r menopos yn y gwaith ac, yn bwysicach, nad "mater i ferched" yn unig ydyw. Bydd cyfle i drafod a dadlau am y pwnc dan sylw, a chewch ofyn cwestiynau i'n harbenigwyr.