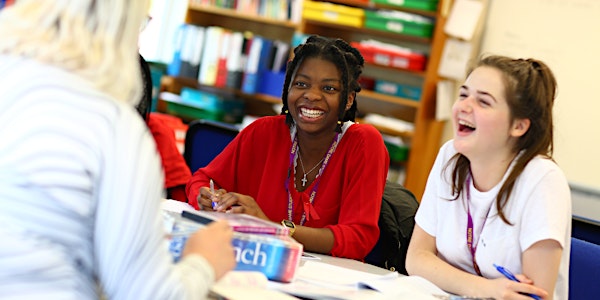 Let's Talk About Race: Uni Connect Staff CPD Event for Schools and Colleges
Sales Have Ended
Registrations are closed
Registration has now closed for this event. Please contact Mary Owoo (m.owoo@notredamecoll.ac.uk) or Charlotte Garfoot (charlotte.garfoot@leedscitycollege.ac.uk) if you would still like to sign-up.
Part of a race & education mini-series, this session will provide a broad introduction to the key themes for school, FE & HE staff.
About this event


***
This session is part of a GHWY two part series focusing on race and education, supported by Prof Vini Lander. Our other session 'Addressing race inequality in higher education' takes place on 9th March and will present research, good practice and student voice, with a focus on HE outcomes (the primary audience is staff in HE providers). For more details and to register for this session, please click here.
***
Session details
This session is an introduction to the ongoing sector-wide conversation about race and inequality in education. The session will define and examine terminology, delineate different forms of racism, and provide definitions to help develop audience understanding. Let's Talk About Race also aims to provide a forum for examining students' varying experiences of school and college life.
The event will begin with a presentation from Vini Lander, Professor of Race and Education and Director of the Centre for Race, Education and Decoloniality in the Carnegie School of Education, at Leeds Beckett University; followed by a short presentation on a school-led Black African and Black Caribbean student engagement project called Kaleidoscope with insight from some of the students who are taking part.
Professor Lander's research focuses on race, ethnicity and education. She uses critical race theory as a theoretical framework to examine 'race' inequalities in education, specifically in teacher education. The persistence of educational inequality from early years to higher education has spurred Vini to work with teachers to think beyond the status quo, which may perpetuate these inequalities.
Key features:
Keynote presentation from Vini Lander, Professor of Race and Education at Leeds Beckett University
Introduction to the Uni Connect Kaleidoscope Project, led by Notre Dame Catholic Sixth Form College in Leeds, supported by Leeds City College and Leeds Beckett University
Student contributions
Q&A
Purpose of the event
Our core objectives for the session are as follows:
Attendees grow their knowledge and understanding of circumstances pertaining to the BAME attainment gap and wider race inequality in education
Attendees feel better equipped to strategically support the educational success of BAME students within their institution
Attendees are able to takeaway some new practical ideas for how to support their BAME students
Intended audience
The primary audience for this event is staff working in schools and colleges across West Yorkshire and could include:
School/college leaders
Teaching staff
Support staff
Personal tutors
Outreach/widening participation staff
Curriculum/pedagogy staff
HE providers: this session is also open to any staff from GHWY's 13 HE provider partners, encompassing:
Bradford College
University of Bradford
Calderdale College
University of Huddersfield
Kirklees College
University of Leeds
Leeds Arts University
Leeds Beckett University
Leeds College of Building
Leeds Conservatoire
Leeds City College
Leeds Trinity University
Wakefield College
Joining instructions
Joining instructions will be emailed to all registered attendees at least two days prior to the online event.
Further information
If you have any questions about this session please contact:
Mary Owoo (Notre Dame Catholic Sixth Form): m.owoo@notredamecoll.ac.uk
Charlotte Garfoot (Leeds City College): charlotte.garfoot@leedscitycollege.ac.uk