Let's Talk About Secularism - Roundtable Discussion - BMSDemocracy & Hidaya...
Description
Hidayah and British Muslims for Secular Democracy are collaborating to bring you a 4 part roundtable series, discussing the depths of LGBT+ British Muslim experience and identity.

"Let's talk about Secularism" is the third of a 4 part roundtable series to discuss the intersectionality of sexuality and religious identity in a secular context.
Muslims have a rich and complicated history with secularism but many Muslims today feel alienated from the subject. We wish to explore the pros and cons of the secular movement, if our roundable attendees feel secularism is the best foundation for peace and how it can better support LGBT+ Muslims.
Topics will include:
Is Britain really secular?
Can one be a secular Muslim?
What is religious freedom and where do we draw the line?
Is secularism tainted by countries that abuse the concept?
Are LGBT+ Muslims left out of discussions regarding secularism and religious freedom?
Why do some Muslims find secularism problematic?
Is secularism the best foundation for pluralism?
We welcome everyone regardless of gender, sexuality or religious identity to attend so that we can listen, break down barriers, and learn from each other's experiences. This roundtable discussion will be an open and inclusive safe space for all where individuals will be able to discuss pertinent topics that many communities are reluctant to address.
Join us for an honest, stripped back and eye-opening discussion on the 20th of Feb, 6:30-8:30 pm at Human Rights Action Centre, New Inns Yard, London. As we have a limited capacity of 20 for each roundtable, tickets are £5 to reserve your seat at the table. Have your say and book today.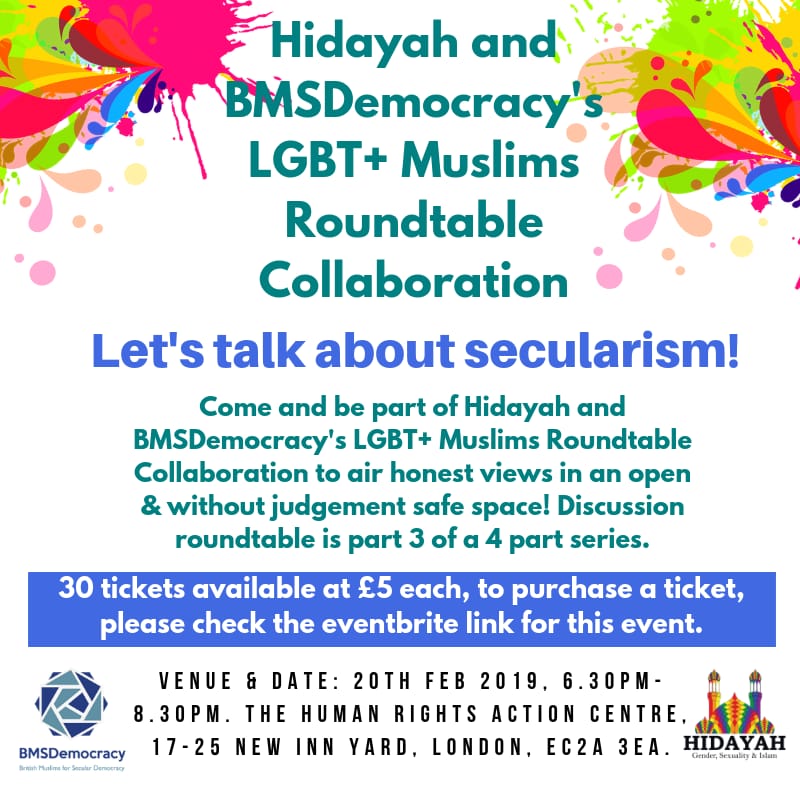 Hidayah is a leading LGBT+ community organisation created to increase the representation, acceptance and equality of LGBT+ Muslims by providing a public face to the community and creating spaces to communicate. BMSDemocracy is a secular inclusive organisation that brings together the rich cultural, ethnic and doctrinal diversity of British Muslims. It stands at the cutting edge of the discourse on what it means to be a Muslim in Britain today.
BMSDemocracy & Hidayah support human rights, civil liberties, and equality for all, regardless of religion, denomination, lack of religion, race, gender identity and sexual orientation.
Hidayah is known for their excellent roundtable discussions, which address difficult topics and amplify LGBT+ voices all within the confines of safe spaces. This series is part of BMSDemocracy's 'Supporting Minority Muslim Voices' campaign, which is why both organisations are proud to bring you this 4 part roundtable series.