Let's Talk Money - Youth Money Management Workshop
About this event
KBM EduWealth & YoungSpender work together to deliver an exciting new online 5 week money management workshop for the youth, FOR FREE! in collaboration with the education and economic empowerment team at 100 Black Men of London.
This is a great opportunity for young people to build a strong financial foundation and build skills to last them a lifetime. Unfortunately schools do not teach this enough and in such uncertain times, this is a life skill that can not be missed.
Each student will receive a booklet to keep, with further information and somewhere to write their notes. All students that complete the course will receive a certificate from 100 Black Men of London.
There are also prizes to be won at the end for students who have shown progress and understanding.
The age range this course is designed for is 14 - 18 year olds.
Schedule below
13/02/21 @2pm - What is Money?
20/02/21 @2pm - Budgeting and Saving
27/02/21 @2pm - Good Debt vs Bad Debt
06/03/21 @2pm - Credit Rating, Credit Scores & Credit Reports
13/03/21 @2pm - Financial Goals & Planning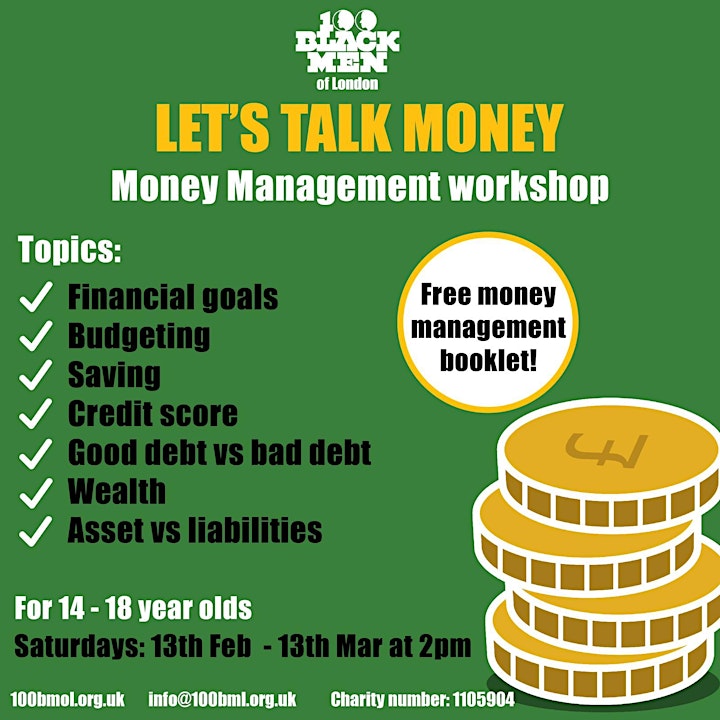 Organiser of Let's Talk Money
An early intervention tool dedicated to improving the quality of financial health especially between the ages (10-21)
We believe that the foundation to building wealth and more importantly keeping it, is through financial education.
We deliver workshops that that teach teenagers and adults how to build strong financial foundations in both their personal life and in business. We aim to leave the students with the knowledge to improve their financial situations and ensure growth.
We create programmes, workshops, events and syllabus's to be taught and used to empower people to have the right tools to be financially self-efficient.