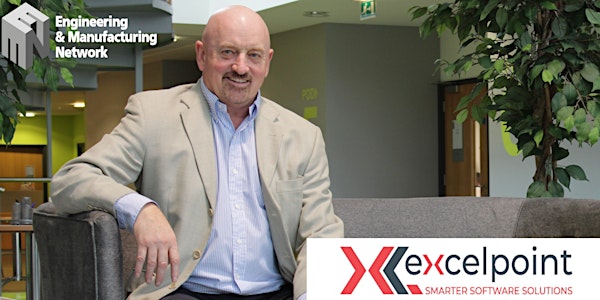 Lets Talk: Technology's role in automating business processes in mfg.
Location
Excelpoint Limited
Heighington Lane
Newton Aycliffe
DL5 6AH
United Kingdom
How businesses can adopt technology and use digital tranformation to improve their processes.
About this event
Join the Engineering and Manufacturing Network and Excelpoint for a morning of networking and hear from Ian Brown, Managing Director of North East tech firm Excelpoint about the role of technology in automating business processes in the manufacturing and engineering sector.
Ian is passionate about empowering organisations to adopt a digital transformation and continuous improvement strategy. He has a proven track record of implementing enterprise-wide business process software systems and helps organisations to become smarter, streamlined and customer-focused.
Drawing on a range of case studies from the sector, Ian will provide an insightful presentation to stimulate ideas and answer questions on:
• Creating automated, streamlined and efficient business processes
• Enhancing the customer and employee experience
• Reducing time to value, costs and technical debt
• Replacing or complementing legacy systems
• Embracing a data-driven strategy
• Empowering senior stakeholder decision making with real-time reporting
• Achieving a successful enterprise-wide digital transformation
9:30 am Breakfast and Networking
10:00 am Welcome and introductions from EMN
10:10 am Excelpoint and Ian Brown presentation
10:40 am Questions and Answers
10:50 am Networking
Excelpoint invited Mike Matthews to dicuss digital and what it means for the manufacturing sector.
https://www.excelpoint.co.uk/podcasts/revolutionising-the-manufacturing-sector-through-digitalisation/