Sales Have Ended
Ticket sales have ended
We regret that this retreat is now fully booked. If you would like us to let you know if a place should become available, please record your interest for the waiting list. Thank you.
Sales Have Ended
Ticket sales have ended
We regret that this retreat is now fully booked. If you would like us to let you know if a place should become available, please record your interest for the waiting list. Thank you.
Description
Letting Our Life Speak: Our place in the common stream
a Circle of Trust® weekend retreat
"Before you tell your life what you intend to do with it, listen for what it intends to do with you. Before you tell your life what truths and values you have decided to live up to, let your life tell you what truths you embody, what values you represent."
— Parker J. Palmer
We live in ever-changing and challenging times. We are often in transition, living life in unexpected ways. At times we may struggle to reconcile our inner lives with the outer worlds we inhabit. You are invited to join with others in this contemplative retreat to reflect, renew, and reconnect with the inner passion, courage and sense of purpose that gives meaning to your work and life in the world. As individuals in our various life and work roles, this is an opportunity to share unique gifts, responsibilities and perspectives. In retreat, through conversation, creative process, and deep listening we create space to (re)discover the inner wisdom that guides and sustains us in our life passages – our everyday life connections, our life at work, our place in the common stream.
Our Let Your Life Speak retreat offers you a rare, focused and reflective space in the presence of a supportive community to engage questions of importance to you and deepen your understanding of the relationship between who you are and what you do.
Courage & Renewal® retreats
foster personal and professional renewal by offering the time and space to:
pause, disconnect from technology and be still
explore where you are on your journey
talk through and honour both struggles and successes
witness and be witnessed; listen and be listened to
learn new skills for strengthening your capacity to ask open and honest questions, hold tensions, and rejoin soul and role
The process:

Together, we will engage in large and small group conversations, drawing inspiration for these from poetry and writings and stories. We will share silence, solitude and reflective journaling, and hear tales from our own lives and work. Together we follow a shared exploration of the intersections between our inner passion, courage and sense of purpose that give meaning to our life and work in the world. There will also be an opportunity to participate in a Clearness Committee, a discernment practice designed to help individuals hear their own inner wisdom while drawing on the wisdom of others.
Who should participate:
The retreat welcomes people who are seeking opportunities for reflection and renewal as a means of illuminating their own life journey, or enhancing their leadership role in work, organisational or community settings.
This retreat draws on the work of Parker Palmer and the programmes of the U.S.-based Center for Courage & Renewal. This approach to 'personal formation' and professional development is founded on the belief that good leadership, in the very widest sense, - the ability to genuinely be of service in communities and workplaces, - flows from the identity and integrity of the individual. The retreat process invites participants to reclaim wholeness of self and clarity of vocation while making connections between the renewal of one's spirit and the revitalisation of the communities and workplaces of which we are part.
Dates and times:
Start time:
- check-in from 3.30pm, in time for a 5.00pm start, Friday 13th October 2017
End of retreat:
- 1pm Sunday 15th October 2017 with lunch afterwards, and optional Q&A session ending at 3pm
The retreat is residential for all participants. We begin on Friday evening with a check-in from 3.30 p.m. and the initial gathering at 5:00 p.m. We end on Sunday afternoon after lunch at 2pm, with an optional Q&A session afterwards which will end at 3pm. Participants are asked to arrive in good time so they can settle in before the first session on Friday at 5pm, and to plan to stay for the whole of the retreat.
It may be possible to extend your stay at Trigonos. Please contact the venue directly about this.
Our venue:
Trigonos, Plas Baladeulyn, Nantlle, Caernarfon, LL54 6BW, north Wales.
t 01286 882388; e info@trigonos.org ; w www.trigonos.org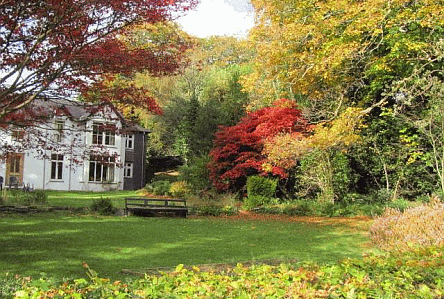 Trigonos is a beautiful outdoor learning and retreat centre in the Nantlle valley just outside Caernarfon in north Wales. The centre looks out towards a lake and the Snowdon range. There are spacious gardens and comfortable meeting rooms and gathering areas. Food is freshly prepared and vegetarian, with much of the produce being home grown. Bedrooms are a mixture of singles and twins, some with shared facilities, and are simple and uncluttered. Trigonos is a not-for profit organisation with strong values on energy, bio-diversity, food quality, waste management and employment practice.


Travelling to Trigonos:
Please go to http://www.trigonos.org/conferences/ for full details on how to travel to Trigonos.
Cost:
There are two elements: the retreat fee, and the accommodation fee.


- Retreat fee:
Earlybird fee (before 31st August): £270 (note: accommodation
not included - see below

)



Full price (after 31st August): £300 (note: accommodation not included - see below)
The retreat fee includes all materials and facilitation by two skilled Center for Courage & Renewal facilitators.


- Accommodation fee:
Once you have booked your place on the retreat, you will receive a separate booking form for your accommodation at Trigonos. The accommodation fee is paid directly to Trigonos. Details of the types of accommodation and approximate fees are below. The fee is for the whole of the retreat time, and includes delicious vegetarian meals (dinner on Friday and Saturday, breakfast on Saturday and Sunday, lunch on Saturday and Sunday), teas/coffees and snacks. Specific dietary requirements can be accommodated. Please note that accommodation type is subject to availability.
Single ensuite room: £197
Twin ensuite (per person): £187
Single non ensuite room: £171
Twin non ensuite (per person): £157
Registration:
Please complete the registration form on this page.
(The online address is http://lettingourlifespeakoct2017.eventbrite.co.uk )
Payment of the retreat fee is required on registration. You may pay by credit or debit card online, or you may choose to pay by cheque. Cheques must be received within 7 days of your completing the registration form and made payable to Barbara Reid. Please contact Barbara Reid if you need to ask about other payment options.
Cancellations:
After registering you may withdraw your application 8 weeks prior to the event start date, at which point you will be offered a refund, minus a 20% administration fee. If you cancel your place on a course within 8 weeks of the event commencement date, no refund will be offered.
Facilitators:
Kirstin Anglea and Barbara Reid will be your facilitators. They trained together as facilitators with the Center for Courage & Renewal and co-facilitated together in 2015.
Barbara Reid, PhD is a U.K.-based facilitator of Circles of Trust, and trained at the Center for Courage & Renewal in the U.S. She has worked as a university teacher and researcher in the social and urban policy fields since 1986, leading vocational degree programmes and managing social action research projects for public services and third sector organisations. With a long-standing commitment to contemplative and reflective practice in education, Barbara is also a teacher of Mindfulness Based Approaches, and is a member of the core team at the Centre for Mindfulness Research & Practice at Bangor University. She now divides her time between delivering university skills trainings and developing learning programmes in a range of organisational and community settings.
Kirstin Anglea, Ed.D. has over 25 years' experience in education as a public school teacher and administrator in the United States. Kirstin served as Assistant Professor at Cardinal Stritch University and Chair of their Master of Arts Teacher Education program and contributed to the founding of an environmental based charter school in Milwaukee, Wisconsin. Kirstin's doctoral work focused on teacher and school renewal based on Parker Palmer's Courage to Teach work and related literature. An experienced facilitator, she recently completed her formal training as a Courage & Renewal Facilitator. She is the Environmental Education Manager at Urban Ecology Center, a non-profit organisation in Milwaukee working in the field of environmental sustainability.
Additional information / queries:
If you are unfamiliar – or even if you are familiar with the work of Parker Palmer and the Center for Courage & Renewal, you might like to look at some of Parker Palmer's books - "A Hidden Wholeness", "The Courage to Teach", and "Let Your Life Speak". Further information is available on the Center for Courage & Renewal's website - www.couragerenewal.org
If you have any questions about registration or about the Circle of Trust approach / the Center for Courage & Renewal, please contact Barbara Reid on 01733 252322 or email beereid@gmail.com