[Leuven] Excited About Your Story: Tell it like a TED Pro

Wednesday, 19 September 2018 from 09:30 to 12:45 (CEST)
Event Details
Great leaders tell great stories. Stories have the power to touch people's deepest emotions. And emotions are the wellspring of loyalty, trust, co-operation and action. You will succeed more often, more quickly and more completely as you master the power of stories. And, as a human being, you are a natural born storyteller with full access and rights to the best that story has to offer. In this excellent session, you will learn how to unleash your own innate powers and have others be Excited About Your Story.

Topics covered in the session will include:

Why the ability to tell a compelling story is essential for startups 

5 elements of a strategic story 

Strategies for pitching in front of various audiences: clinical vs. non-clinical vs. investors 

How to embed storytelling into all aspects of your business and pitches
Agenda:
09:30 | Event Registration and Coffee
10:00 | Welcome and Presentation 

11:00 | Discussion and Q&A

12:00 | Networking Lunch

12:45 | Programme Close
Speakers:
John Bates | Chief Executive Officer & Executive Whisperer, Executive Speaking Success & Business Coaching
Event Partner:

flanders.bio is an independent life sciences cluster organisation based in Flanders, Belgium.

Fees:
€35 | General Public
€15 | Academics & Students
Location:
Faculty Club, Groot Begijnhof 14, 3000 Leuven, Belgium
Speaker Bios:
John Bates | Chief Executive Officer & Executive Whisperer, Executive Speaking Success & Business Coaching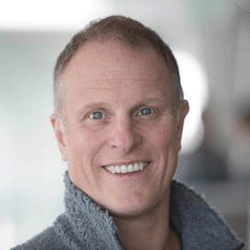 John Bates has spoken, hosted and coached for over 30 different worldwide TED and TEDx events. His group trainings are world famous and executives from companies like Johnson & Johnson Innovation Labs, Accenture, NASA, IBM, Boston Scientific and more, recommend him to their colleagues as the best communications and leadership trainer working today. Long ago John fell in love with the Internet the moment it dawned on him what it would do for communication. Since then he has worked with early-stage companies as a Founder or early employee has been instrumental in raising hundreds of millions of dollars in Venture Capital and has always earned the title Chief Evangelist. He Co-Founded BIGWORDS.com, a dotcom darling which ended up going bust in the dotcom bomb of 2000, and he was the first employee and is a part owner of current Internet powerhouse Goldstar.com. John is a co-author of World Class Speaking in Action, an Amazon best-seller, a columnist for INC.com and loves making a difference for those who make a difference.
When & Where

Faculty Club
Groot Begijnhof 14
3000 Leuven
Belgium


Wednesday, 19 September 2018 from 09:30 to 12:45 (CEST)
Add to my calendar
Organiser
About Johnson & Johnson Innovation, JLABS
Johnson & Johnson Innovation, JLABS (JLABS) is a global network of open innovation ecosystems, enabling and empowering innovators to create and accelerate the delivery of life-saving, life-enhancing health and wellness solutions to patients around the world. JLABS achieves this by providing the optimal environment for emerging companies to catalyze growth and optimize their research and development by opening them to vital industry connections, delivering entrepreneurial programs and providing a capital-efficient, flexible platform where they can transform the scientific discoveries of today into the breakthrough healthcare solutions of tomorrow. At JLABS we value great ideas and are passionate about removing obstacles to success to help innovators unleash the potential of their early scientific discoveries. JLABS is a no-strings-attached model, which means entrepreneurs are free to develop their science while holding on to their intellectual property. JLABS is open to entrepreneurs across a broad healthcare spectrum including pharmaceutical, medical device, consumer and healthtech sectors. The JLABS flagship opened in 2012 in San Diego at Janssen's West Coast Research Center, and since then has grown to ten global locations including the Bay Area, Boston & Lowell, MA, Houston, Toronto, Beerse (Belgium), with New York City, opening in June 2018, and Shanghai in 2019. For more information please visit www.jlabs.jnjinnovation.com or follow @JLABS.