Description
Course Overview

This 3-day course focuses on industry specific IR topics related to electrical applications!
Typical infrared courses teach attendees multiple IR applications.
Our courses focus on specifics: the electrical application of infrared.
Courses include practical training, course materials and lunch. On completion you receive a Level 1 Infrared Thermography Certificate and an ID card.
Cost: £1,200 + VAT per person
Only 10 places are available per course.

If you are certified but know someone who may be interested please pass this along.

Primary Audience: Journeymen or Master Electricians
Prerequisites: None for the Level 1 course.

Course Objectives
Understand Basic Infrared Camera Setup (using ANY brand and model)
Understand the Fundamentals of Infrared
Understand Thermography
Understand Heat Transfer
Understand Electrical Applications
How to Install IRISS Product Lines
Understand Software and Reporting (using ANY brand of camera)
Course Instructor: Your course instructor is Paul Goodbody. Paul is the IRISS Lead Trainer and is a Level 3 Thermographer. He has been running the training courses for IRISS for 4 years in both the UK and the USA.
Students Receive
Certificate
Course Resource Manual
Courses are delivered by our expert and trusted partner organisation - IRISS. IRISS is a global leader in Electrical Maintenance Safety Devices and is able to offer first class training programmes at its new customised training facility in Essex.

IRISS focus on what they do best: the application of Infrared and Ultrasound technology as part of a Condition
Based Maintenance regimen. The Level I & II IR 3-day courses focus on specific topics related to electrical trouble shooting. Infrared courses teach attendees practical IR application as well as theory.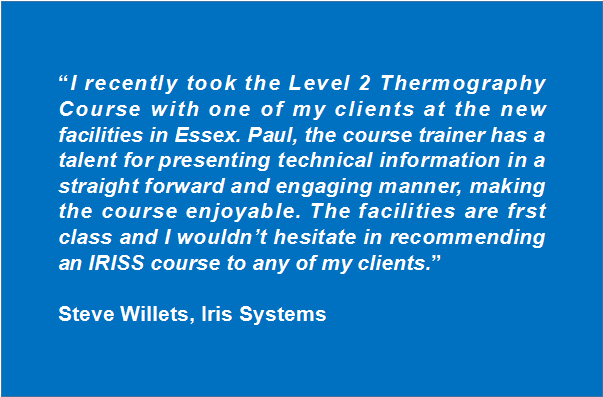 About Us and Our Partnerships
K2 RCM have broad, deep and robust personal and business relationships and partnerships with a number of subject matter experts and organisations. ALL of us have exceptional attitudes, a wide range of knowledge, extensive experience and are considered thought leaders in our areas of interest. Our people will make the difference to your people!
About Our Principles
Getting better every day | Building a knowledge base | Making RCM a way of life | Leading the Continuous Improvement Journey | Quality in Everything | 100% focused on delivery to our customers.
Training Needs Analysis
Are you unsure of your organisational and business objective dependent training needs? Do you require help working out what skills, knowledge and experience your workforce should be learning and developing?
We can conduct training and learning needs analysis to provide you with an independent and robust training requirements specification so you know that your competency development pathway and journey will be specific and appropriate towards your business objectives.
Contact us:
www.k2rcm.co.uk/contact-us - we will exceed your expectations.