Event Information
Refund policy
Contact the organiser to request a refund.
Eventbrite's fee is nonrefundable.
About this event
Course: Level 2 Award in Food Safety (RQF) delivered remotely by Zoom.
Accredited by Highfield Qualifications. Recognised by EHO's and food safety auditors. MCA Recognised
Date: Wednesday 27th October 2021
Time: 10.00pm – 3.00am (UK Time).
Exam: Complete the exam online with a remote invigilation app the day after the Zoom webinar
Can't make the exam time? No worries, when you book you can select a different date or time to suit your time zone or shift pattern
Offers
Book 14 days in advance and save 10% with our early bird tickets.
Or book and pay for two people on the same Level 2 food safety course at the same time and save £10 per person.
Course times
All courses are run in UK time.
If you are not currently based in the UK but need to obtain an MCA recognised food safety certificate, you can access our training on Zoom from wherever you are.
Below we have provided a list of some of the countries that candidates come from, with local times that the course is running to help find a course that suits your time zone. However please do only use these as a guide, they do not account for daylight savings and other regional variation, so please do double check the time the course is running in your time zone.
We have courses running on weekdays, evenings, weekends and overnight to suit all time zones, if this course doesn't suit your time zone check out all of our other courses: https://axtellfoodsafety.com/training/remote-training/latest-course-dates/
Course times available include;
10am - 3pm (UK time)
12pm - 5pm (UK time)
7pm - 11pm (UK time)
if you cannot find a course time to suit you, get in touch about arranging on-demand training; book the zoom and exam for a time to suit you: https://axtellfoodsafety.com/contact/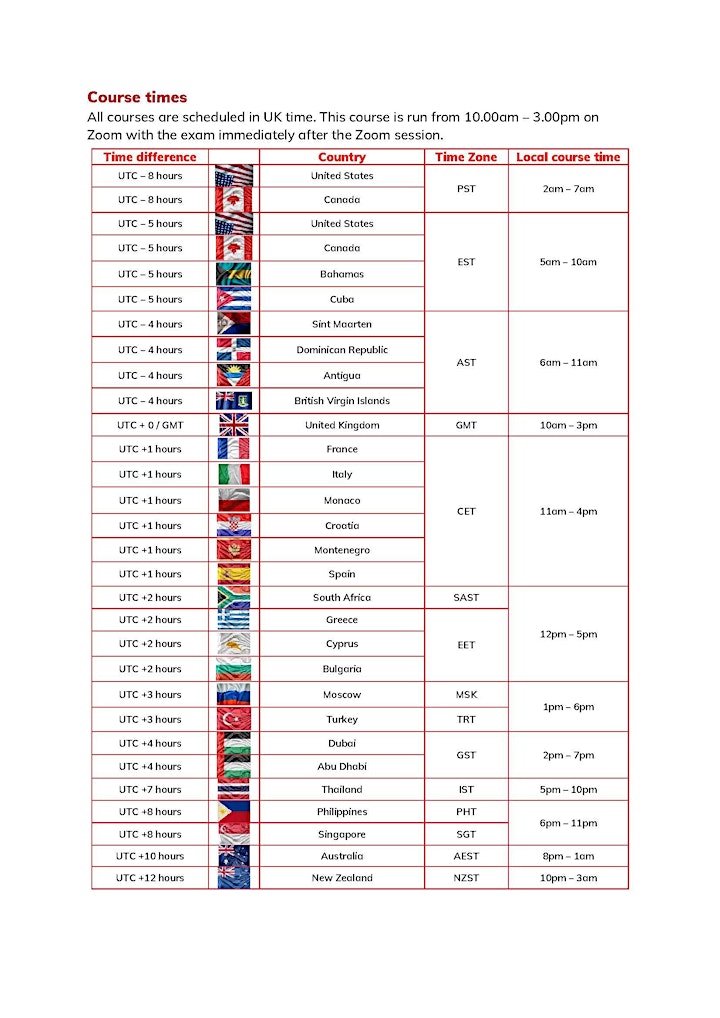 Who is the course suitable for?
The course is accredited and recognized by all bodies such as MCA end enforcement officers, so is suitable for food handlers working on super yachts. This course is suitable for anyone that handles food in a wide variety of catering, manufacturing and retail premises.
Previous delegates include chefs, kitchen assistants, school cooks, yacht chefs and stewards, restaurant staff and food manufacturing workers.
How the course is completed?
This course covers the full Highfield Qualifications Level 2 Award in Food Safety syllabus through a mixture of blended learning. A pre-course workbook is used for home-study, with numerous guidance documents available in our Facebook and LinkedIn groups. This followed by an online Zoom webinar and the exam, completed online using a remote invigilation app.
Is the course a recognised qualification?
The qualification is regulated by Ofqual and accrdited by Highfield Qualifications. It is recognised by all enforcing authorities, and is recognised by MCA.
MCA provide a list of recognised food saftey courses. This course, Level 2 award in Food Safety in Catering (Qualification number 603/4937/2) is listed on page 3, see attached list:
What you need to complete the course
To be able to complete your training remotely, we use Highfield Qualifications 'Qualify at Home' home-based learning solution. This training can be delivered anywhere that you can get a reliable internet connection.
The following are needed to be able to complete the training remotely:
Photographic I.D
PC or Laptop running Windows 7 or higher, or a Mac running OS X or higher
Webcam
Smartphone running Android 4.1 or IOS 8.0 with camera / video functionality
A reasonable internet connection
A reasonably quiet area to complete the exam
The zoom session can be joined from any device, but the exam must be completed on a pc or laptop with webcam. The remote invigilation will not work on a tablet
A personalised email address is required for each delegate to send the exam link. This cannot be a generic address like 'info@, admin@' but needs to be the delegates personal email address.
Not sure if the remote invigilation will work on your phone or pc? Not sure if you're wifi connection is strong enough?
Click the link to check your phone / laptop / webcam etc will work: https://www.highfieldqualifications.com/qah-faq
Course content
costs of poor hygiene
causes of food poisoning
food poisoning
food contamination
HACCP
food storage
personal hygiene
cleaning & disinfection
food pests
food premises design and construction
food safety legislation
What is involved?
The precourse workbook, link to join the Zoom webinar and information on the remote invigilation process is available on the online event page.
The pre-course workbook contains activities to complete, numerous food safety references, and tutor support available before the Zoom Live Webinar.
The course tutor is a qualified Environmental Health Practitioner with years of experience in the catering and hospitality industry, which helps to make it relevant and engaging.
The course is a face-to-face food safety course delivered on Zoom. Interactive activities during the course, interaction and discussion between tutor and delegates, practice sample exam questions and more. The latest training materials are provided with reference to the most up to date food safety guidance.
All training materials are available to download on the online event page as soon as you have paid. The workbook and course slides are available to download. We also have a Facebook and LinkedIn group with additional resources.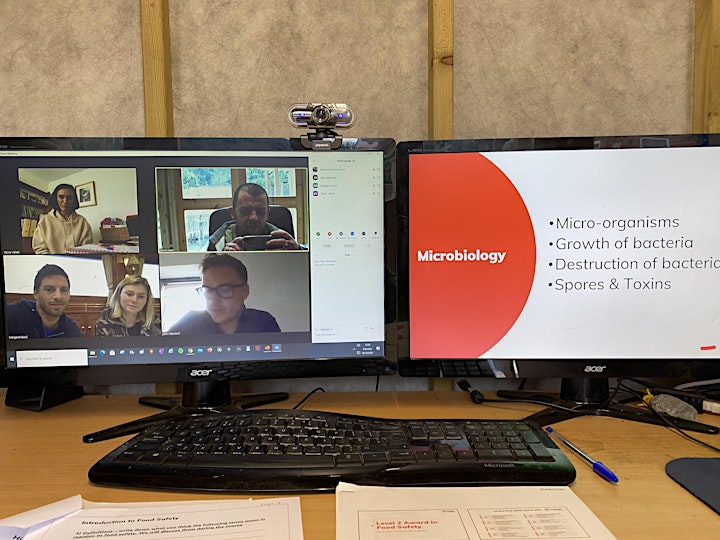 The exam
The day after the Zoom session, you will be able to log in and complete the exam online. The regulated exam is invigilated using a remote invigilation app provided by Highfield Qualifications.
The zoom session can be joined from any device, but the exam must be completed on a pc or laptop with webcam. The remote invigilation will not work on a tablet
The invigilation ensures that, as a regulated qualification, the integrity of the exam is protected – how else would an EHO know it was you who had completed an online exam?
The exam is multiple choice, with a pass mark of 13/20.
Results & Certificates
Results are usually available immediately when you finish. The certificates are sent by email, within five days but usually they are sent on the same day. The certificate you get is the same certificate you get whether you complete the qualification remotely or as a traditional classroom style course. The qualification is a regulated qualification; it shows the qualification number, date of award and certificate number. On each certificate there is a link at the bottom which allows people to check that it is a valid qualification. See example certificate below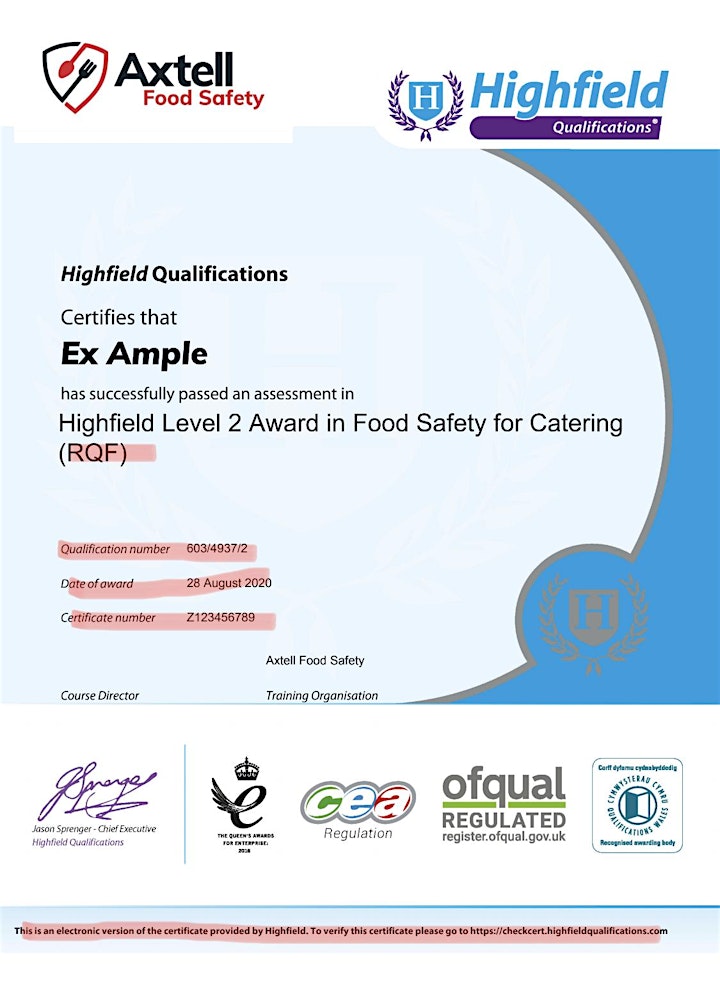 Benefits of remote training
Using Zoom and Highfield Qualifications 'qualify at home', we can deliver face-to-face training to you wherever you are. With Zoom training you get:
No travel costs
Qualify from home or wherever you are (internet connection required)
The benefits of a real tutor to offer support with pre-course work and to deliver and engaging, interactive webinar
Learn at home in your own time, qualify online with remote invigilation
Booking terms and conditions
Please ensure you check the date and time of the course you have signed up for, all courses are in UK time.
The Eventbrite booking fee is non-refundable.
Cancellations
Should you need to cancel, you can request a full refund at least 3 days before the course date.
No refunds for cancellations within 3 days of the course date.
Transfers
If you need to change the date that you have booked for, we can transfer you at no cost if notified at least 7 days in advance of the course date. If notified of a request to change the course date within 7 days of the course date, there is a transfer fee of £20.00+vat. For transfer requests made within 24 hours of the course date, there is a £40.00+vat transfer fee.
Exam
the exam is remotely invigilated through Highfield Qualifications. If you need to rearrange your exam time, we need a minimum of 3 days notice. Transfer requests for exams with less than 3 days notice will incur a transfer fee of £40.00+vat
Date and time
Location
Refund policy
Contact the organiser to request a refund.
Eventbrite's fee is nonrefundable.
Organiser of Level 2 Award in Food Safety in Catering - 10pm start time
After working in the hospitality industry for 15 years, I set up an accredited training centre delivering accredited food safety training to the hospitality, manufacturing, retail and super yacht industries.
Experience
I am an Environemtnal Health Practitioner, with experience of auditing and inspecting a variety of food businesses. All of our courses are delivered by qualified trainers, with experience in environmental health and a background of working in food premises to ensure our training is relevant and informative. All training is delivered using the trainers personal experience to provide practical examples.