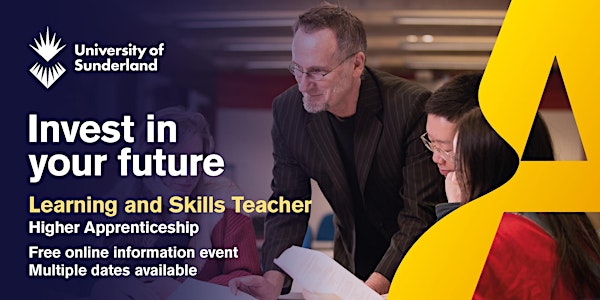 Level 5 Learning and Skills Teacher Apprenticeship: Information Event
The University of Sunderland presents - Learning and Skills Teacher Apprenticeship: Information Event
About this event
Learn while you earn!
Join our FREE online Information Event to discuss our Level 5 Learning and Skills Teacher Higher Apprenticeship.
Do you deliver training in your organisation? Are you seeking a flexible solution to provide your team with personal growth that can deliver tangible results and support effective training delivery? Are you considering studying a Level 5 Diploma in Education and Training qualification? Why not choose an apprenticeship?
This event is designed to provide an overview of the Learning and Skills Teacher Apprenticeship programme which is due to start in September 2022.
This is a great opportunity for employees who are looking to find out more information about our apprenticeship options to further develop their knowledge and skills whilst working.
It is also suitable for employers who want to find out more about utilising their apprenticeship levy to up-skill their organisations digital teams.
To speak with a member of our team please email: apprenticeships@sunderland.ac.uk
Follow us on: Facebook Twitter LinkedIn
Visit our Level 5 Learning and Skills apprenticeship website
*Please note that our apprenticeships are only available to organisations, employers and employees based in the UK.