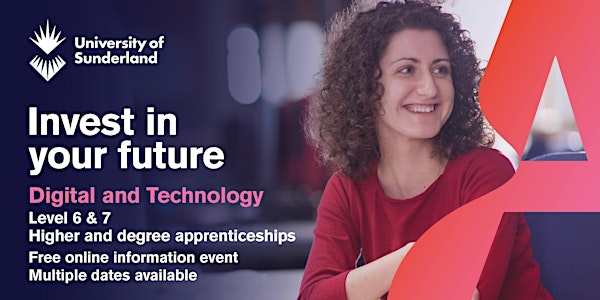 Level 6 & 7 Digital and Technology Apprenticeship - Information Event
The University of Sunderland – Level 6 & 7 Digital and Technology Higher and Degree Apprenticeships: Information Event
About this event
Learn while you earn!
This event is designed to provide an overview of the Digital and Technology apprenticeships available at the University of Sunderland.
The higher and degree apprenticeship team and the academic professionals will discuss in detail the Level 7 MSc Digital and Technology Solutions Specialist apprenticeship and the Level 6 BSc (Hons) Digital and Technology Solutions Professional apprenticeship, both start in October 2022.
This event is aimed at any individual or organisation who wishes to enhance their specialist areas of software engineering. It is also ideal for employers who are looking to develop the workforce and build a digital solution focused leadership team.
This is a great opportunity for employees who are looking to find out more information about our apprenticeship options to further develop their knowledge and skills whilst working.
It is also suitable for employers who want to find out more about utilising their apprenticeship levy to up-skill their organisations digital teams.
The Level 7 DTSS apprenticeship has been developed with the support of the Institute of Coding, a network of employers, universities, training providers and professional bodies working together to create the skills needed for the digital economy. We are also proud to have developed and co-designed this programme with a range of industry partners including DXC Technology, Grid Smart Cities, Tombola and the NHS.
The Level 6 DTSP apprenticeship was developed and co-designed with a wide range of employers to ensure that it meets the needs of the sector and the requirements of businesses. The University offers the Software Engineering option.
Register now to discover the benefits available to you and your organisation!
To speak with a member of our team please email: apprenticeships@sunderland.ac.uk
Follow us on: Facebook Twitter LinkedIn
Visit our MSc Digital and Technology Solutions Specialist apprenticeship website or our BSc (Hons) Digital and Technology Solution Professional website for more programme information.
*Please note that our apprenticeships are only available to organisations, employers and employees based in the UK.