Are you tired of things being the way they are? Are you ready to change your life. Then you are ready for Level Up! 'The Inside Job'.
About this event
When you change, everything around you will change. But, how can do change after being the same for so long? Where do you start?⠀
Every single thing in your life that you want to change, can change. But it starts with you. 
Change is an inside job. You are the common denominator in every single area of your life, so when you change, and when you focus on you, your life, your thoughts and your core beliefs, the transformation IN you, will also happen around you. ⠀
If you are ready to make the changes that are needed in your life for you to be happy, fulfilled, purposeful and ultimately, successful, then join motivational speaker, educator, coach and knife crime survivor, Adam Brooks as he takes you on a life-changing journey at Level Up! 'The Inside Job'.
When YOU change, EVERYTHING changes. Are you ready?!
DATE: Saturday 21st September 2019
TIMES:
6:30pm - Doors Open
7:15pm - Event Starts
10:00pm - Event Ends
VENUE:
Legacy Centre of Excellence (The Drum)144 Potters Lane, Birmingham, West Midlands, B6 4UU
TICKETS:
Early Bird: £5
Standard: £12.50
Follow Adam Brux on Instagram: httpp://instagram.com/adambrux
Follow Level UP! on Instagram: http://instagram.com/GoLevelUPx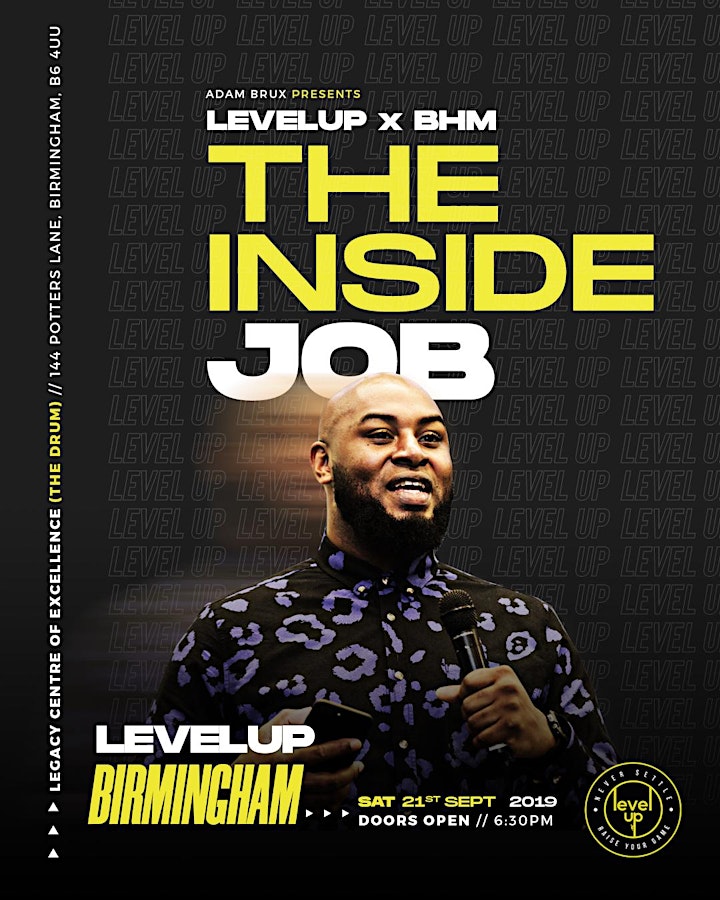 Organiser of Level UP! - 'The Inside Job' - Birmingham
Adam Brux (Brooks) is an educator, mentor and coach with a passion for helping people to discover their purpose and fight their fears, empowering them to live happy and fulfilled lives. Known for his engaging, inspiring personality and his sense of humour, Adam's smooth but powerful style of delivery will touch your heart and leave you feeling challenged and ready for change.