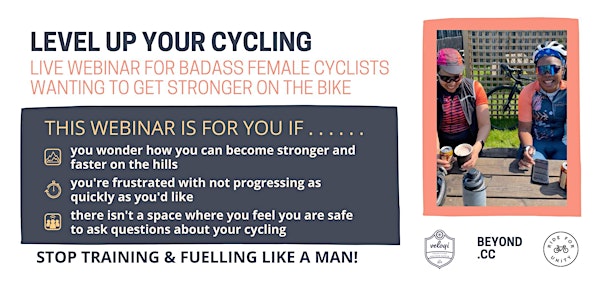 Refund policy
Contact the organiser to request a refund.
Eventbrite's fee is nonrefundable.
A live webinar for women (and everyone who has or had a period) wanting to get stronger on the bike
About this event
FOR TOO LONG WE HAVE BEEN FOLLOWING TRAINING & NUTRITION ADVICE BASED ON MALE PHYSIOLOGY. It's time for a change!
'Pay what you can' pricing scale, with or without a donation to the Laureus Sport for Good Foundation
Your female hormones, Oestrogen and Progesterone affect every cell in your body. This means we differ to men in pretty much every cognitive and physiological function. This webinar aims to teach you what we need to do differently, to work with our hormones, and how that changes as during our monthly cycles and as we go through the menopause.
This webinar is for you if . . . . .
you wonder how you can become stronger and faster on the hills
Perhaps you'd love to be able to keep up with faster riders, or go on longer adventures, maybe your first century ride, Audax or multiday trip
you're frustrated with not progressing as quickly as you'd like
You might also be frustrated with generic training plans not working for you, or not knowing what you should be doing in what little time you have
there isn't a space where you feel you are safe to ask questions about your cycling
Whether it's because of age, gender, sexuality, skin colour, ethnicity, religion, body shape or size, society can make us feel judged and excluded. Finding an inclusive community where we feel comfortable can be difficult
I hear the same concerns, issues and questions from female cyclists at all levels, in all disciplines, and from all age groups. You are not alone!
The topics I'll be covering in this two hour live webinar:
The little known truth about gender discrimination in sport science
How female hormones affect your response to exercise and nutrition
How your body changes through menopause
Why you need to lift heavy sh*t
Using the new research to become faster, fitter, healthier and happier
Ride for Unity
I lead virtual rides on Zwift for Ride For Unity every month. It's a message, a vision and a family that resonates with my personal values. Riding a bike is for EVERYONE!
"As a global community we believe that the sport of cycling can be a vehicle for promoting equity whilst celebrating inclusion and diversity. This vision aligns with the amazing work that the Laureus Sport For Good Foundation does to support children and young people globally. We are proud to contribute to the Foundation's work through donations and proceeds from the sale of Ride For Unity cycling clothing."
The Laureus Sport for Good foundation is doing amazing work changing young people's lives through the power of sport here in the UK, as well as overseas. I feel it's my duty to support them and raise awareness of their work.

YOUR HOST
COACH ALISON
Founder of Veloqi Cycle Coaching and Co-founder of Beyond CC
Outreach Secretary for the Women of Colour Cycling Collective Charity
Ambassador and ride leader for Ride for Unity
Coach Alison fell in love with cycling in 2012 and it's taken over her life! Having been a British Cycling skills coach for six years, she now has a degree in cycling performance, specialising in helping normal people train and prepare for extraordinary events!