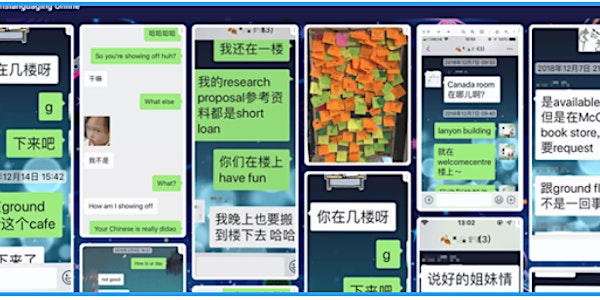 Leveraging the wisdom of networking for Chinese International students
Leveraging the wisdom of networking: Implications from Chinese international students' translanguaging practices in the UK
About this event
In this presentation, Pingping Xie from Queens University, Belfast will discuss insights based on preliminary analysis of her PhD project, which examines online translanguaging practices of Chinese university students who are sojourning in the UK. As international students, their relationship with English has shifted from that of foreign language learners to second language users. Yet, learning continues to take place in ways that are far removed from the language classroom through, among other things, translanguaging practices in networked interaction.
By adopting literacy as social practice as the theoretical framework, she will review how Chinese international students take advantage of networking opportunities when they are studying in the UK and how they treat social events as language learning opportunities, especially regarding their translanguaging practices on social media. This study adopts a mixed-methods approach. A baseline survey is conducted first, then followed by a collection of posts & chat logs of WeChat, and techno-biographic interviews, to investigate how technology and social media have affected Chinese students' literacy practices online and study experience. How transitions over time vary and how language is learned and conducted in the informal digital context can affect students' language learning and study practices.
For this discussion, she will share a preliminary analysis with the audience and engage in a conversation on  how my results could inform our understanding of the translanguaging practices of Chinese international students' innovative forms of "networked language learning" cross the boundaries of social and educational life.