Lewisham Mental Health Conference 2015

Tuesday, 15 September 2015 from 09:00 to 16:30 (BST)
Event Details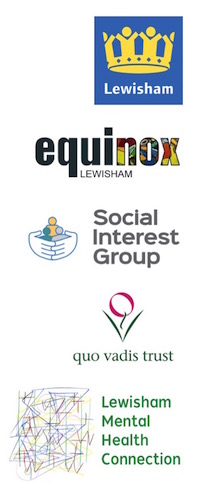 For the third year, Equinox Lewisham and Quo Vadis Trust are co-sponsoring the Lewisham Mental Health Conference, with support this year from Lewisham Council.
In his role as Lewisham Mental Health Champion, Cllr Jonathan Slater, has been vital to this year's event. Members of the Lewisham Mental Health Connection network have been generous and creative in providing conference content.
This year's theme is Speaking out & Creating Community. 
The theme and all conference content have been developed in public planning meetings involving service users, providers, commissioners, carers and local people. Thank you to all who helped us to shape the 2015 event.

The aims of the Lewisham Mental Health Conference 2015 are:
To provide opportunities for people to speak out about mental ill health, recovery & caring

 

- as conference speakers, workshop leaders/ participants, through the creative arts & social interaction.




 

To generate ideas for an even stronger community in Lewisham for mental health & wellbeing
 

To talk openly

 - because everyone has mental health and most people have experience of mental ill health (either their own experience, or that of a family member, friend or colleague). 
 

To have fun together

 

- because enjoyment and connection are vital to life, wellbeing and community spirit.

Registration & welcome:
9am to 9.45am: 
Registration desk - sign in & register for workshops

Nutribullet fruit, veg & seed smoothies

- for the health conscious delegate! (Courtesy of Ingrid Tennessee, Head of Care Support & Recovery at Quo Vadis Trust)

Human-powered smoothie bike - 

this has to be seen to be believed! (Thanks to Trevor Pybus of Community Connections)

Tea, coffee & biscuits 

- for those who need their caffeine & sugar intake!

Photography exhibition

- coordinated by the SUI team at the Social Interest Group (Equinox Care & Penrose Options)

Information table

- please bring on the day your info leaflets & fliers about mental health services, activities or initiatives in Lewisham.

Meet and chat to other attendees
Main conference speakers/ content:
Throughout the day, between 9.45am & 4.30pm: 
 
Welcome from Gill Arukpe (Group CEO, Social Interest Group - Equinox Care, Penrose Options & Penrose Works)
 
Gordon (service user rep, Forensic Intensive Psychological Treatment Service, Penrose Options) Speaking out about my story involving personality disorders & diagnosis
 
Fiona Wright (Mental health activist, Lewisham Mental Health Connection trustee)


Is speaking out worth it?




 

Matthew McKenzie (SLaM Governer, carer representative, founder of A Caring Mind Blog)


Speaking out about caring within the community


 
John Ihuomah (service user rep, Equinox Lewisham)
Speaking out about schizophrenia
 
Cllr Jonathan Slater (Lewisham Councillor & Lewisham Mental Health Champion) 
Championing mental health in Lewisham



Sebastian Sandys (London Equalities & Training Coordinator, Time to Change)


Time to Change & ending stigma
 
Antony Miller (Director of Operations, Penrose Options)
Chairing our 'Meet the Commissioners' session


Kenny Gregory (Joint Commissioning Lead - Adult Mental Health, Lewisham CCG & London Borough of Lewisham) 
Adult mental health commissioning & funding in Lewisham
 
Mike Hammond (Contract & Commissioning Manager, London Borough of Lewisham) 
Commissioning preventative services in Lewisham  
 
Mary Gilbank (Clinical Services Lead, Complex Care - Pyschoses CAG)
Complex care placements in mental health 


 
Arts & Self-Expression Zone: 
Between 10.30am & 3.30pm: 
An all-day creativity workshop

 - drop in throughout the day and help make a Lewisham Mental Health Connection banner (to be displayed at the end of the conference)

Mindful mandalas

- take some time out and do some mindful drawing
This zone is run by 

Arts Network

: "working creatively for a healthier, happier community"
Look out for the

screening of an animation

produced by Arts Network service users in the main conference.
A choice of workshops (sign up at registration):
Full info will be provided about each workshop in the conference pack, which will be publicised a week before the conference. 

More workshops will be announced in August - watch this space.
Benefits, education, training & employment - support & opportunities for people with mental health needs
Elizabeth Akinsanya, Disability Employment Adviser, DWP Lewisham JobCentre Plus 
Martin Taylor, Lewisham Borough Partnership Manager

, DWP Lewisham JobCentre Plus 


Anne-Marie Douglas,  Lewisham Community Engagement Social Justice Ambassador,

 DWP Lewisham JobCentre Plus 


Valleri Roberts & Simone Myers, Vocational Specialists, Social Inclusion & Recovery Service (SIRS), SLaM


SIRS service users

 
 

Ideas booth: share your priorities with Lewisham Council for improving mental health & bridging gaps in services


Donna Peters, Recovery Officer, Prevention & Inclusion Team, Lewisham Council
Keith Stewart, Interim Programme Manager, Mental Health Commissioning, Lewisham Council 
Social Interest Group service users (Equinox Care & Penrose Options)
 

Empowerment to make decisions & self esteem


Martin Drake, Recovery Manager, Quo Vadis Trust
Quo Vadis Trust service users
 

Shared reading with The Reader Organisation


Lois Walters, South London Project Coordinator, The Reader Organisation


Supporting & reaching out to families and carers
Sandra Hopley, Carers Support Development Worker, SLaM
Cath Collins, Carers Support Development Worker, SLaM
Both have personal experience of caring
 
Online mental health communities - get involved, stay safe, speak out
Mark Brown, Development Director Social Spider CIC, Founder of #adayinthelifemh blogging project supported by Public Health England. Tweets @markoneinfour .
 
MindKit wellbeing and resilience session
Natasha Cock, MindKit Youth Wellbeing Project Manager, Bromley & Lewisham Mind
Mindkit Youth Wellbeing Trainers
 
Lewisham Mental Health Connection - what we've achieved & what's next


Gary Davis, Development Coordinator, Lewisham Mental Health Connection  
Food, drink & entertainment:
 
2 course hot lunch

- hot veggie & meat choice, tasty puddings :-)

Tea, coffee, soft drinks, cakes

Raffle, games & prizes

Lunchtime guitar band - 'Solstice'

Text or phone bookings:
If you are unable to book with the Eventbrite ticketing system - if you do not have an email address, for example, or you do not know how to use the system - you can call or text Charlotte on 07761 235 485 to reserve your ticket. If you send a text, please give your full name and a contact number in your message.
 

Inspiration for conference logo: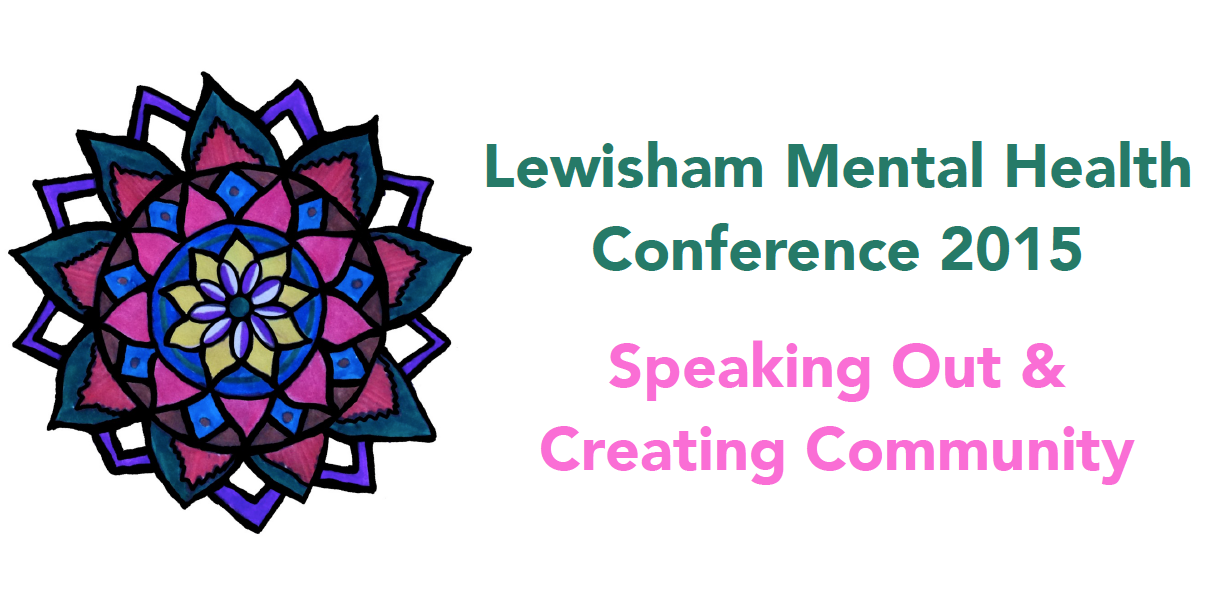 Thank you to the winner of our logo design competition, Sarah, for her beautiful mandala illustration which inspired the conference logo. Thanks also to Aaron from Apax for designing the final logo.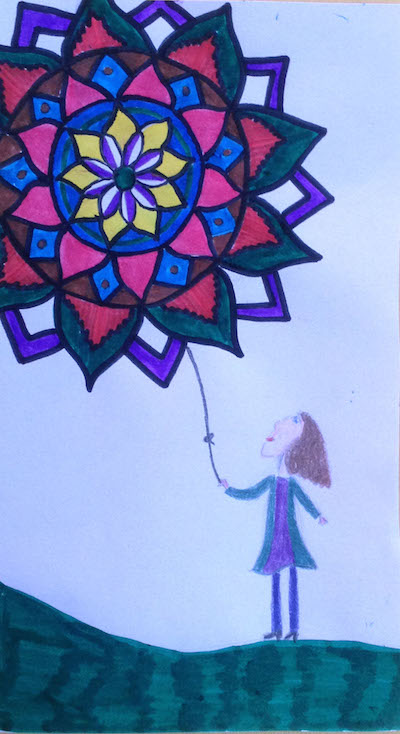 Sarah said:
"Tibetan monks created mandalas as a tool for gaining wisdom and compassion. The intricate geometric designs were made using coloured sand and when they were done they would wipe it all away.
"My situation in supported accommodation is temporary much like the mandala; however it is important that I make it meaningful and gain as much as I can from it. I do this through building a community, a strong network of support in which I can continue to learn and grow, so I am able to fulfil my hopes and dreams for the future.

"I use arts and crafts, not only as a way of soothing my anxiety and allowing myself to focus on a task, but as a way of speaking out about my mental health. During the times I am creating something I am able to speak freely and make connections through a common ground."
When & Where

Lewisham Town Hall - Civic Suite
Catford Road
SE6 4RU London
United Kingdom


Tuesday, 15 September 2015 from 09:00 to 16:30 (BST)
Add to my calendar