Event Information
Location
Frankopan Hall
West Court
Jesus College, Jesus Lane
Cambridge
CB5 8BQ
United Kingdom
Refund Policy
Refunds up to 7 days before event
Description
Advances in Artificial Intelligence (AI), Machine Learning (ML) and data science are rekindling interest in applying computation to more aspects of legal process and decision-making. This is particularly evident through the development of various AI-leveraging LegalTech applications to assist with legal practice and business, law enforcement, and the prediction of case outcomes, among other things. The use of algorithmic decision-making (ADM) systems to replicate, and in some cases: replace, human judges and other decision-makers has, however, preoccupied the attention of the public, media, and scholars. Powles and Nissenbaum suggest that the 'seductive diversion' of solving the 'bias problem' makes the totalisation of AI in society contingent on solving narrow computational puzzles and 'ethics washing' away hard questions, bad business practices and worse ideas. Not more fundamental questions about the compatibility of autonomous systems with the rule of law, deliberative democracy, and ultimately: should we be building them at all?
While technical concerns about bias and transparency are clearly important, they should not detract from the fact that 'legal authority' is increasingly expressed and enforced algorithmically. As technology continues to replicate and replace more aspects of legal process and decision-making, the question becomes: is law computable? As a social system, legal norms, concepts, categories and reasoning are socially constructed. Can these be sufficiently captured by computation? If so, to what extent? What are the path-dependent and lock-in effects? But law also has an anthropological role, one aspect of which is safeguarding against the potentially harmful and de-humanising effects of science and technology on the individual and society. To what extent can 'legal authority' or the 'rule of law' remain legitimate in the algorithmic language of 1's and 0's rather than through juridical reasoning expressed through natural language?
These questions become all the more acute in light of predictions of a forthcoming 'legal singularity'—a hypothetical point where the functional capabilities of AI vastly exceed those of human judges and lawyers. In this world of a 'legal singularity' the law is said to exist in a perpetual state of equilibrium between facts and norms. However, the legal singularity is also a proposal for eliminating juridical reasoning as the basis for dispute resolution and the allocation of rights, responsibilities and power. Will this world of a legal singularity be one that even needs lawyers, judges, and indeed, the legal system as we currently understand it?
This one-day workshop will bring together legal academics with researchers in STEM, the social sciences, policy makers, LegalTech developers and civil society organisations to explore these questions and what computable law means for the autonomy, authority, and legitimacy of the legal system as a social institution. Moving beyond narrow technical questions about bias and explainability, this workshop features contributions from leading interdisciplinary researchers that bridges technical and legal expertise, to examine questions at the intersection of law and computation.
This Conference is kindly supported by the University of Cambridge Public Policy Strategic Research Initiative, LexisNexis & ThoughtRiver.

---
Speakers
Simon Deakin, Faculty of Law, University of Cambridge / Centre for Business Research (CBR)
Christopher Markou, Faculty of Law, University of Cambridge

Ryan Abbott, School of Law, University of Surrey
Lily Hands, Faculty of Law, University of Cambridge
Roger Brownsword, Dickson Poon School of Law, King's College London
Jennifer Cobbe, Department of Computer Science and Technology, University of Cambridge
Sylvie Delacroix, Birmingham Law School, University of Birmingham / Alan Turing Institute
Mireille Hildebrandt, Insitute for Computing and Information Science, Radboud University Nijmegen
John Morison, School of Law, Queen's University Belfast
Lyria Bennet Moses, Allens Hub for Technology, Law and Innovation, UNSW Law
Alex Sarch, School of Law, University of Surrey
Giovanni Sartor, European University Institute in Florence
Dilan Thampapilai, College of Law, Australian National University
---
How do I get to West Court, Jesus College?

The entry to West Court is directly on Jesus Lane, near to the intersection with Park Street. Please DO NOT ENTER through the main entrance to the Porters' Lodge, known as "the Chimney". A map is included below to assist you in finding our entrance.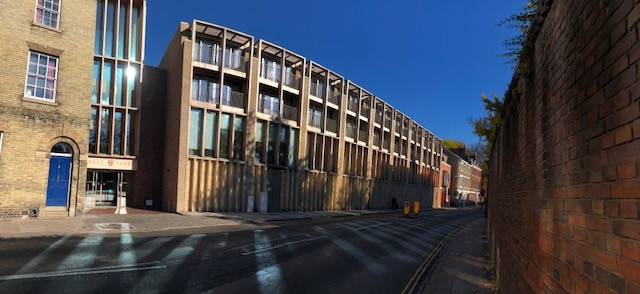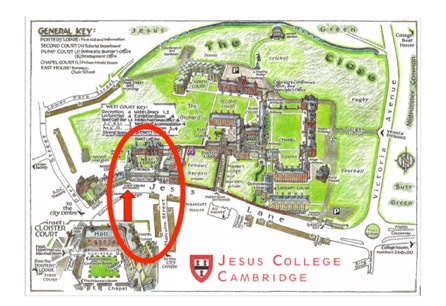 What transport options do I have?

There is no on-site car parking at Jesus College for those attending our events. There is limited on-street parking outside the College and the Park Street Car Park is very close. There are also multiple Park and Ride options to the City Centre, a short walk from the College.
A regular train services runs to Cambridge from London's Kings Cross Station, London Liverpool Street Station and many other mainline UK stations. The College is located approximately 2 miles (3.2 kilometres) from the railway station. Buses run about every 10 minutes and there is a taxi rank outside the station and one here in the city centre for your return.

What if I have access requirements?
West Court is access friendly and there are hearing loops. Please let us know about any access requirements at least three days in advance of any event via if-coordinator@jesus.cam.ac.uk. There is limited permit disabled parking, and again this must be prearranged. The building has extensive access-friendly bathroom facilities, and some limited seating in the waiting area.
Filming, social media and data protection
The Intellectual Forum often films and live-streams its events. Notices about any filming will be placed around the venue, and if you have any concerns please contact if-coordinator@jesus.cam.ac.uk.
By signing up to attend this event, those attending give permission to the Jesus College Intellectual Forum and those authorised by Jesus College to record images and/or sound at the event by photograph and/or video/film and/or recording. A full waiver we be required in the ticketing process.
You can find information on how we manage your data at https://www.jesus.cam.ac.uk/college/about-us/data-protection.
How to cancel your ticket
Many of our events are oversubscribed and we operate a wait list. In order to allow the maximum number of people to be in attendance, we ask that if you find you can no longer attend, please cancel your order. Instructions on how to cancel your ticket can be found here: https://www.eventbrite.com/support/articles/en_US/How_To/how-to-cancel-your-free-registration
Date and Time
Location
Frankopan Hall
West Court
Jesus College, Jesus Lane
Cambridge
CB5 8BQ
United Kingdom
Refund Policy
Refunds up to 7 days before event