Event Information
Location
Seminar room, Ground Floor, Henry Wellcome building
De Crespigny Park, Institute of Psychiatry, Psychology and Neuroscience
King's College London
London
SE5 8AZ
United Kingdom
Description
*Due to the short number of places remaining on this event we are now prioritising places for service users. You are still very welcome to sign up for the event, but if you are not a service-user you will be placed on a reserve list. If this is the case we will inform you asap as to whether you can attend. Thank you
You are invited to a half-day event on lesbian, gay, bisexual, transgender and other sexual and gender minority individuals' (LGBT+) mental health issues and experiences of mental health services.
The aims of this event are to:
- Raise awareness of LGBT mental health disparities
- Present local research findings
- Consultation with service-users and staff about how South London and Maudsley NHS Trust can best address needs of LGBT+ service users
- Discuss possibility of LGBT service-user advisory panel that would be consulted about LGBT service development, training provision, audit, research etc.
Lunch and registration is from 1pm, presentations are from 2-5 pm
The event is being organised by Dr Katharine Rimes and jointly hosted by the Institute of Psychiatry, Psychology and Neuroscience (IoPPN), King's College London and South London & Maudsley NHS Foundation Trust (SLaM).
Please see below for the event programme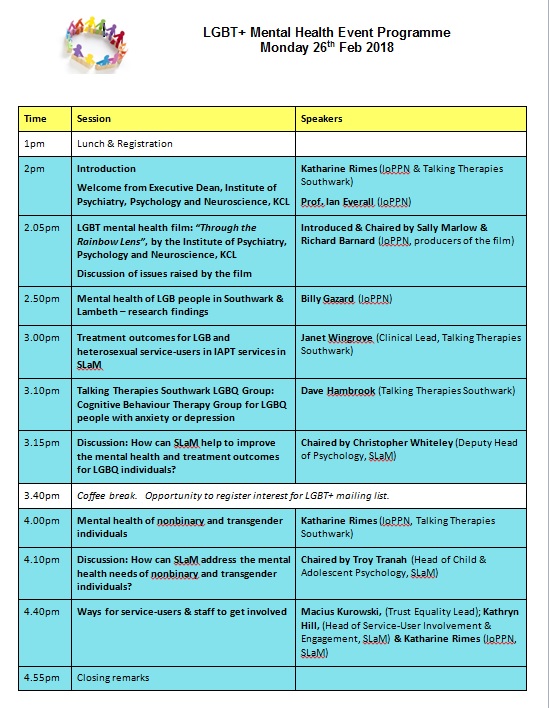 How to cancel your attandence at the event
Please click following link for instructions on how to cancel using Eventbrite: https://goo.gl/XxkDh0. Due to high interest in attending events, we require those who have registered to cancel in advance, this is so that we are able to offer the place to others that are able to attend. We are aware, that on some occasions you may be unable to cancel in advance but when you are able to, please cancel the order through Eventbrite or inform Kelly, Kelly.Smith@slam.nhs.uk so that we are able to relocate spaces in time.
Date and Time
Location
Seminar room, Ground Floor, Henry Wellcome building
De Crespigny Park, Institute of Psychiatry, Psychology and Neuroscience
King's College London
London
SE5 8AZ
United Kingdom