Join Jamie Windust and York St John University for an evening of conversation as part of LGBT+ History Month.
About this event
Join author and model Jamie Windust and Dr Esther McIntosh, Associate Head of Religion, Politics and International Relations at York St John University, for a fun and frank evening of conversation about the key issues for the LGBT+ community in 2021. Jamie will discuss their debut book, In Their Shoes: Navigating Non-Binary Life, and share their thoughts on topics ranging from the need for kindness in the LGBT+ community to the impact of Pride cancellations in 2020.
We are working in partnership with Fox Lane Books to offer signed copies of Jamie's book alongside this event, follow the link to pick up your copy. https://www.foxlanebooks.co.uk/product-page/in-their-shoes-navigating-non-binary-life
Jamie Windust is an author, model and contributing editor at Gay Times. Their work focuses on their experiences in the fashion and beauty industry and highlights the importance of LGBT+ and trans experiences within these spaces. Jamie's debut book, In Their Shoes: Navigating Non-Binary Life, is a brilliantly feisty exploration of their experiences as a non-binary person, and the often-hilarious trials and tribulations of non-binary life.
Esther McIntosh holds a BD (Hons) and PhD from the University of Aberdeen. She held a lectureship in Religion, Gender and Ethics at the University of Leeds until 2008, before joining York St John University. Her work is interdisciplinary, predominantly in the fields of feminist theology and ethics, and underpinned by a concern for gender justice. Her publications include John Macmurray's Religious Philosophy: What it Means to be a Person and 'Public Theology, Populism and Sexism: The Hidden Crisis'. She is currently in the final stages of a two-year project exploring chaplaincy support for trans and non-binary staff and students at Anglican foundation universities, funded by the Church Universities Fund and York St John University.
Events Access & Inclusivity
At York St John University we are committed to making our events as welcoming and inclusive for as many people as possible.
If you are planning to attend one of our events and have specific requirements, please contact us by either e: events@yorksj.ac.uk or t: 01904 876654 and we will make every effort to accommodate you. If you would like to use closed captioning please contact us as soon as possible. We will try our best but cannot guarantee provision.
Privacy Policy
York St John University will use the data you submit in Eventbrite for the purposes of administering this event. York St John University utilises third party software for data storage, tracking and analysis activity but your details will not be used by any of these third parties in order to contact you. Any data you share with us will be used to help us improve your event experience and for event tracking and analysis activity within the University.
We will only send you important information and reminders related to the event you have booked, unless you tell us otherwise. During the booking process, if you opt in to receive emails about the latest events hosted and supported by York St John University, you consent to York St John University contacting you with relevant information.
If you no longer wish to hear from us you can opt out at any time by changing your contact preferences via the link in emails you receive from us or by contacting us directly via E: events@yorksj.ac.uk or T: 01904 876654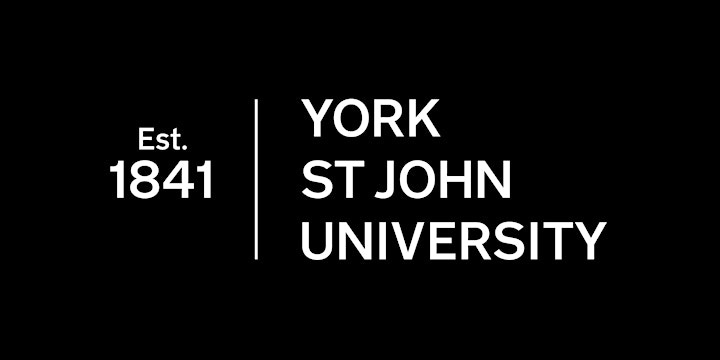 Organiser of LGBT+ History Month - Jamie Windust in Conversation
York St John University was founded in 1841, born out of a socially conscious, ethical conviction in sharing education as a route to a fairer world. As a leading education, training and research institution in the heart of the historic city of York we serve a global campus of staff and students who thrive on academic excellence, graduate employability and a strong sense of community.