Description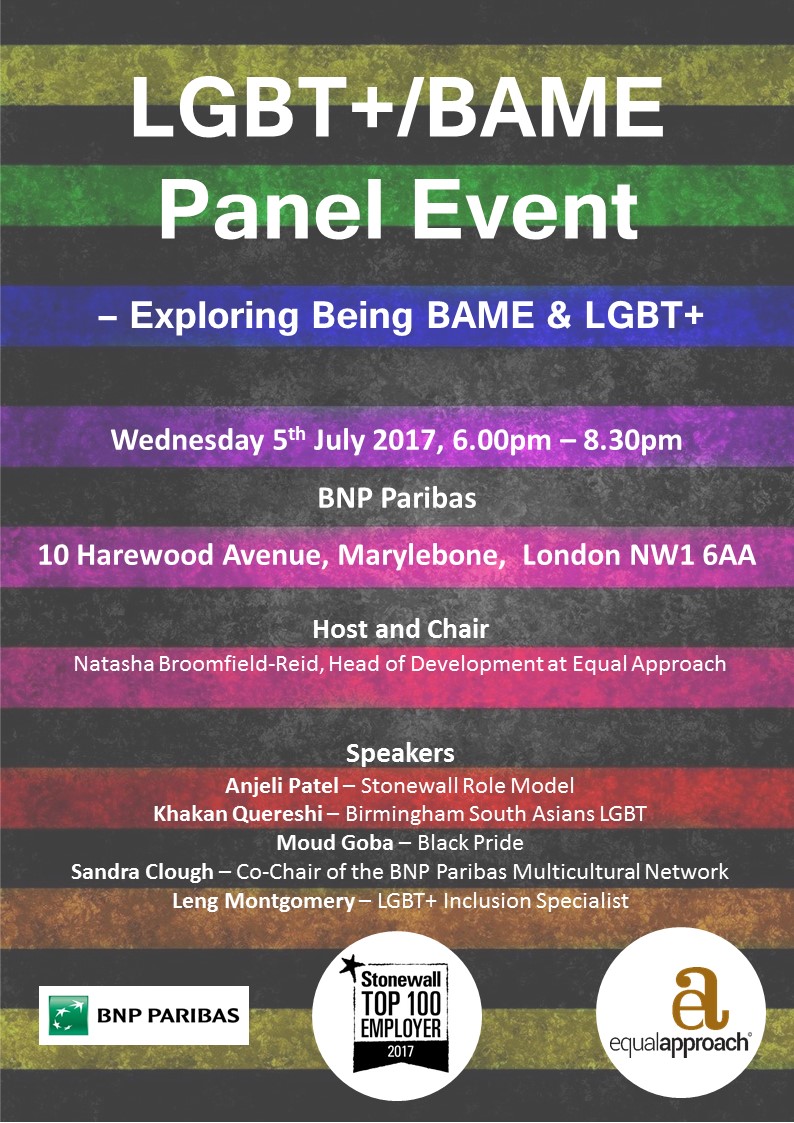 Come and join BNP Paribas for their LGBT+/BAME panel event as part of their Pride week 2017. This event is an engaging and informative session which will provide participants with greater understanding of the key issues for BAME/LGBT+ lesbian, gay, bi and trans people. The session will be discussing the challenges they face, issues of multi identities/intersectionality and how faith and culture has impacted on them.
The speakers will also be discussing the importance of LGBT+/BAME role models.
We are proud to announce the excellent speakers who will be raising awareness and sharing their stories:
Anjeli Patel – Stonewall Role model

Khakan Quereshi – Birmingham South Asians LGBT

Moud Goba – Black Pride

Sandra Clough –

Co-Chair

of the

BNP

Paribas

Multicultural Network

Leng Montgomery – LGBT+ inclusion specialist
The event will be hosted and chaired by Natasha Broomfield-Reid, Head of Development at Equal Approach on behalf of BNP Paribas.
Event Outline
6.00 - 6.30pm Networking
6.30 - 7.30pm Speakers provide an overview/their story issues they have faced (ie discrimination), issues re: intersectionality, importance of role modelling
7.30 - 8.00pm Questions to the panel
8.00 - 8.10pm Summary and close
8.10 - 8.30pm Networking
There will be networking before and after the panel session and opportunity to ask questions to explore the issues discussed.
This is an event not to be missed!
Refreshments will be provided.