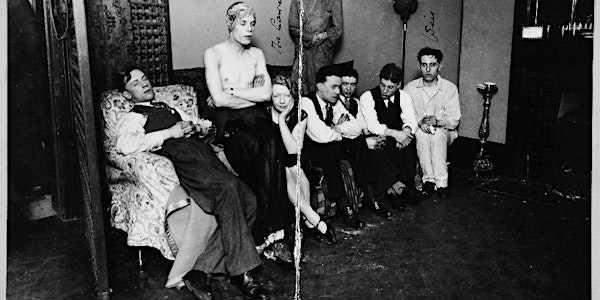 LGBTQ+ History Month: Fitzroy Square - Queer Love and Desire in the 1920's
Event Information
Location
Herstmonceux Castle
Wartling Road
Hailsham
BN27 1RN
United Kingdom
Join us and Vicky Iglikowski-Broad from the National Archives to hear about Fitzroy Place, queer love and desire in the 1920s
About this event
It's December 1927. You stand on a cold street outside a house on Fitzroy Square, near London's thriving West End. You take the stairs down to the basement flat, where a red light greets you, letting you know that you are welcome. The gramophone blares in the background and raucous laughter can be heard; you are excited for the evening ahead, yet you risk everything by being here.
A scene like this is what would have greeted several men gathering at this flat in the winter of 1927. We know about these gatherings due to the extensive undercover surveillance and surviving records held at The National Archives (London). But why were these individuals being observed? Because at these gatherings men would have relationships with other men, in an era when sexual acts between men were both criminalised and widely socially unacceptable. In this lecture, we will hear the stories of the individuals who visited this flat, who defied the law, to boldly live, love and party despite the potential consequences.
Join the Castle Community as part of LGBTQ+ History Month to learn about Fitzroy Place in the 1920's from Vicky Iglikowski-Broad, Diverse Records Specialist at The National Archives.
Image reference TNA CRIM 1/387
For anyone wishing to join via Zoom details are below:
Join Zoom Meeting
https://queensu.zoom.us/j/97050014731?pwd=RFBuMGhYOFFtUTA1RER3T1pDdmhMQT09
Meeting ID: 970 5001 4731
Passcode: 905111
Date and time
Location
Herstmonceux Castle
Wartling Road
Hailsham
BN27 1RN
United Kingdom