Join Pride in STEM to celebrate the third annual LGBTQ+ STEM Day! We'll be hosting our LGBTQ+ STEM Day Virtual Conference on 18th November.
About this event
[Image description: Pride in STEM LGBTQ+ STEM Day banner. The text reads: Pride in STEM LGBTQ+ STEM Day Virtual Conference, November 18, 2020, 14:00 - 16:00 GMT]
Join Pride in STEM to celebrate the third annual LGBTQ+ STEM Day! We'll be hosting our LGBTQ+ STEM Day Virtual Conference on 18th November, 2020.
To commemorate American Astronomer and gay activist Frank Kameny's US Supreme Court fight against workplace discrimination, the conference is about what motivates and challenges us - in our professional lives, in our personal lives, in our practice as researchers, in our lived experiences as members of plural, intersecting, communities, in our pasts and in our futures.
This year we're welcoming four leading, international members of the LGTBQ+ STEM community to share their thoughts on motivations and challenges. You can read their full bios on our website (http://prideinstem.org/lgbtq-stem-day-virtual-conference).
Lianna Newman, (no pronouns, only use Lianna) is black, queer, nonbinary, and motivated to help STEM organizations do better. Lianna is a Mid-Level Software Engineer at Booz Allen Hamilton.
Izzy Jayasinghe (she/her) is a Senior Research Fellow and a UKRI Future Leader Fellow in the Department of Molecular Biology & Biotechnology in the University of Sheffield. Online at @i_jayas.
Juani Bermejo-Vega (she/her). Spanish scientist; trans queer activist; physicist, computer scientist, and quantum computing researcher. Online at @queenofquanta.
Michael Rivera (he/him) is a Filipino-Chinese biological anthropologist from Hong Kong and recent Cambridge graduate.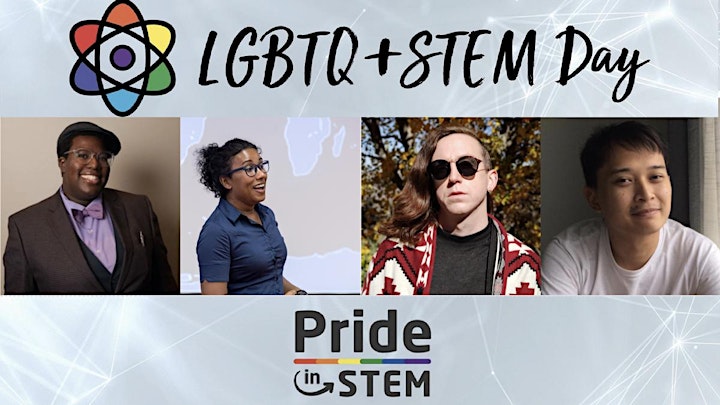 [Image description: An image of each speaker on the event banner. On the left, Lianna is smiling at the camera. Lianna is wearing a purple shirt and purple bowtie with a brown jacket, glasses, and a brown flat cap. Second, Izzy is wearing a blue shirt and glasses, and smiling and looking off camera towards an audience. Third, Juani is wearing a red, black, and white pattered jacket over a grey top. She is wearing sunglasses and looking into the camera. In the background is a tree with yellowing leaves. On the left, Michael is wearing a white t-shirt and sitting in front of a window. He is smiling at the camera.]
Event Details
The speaker videos will be live on this page on the 14th of November so you can watch the videos in advance. We will also send registered attendees a link to the videos.
The live event will be hosted on Google Hangouts 14:00-16:00 GMT on the 18th of November. The speaker videos will be livestreamed and then we will host a panel discussion with the speakers, with questions from the audience. We will share the link to the Hangout with registered attendees in advance of the event.
We encourage you to bring your thoughts and ideas into the discussion with the panellists to explore new futures in our STEM practices and beyond.
Access Provisions
The speaker videos will have closed captions and full transcriptions. The live event will have a live BSL interpreter and will use closed captioning through Google Hangouts. If you have any questions or additional needs, please contact us.
Code of Conduct
This event is a space that supports and welcomes all LGBTQ+ people around the world, but especially those with intersecting marginalised identities. By signing up to this event you are agreeing to the following code of conduct which will be in place during all interactions associated with this event (through moderation and reporting), and the violation of which will lead to ejection from the event:
No harassment or negative comments based on race/ethnicity, gender (including gender identity), sexual orientation, disability, age, religion, physical appearance, citizenship, or other protected categories;
No threatening or endangerment of other participants, including the moderators, via text, video or images;
No unwelcome sexual attention;
No encouragement of any of the above behaviours;
Please also note that we will also be ensuring:
No interruption of speakers or other attendees,
No GIFS or other flashing images in the chat
Organiser of LGBTQ+ STEM Day Conference
Pride in STEM is a charitable trust run by an independent group of LGBT+ scientists & engineers from around the world. We are proud of who we are and what we do.
STEM subjects (Science, Technology, Engineering, and Mathematics) seem to have low numbers of out LGBT+ people, both for personal or environmental reasons. By showing that not everyone working in STEM fits the same mould, we hope to challenge the general public's perceptions of what scientists should be like.It is becoming more and more evident that embracing diversity, in all its forms, is vital for the future of the innovation that science, and the world, relies so heavily upon.
As such, we're here to share our voice as LGBT+ individuals in STEM who want to show that science is for everyone.
Variation for every scientific nation!