Come join us and learn how to use community developed image editing software to produce ace flyers and posters.
About this event
In this session Simone will be using Inkscape and the Trace Bitmap function to create a collage of images and explore colour. She will export an image to Gimp and explore the use of filters. The theme will be a kind of 'Hidden Figures' poster paying homage to Claudia Jones- founder of the Notting Hill Carnival. Time permitting, she will also demonstrate how to use the Inkscape Trace Bitmap function again to create a poster themed around housing activism. During this session, participants will share a poster, a flyer they have created or simply share a theme they have explored using a chosen free software or function.
There are a range of Libre Graphics programs available. We'll be focusing on two popular tools for this session: Inkscape and GIMP (Gnu Image Manipulation Program). They are a great pairing for making flyers, posters and web graphics. Inkscape and GIMP are both available for Windows, Mac and Linux. To get the most out of the session, please take a moment to download and install them in advance:
We are using Big Blue Button for the event - it will be recorded for archive on libregraphics.club website. Please copy the URL below.
Share your work with us here: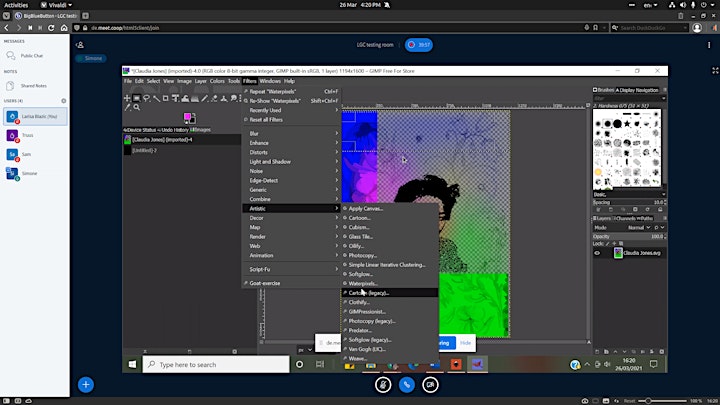 ABOUT:
Libre Graphics is a broad ecosystem of digital tools and creative practises in the areas of design, illustration, typography, layout, art, photography, publishing, cartography, animation and video.
Libre Graphics Club is an artist-led pilot project to develop and deliver a series of free workshops and open access online educational resource for experimentation with free/libre arts & technologies.
In collaboration with Furtherfield, Access Space, Common House and Antiuniversity, the project provides artist, community organisers and activists with exciting opportunities to explore Libre Graphics tools above and beyond those taught within the conventional art/design curriculums, so all can do more to enchant practice in these extraordinary times.
Looking forward to seeing you there!
Keep up with us on instagram&twitter: @wheel_o_values