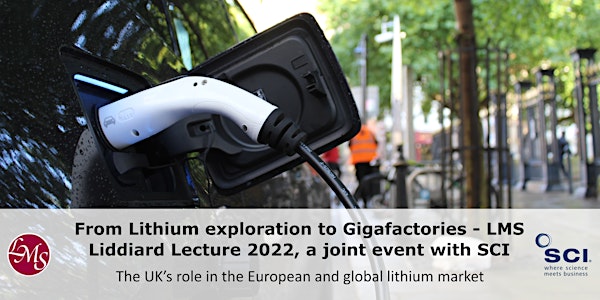 Liddiard Lecture 2022: From Lithium exploration to Gigafactories (ONLINE)
Liddiard Lecture 2022: From Lithium exploration to Gigafactories: The UK's role in the European and global lithium market
About this event
From Lithium exploration to Gigafactories - LMS Liddiard Lecture 2022, a joint event with SCI
The UK's role in the European and global lithium market
This is an online event, but you can also attend in-person by signing up here: https://www.eventbrite.co.uk/e/liddiard-lecture-2022-from-lithium-exploration-to-gigafactories-tickets-327628685217
To be discussed:
Can the UK's lithium mineral potential meet the growing demand of the domestic EV battery and energy storage, namely the Gigafactories under construction?
In spite of the price explosion for imported Li compounds (carbonate & hydroxide), what are the main drivers of technological innovation for a sustainable value chain and affordable EV?
What is the UK's role and opportunities in the European and global lithium market?
Are we doing enough to achieve the transition to a net-zero carbon green economy?
Agenda:
5.30 pm: Doors open, coffees and teas
6-6.30 pm: LMS AGM
6.30 - 7.10 pm: 2022 Liddiard lecture - Sean Sargent, Green Lithium and Jeremy Wrathall, Cornish Lithium
7.10-7.40 pm: Panel discussion with the speakers - Chaired by Prof Reimar Seltmann, Natural History Museum
7.40 pm: Refreshments and networking