Multiple Dates
Life Drawing Club //All The Young Nudes\\ Glasgow @ Sloans
Description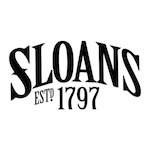 All the Young Nudes is life drawing, set to music, for everyone!
We'll be entertaining you with some swell music and because we are feeling festive, we will have three life models on the night!
Arrive about 7.45pm to get a good sitting or standing spot in Sloans Bar & Restaurant beautiful ballroom before sketching starts at 8. Expect lots of short, dynamic poses from our wintry models to warm up frozen fingers, before longer poses and friezes begin. Grab a drink in the break and then return for more drawing! There's no experience necessary here and there's always a friend face around to give you a hand if you need it.
Lots of love,
The ATYN team xx
**Already a model with ATYN? Get half price entry for £2.50, just enter promo code 'MODELSGOHALF' when prompted by EventBrite!**