Multiple Dates
Life Drawing Club | All The Young Nudes Glasgow @ Sloans
Description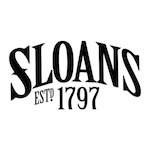 **See separate listing for 10th September at Sloans with The Life Drawing Gymnasia**
WELCOME!! We are All The Young Nudes life drawing club. You might have heard of us - we've been around for a while, in fact this year is our TENTH birthday. We're really excited. 10 years of drawing nudes with you all, in pubs after work, for a laugh. And what a fun time we've had.
To celebrate, we are collaborating with lots of exciting venues and organisations this year. Please check our website and Eventbrite Organiser Profile for full listings and details, and contact joanna@atyn.co.uk if you have any queries.
Weekly Drawing Club at Sloans - Drop-in Sketching for Everyone!
Welcome to our weekly drawing club at Sloans in Glasgow. We're not all artists here, we're not professionals, but we love sketching, and love hanging out with you. You need no experience and no need to book. Come along and enjoy 2 hours of sketching fun with varied models each week.
The club runs every Monday evening from 8-10pm. You can come on in and grab a seat at 7:45pm when the doors open.
We'll entertain you with our custom compiled playlist and 2 models, of varying shapes and sizes. Spread across two rooms, we always have one model posing quickly to warm up. These poses will be dyanmic and fast, usually 1-2 minutes each. These quick poses help you and the model loosen up and get ready to bed in for a longer sketch. In the other room, we will have a model posing for longer durations, for example 4 x 15 minute poses.
We break at 9pm for that all important pint/glass of wine/herbal tea, however all sketchers are invited to come and go between the sketching and the bar throughout the session. ATYN is a drop-in club - you can arrive at any point. Make yourselves at home!
There is no tuition at our club - Everyone is invited to delve in and experiement, create anything you like. There are always ATYN staff around if you feel you need a fe pointers. We also have a YouTube channel on our website, on which you can check out some tutorials, tips and tricks for drawing.
We supply boards, clips, and some materials to borrow.
There is no need to buy a ticket online, but pre-booking here on Eventbrite allows you the very unintuitive and seemingly impolite but definitely permitted pleasure of swanning past the queue and checking yourself off at the front, to get a good seat before the rest of the crowd.
We hope to see you at Sloans or one of our other sketching events very soon.
Lots of love,
ATYN. xx
**Already a model with ATYN? Get half price entry for £3, just enter promo code 'MODELSGOHALF' when prompted by Eventbrite**