Life drawing session with professional theatre performer, Oliver Walters, who will perform live for us, and pose for us to draw.
About this event
We would love to invite you to Art in the Park's ONLINE Life Drawing with professional theatre performer, Oliver Walters!
ABOUT THE SESSION:
Oliver will be doing a combination of clothed poses.
In between the performance, Oliver will stop for 1 to 5 minute poses for us to draw. We will also experiment with drawing him whilst he performs without stopping.
Materials needed: Any paper you have around the house of any size and any drawing materials - pencils, coloured pencils, felt tips, oil or chalk pastels, or charcoal.
The session will be mainly short poses of 5 minutes or less. There will be an experienced Art in the Park artist present who can offer advice if needed and will show artist inspiration but of course feel free to draw however you want.
At the end of the session, we would love it if you could stay and hold up your drawings so that we can see your work. Also we would love it if you emailed your finished artwork to studio.artinthepark@gmail.com or tagged us in them at @artinburgesspark on instagram or @artintheparktwt on twitter.
The session is PAY WHAT YOU CAN (suggested donation: £5).
The minimum donation for this session is £1. If this is not possible for you at the moment, please email us and we will send you the zoom link for free. All donations that we get will go towards our studio costs, payment for our model and artists, and our other free sessions that we run for schools, community groups and the public.
HOW TO JOIN:
We are going to use the online platform ZOOM. You can use ZOOM via your laptop, PC and MAC or you can download the app for your tablets and smart phones following this link:
https://zoom.us/download
The zoom link will be in the Additional Information of the ticket which will be emailed to you after booking (Check your junk!). If you do not recieve this, contact us and we will send you the link.
Click on the link provided to join the meeting and you will be entering a WAITING ROOM. Attendees will be added to the live class at the start of the session.
If you have any problems with using zoom, please email us or dm us on social media and we will happily help however we can.
WHAT PREVIOUS PARTICIPANTS HAVE SAID:
"I liked the interesting poses and the ability of the model."
"the longer poses, and shapes of the model's body"
"The relaxed, but energetic atmosphere. Also the superb models, & particularly the quick poses"
"Great poses and model"
"I loved the format. Vanessa is such good model and was so serene, and Flo and Andrea are so supportive and encouraging."
"I haven't done amy life drawing of a yoga practitioner and found this so interesting. The poses are complex and this time I found I relaxed into the longer poses more and was able to take my time and enjoy the process."
"Everything! It was just a great way to spend a Friday night"
"Super friendly, relaxing, sociable - was inspiring to see others' work and to share drawings"
"the model - the initiative - the whole session"
"easy going, LOVE the art history at the beginning and sharing work, the models have all been great"
"good pace"
"easy going, good fun"
"Great instruction from the moderator to keep things tight."
"freedom and price"
"Friendly, low pressure atmosphere, suitable for all abilities, worked great over zoom"
"being able to connect with other artist around the world. Getting a chance to get involved something I really love."
"The way it was organized."
"time to get to grips with each drawing"
"selection of poses all of which were well held by the model"
"Great artist & poses, and being inspired by other people's work."
"Every one of these classes reveals new learnings and ideas, and is a unique experience each time."
'Great artist & poses, and being inspired by other people's work.'
'I really loved Andrea's little history lesson in the beginning. Learning new things about some classic paintings, while being inspired at the same time. I also liked Tatiana's poses, she was still for such a long time!'
'being part of something creative and great models and poses'
'A completely new experience for me, and I thought the way Tatiana posed the famous paintings was amazing.'
"it was challenging, forced one to limit areas to concentrate on"
"Thank you so much for another lovely session - while we can't get together in groups in person and draw at the moment this is definitely the next best thing."
"THE most inspiring thing ever! Trying the life drawing a second time was amazing - I felt much more free. I can't thank you all enough for organising this. Elizavet was amazing, and it was wonderful to see everyone's work. I am so happy I am now rediscovering my love of drawing, and having this kind of opportunity to try new things."
"movement poses and friendly welcome"
"The content, welcoming, open to all, nice that everyone got to show their art at the end - and was encouraged to"
"Everything! The model El[isavet], the warm welcome and supportive atmosphere, and a second time for me to try life drawing - I felt a lot more confident than the first time and loved every second!"
"Being able to have someone pose so that I can improve my timing with life drawings and anatomical skills"
"loved the 2 min poses, created an amazing (amazing for me anyway) piece of art that shows movement"
"I liked the model's poses, with her strong body and nice movement."
"Very open accepting sense of group, so you could take risks and try new thing. Amazing models. Exploring movement and stillness. Great examples at the beginning that give you new ideas."
"Vanessa was a lovely, graceful model. The time allotment given for the sketches was appropriate."
"One minute poses - so few places offer this brief amount of time, opting for two or five mins."
"It felt very safe and supportive, both of Vanessa as the model and the attendees. I liked the fact that I wasn't the only complete beginner. The structure was excellent, with good guidance and timings for a novice like me. I loved the sharing at the end - it helps the confidence. My webcam unfortunately malfunctioned so I couldn't share but I could see other people's work, which was lovely. I never thought I would try life drawing as it felt beyond me, but this just goes to show that everyone can try, and everyone's perspective matters."
"Good mix of poses and timing Vanessa is a brilliant model, wonderful, dance-inspired poses, thank you'
'art history lesson at the beginning, seeing lots of people, relaxing, fun music - poses. trying to remember how to life draw!'
"Friendly, not intimidating, loved the variety, brilliant music, great intro for inspiration.'
'supportive atmosphere'
"I found interesting drawing fast portrait with hands or feet with a wonderful music and a lovely team!"
"truly on of the best I have seen. I went to art school with live models and have taken many life drawing classes over the years. Your good!"
"the model was probably 1of the best I've ever encountered."
"something different ,beautiful and clothed .professionally done and still very enjoyable"
"Lovely, skilled model. Great times for sketching"
"The poses of the model were very elegant. I also liked her kimono style dress and get make up that were very creative. The introduction with different styles of portraits and techniques was also inspiring"
"Great introduction on other examples of portraits, well facilitated, great model, affordable, encourages for diversity of drawing styles and ability, great feedback"
"Very interesting introduction and professional poses"
"The challenge, trying something new and feeling inspired"
"Shortish poses, really good model - nice poses, good hosting."
"Lovely moderator, interesting poses and great welcoming atmosphere (and great music!)"
"beautiful model"
"I liked the idea of painting poses, the sense of movement that was present throughout the workshop and the difficulty with moving poses."
"I liked the movement in dance, continual movement, one minute poses, 5 minute poses "
"Loved the relaxed atmosphere and really enjoyed the music while drawing the dancer"
"Brilliant model and movement and music !"
"Really liked the set up, the model, the dancing, music and that they were short poses would love to do it again!"
"I loved the movement and quicker poses"
"[I liked t]he different shapes created by the dance routine. The short duration of the poses."
"Very inviting and friendly, great atmosphere."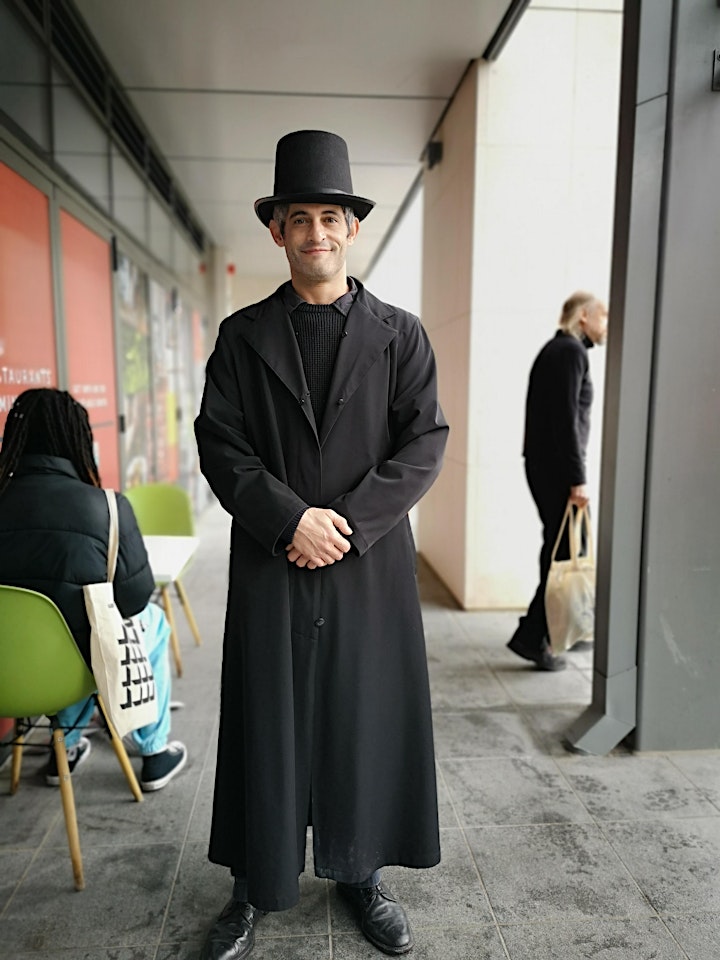 Organiser of Life Drawing with Theatre Performer, Oliver Walters
At Art in the Park we aim to involve people of all ages and abilities in designing and making art work at our studios and outdoor sites.
OUR MISSION IS TO:
Encourage and motivate all ages to work towards environmental improvements in inner city London.
Give a positive experience of seeing and being in the natural world.
Work with people of all ages and abilities in visual arts by using open space as an inspiration and a resource.
Located in the centre of Burgess Park in South East London and run by practising artists, Art in the Park works with schools, community groups and professional teams on tailor-made educational art and heritage projects and training days. We also work with the public in creating permanent public artworks.