Life Fit Wellness Open Day

Saturday, 16 September 2017 from 09:30 to 13:00 (BST)
Event Details
Welcome to our Open Day event - book your place now to try any of our classes for FREE.  You are welcome to attend as many class tasters as you wish just take care not to double book yourself!  
There is a timetable at the foot of the list which you may find useful.

**Please ensure you book into each individual session to guarantee your space**


Chair Fit:  9.30-10am 
This class is ideal for anyone with mobility issues but wishing to take part in a gentle, yet stimulating, session. Predominantly chair based, the class incorporates some elements of Pilates combined with strengthening, stretching and balance work.  
This class is also suitable for clients who may be post knee or hip operation using it as a rehabilitation session.  Anyone in early stage Neurological conditions such as Parkinson's or Multiple Sclerosis may be interested in attending.


Performance Pilates:  9.30-10am
Are you a runner or cyclist looking for a fantastic cross training session or looking to move your standard matwork class onto a higher level?  Our Performance Pilates classes are specifically devised for those who want to help prevent inury and improve performance whilst strengthening the core and improving postural awareness.


Yoga: 10.15-10.45am
Yoga has many health benefits which help to release tension, develop better concentration as well as strengthening and toning your entire body.  Come and join us to learn basic poses, relaxation techniques and terminology.  Yoga can help build strength aind improve stability and balance and is suitable for any age and fitness levels.


Mindful Yoga: 10.15-10.45am
The aim of this class is to release tension through gentle and mindful movement and to learn body awareness. There is a varied mix of yoga breath work and mindfulness. Our teacher Clare will guide you through gentle, flowing patterns to help improve flexibility and posture whilst reducing anxiety and stress.
Each person can work at their own pace working towards becoming more relaxed, mobile and enjoying a greater sense of well-being and helping introduce a greater sense of calm.


Forever Fit: 11-11.30am
This is a group exercise to music class designed to improve mobility, coordination, strength and balance. It's ideal for older adults and those wanting a low impact exercise class.
Classes are planned with differing abilities in mind, participants are always encouraged to work at their own level and adaptations are available for beginners and the less mobile.
The music used reflects a variety of musical tastes hopefully providing something for everyone!


Pilates Studio Circuit: 11-11.30am and 11.45am-12.15pm
If you want to add to your Pilates repertoire, then look no further than Pilates Studio Circuit sessions.
Using larger and specialised Pilates equipment this is a circuit style class suitable for all Pilates students. Experience different and wide ranging Pilates exercises and enhance your regular matwork sessions under the expert tuition of Valentina Pintus.  **due to the nature of this session you must have attended a Pilates 1-1 session at Life Fit or be a regular Pilates student to attend this class*


Pilates: 11.45am-12.15pm 
Pilates is a mind body conditioning exercise program originated by Joseph Pilates.  It focuses attention on core postural muscles that help keep the human body balanced and provide support for the spine. In particular, Pilates exercises teach awareness of breath and of alignment of the spine, and strengthen the deep torso and abdominal muscles.
Pilates suits all ages and fitness levels and is particularly beneficial for those with back pain, poor postures, neurological conditions,  sports injuries, arthritis, stress related illness and before and after pregnancy.


HIIT Fit: 12.30-1.15pm
Did you know we offer 2 Circuit style classes; Core Fit and Physio Fit?  Both offer a slightly different programme but both taught by experienced Chartered Physiotherapists focussed on technique and maximum benefit to clients.  

Suitable for all fitness levels this session will offer a fusion of the 2 classes to give you a taste of different equipment used and programmes on offer.  These classes can be used for prehab and rehab or slot into your weekly training pattern.  It's all about motivation, technique and enjoyment!!

**Terms & Conditions**  Each taster session will last 30-40 minutes maximum. 1 place per class per person.  All attendees must be registered individually for each session.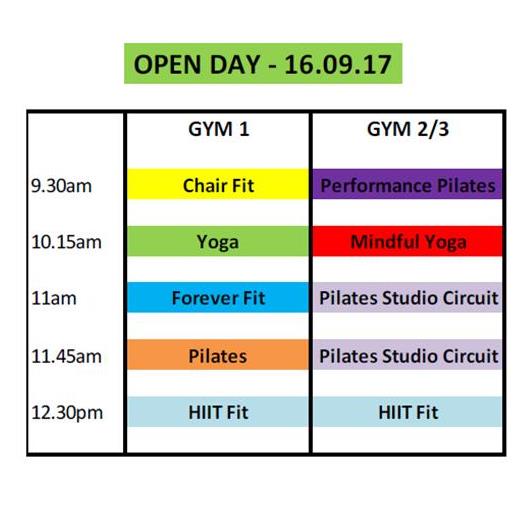 When & Where

Life Fit Wellness
Falkirk Business Hub
Weir Street
FK1 1RA Falkirk
United Kingdom


Saturday, 16 September 2017 from 09:30 to 13:00 (BST)
Add to my calendar
Organiser
Life Fit Wellness
Life Fit Wellness strives to be at the forefront of professional change, driving forward clinical and exercise standards. We promote an integrated healthcare and exercise service allowing clinicians and exercise professional staff the opportunity to maximise client support by referring easily 'in-house' to a trusted multi-disciplinary team.
We promote a 'hands-on' and supportive environment while working to empower individuals to be well. Life Fit want clients to move well, live well and stay well enabling them to be work fit, sport fit, life fit.
Life Fit Wellness Open Day