A voyage into self-discovery and the relationship you have with the world outside of you.
About this event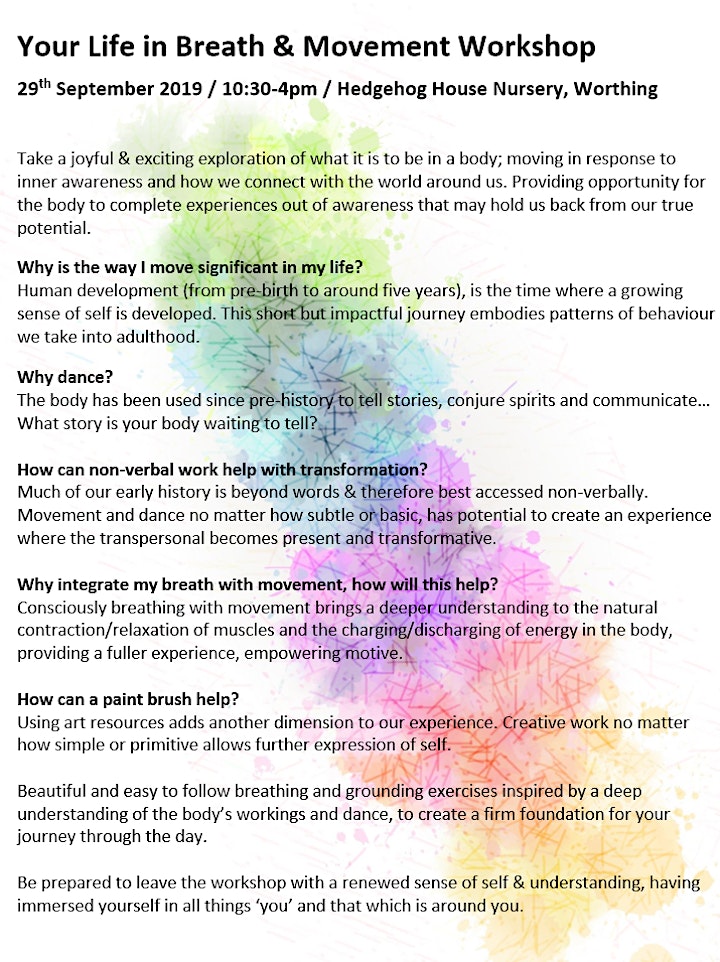 What/When/How etc...
This workshop is valued at £60 - Early bird £55 when booked by 15/09/2019
Tea coffee facilities available.
Art materials included
• Bring your own lunch
• Wear comfortable clothes to move about and 'do' art in.
• Something warm to wrap up in for meditative moments
Hedgehog House Nursery
8 Homefield Road. Worthing, BN11 2HZ
Parking on surrounding Roads available Free on Sundays.
This venue has a lovely safe space to be in and a fabulous large garden with lots of nature.
Amanda Evans has a
• Foundation Certificate in Dance of Awareness™ theory and practice
• Certificate in Bodylistening Training
• is an accredited dance teacher in Margaret Morris Movement
• has 20 years' experience in Holistic Therapies
• Diploma in Stress Management
Dance of Awareness™ (DoA) is a new approach to working with movement, dance and awareness, developed by Tim Brown and Clare Osbond. It has five main streams of influence: Neo-Reichian body-centred psychotherapy; Five Rhythms dance; Authentic Movement; Dance Movement Psychotherapy; and the experiential exploration of Awareness itself.
Margaret Morris Movement was developed by Margaret in the early 1900's… a dancer and pioneer for the love of health, dance and art she created her method of movement with everyone in mind. Way ahead of its time, MMM is still practised around the world and has just as much credibility today as it always had. Experience the joy of her movement to contemporary music bringing liberation to the body, the breath and the self.
Tickets available on
Facebook – Dance of Awareness Worthing
Eventbrite – Life in Breath and Movement
EMAIL –spectrummovement@gmail.com for other payment option
When £60 paid before early bird discount £5 will be refunded to you in cash on the day.
10 places available only.