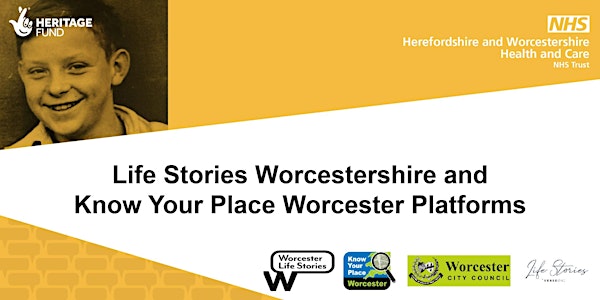 Life Stories Worcestershire & Know Your Place Worcester Platform Launch
Discover the journey key partners have taken in developing this exciting new platform, which we are proud to launch today.
About this event
The story so far:
Two websites have been developed; Life Stories Worcestershire and Know Your Place Worcester through a collaborative project bringing local people together through shared stories of the City of Worcester. Led by Worcester City Council and Herefordshire and Worcestershire Health and Care NHS Trust (HWHCT), with funding thanks to National Lottery players.
The first platform, Life Stories Worcestershire is a bespoke new website. The platform has been developed by Herefordshire and Worcestershire Health and Care Trust and VerseOne in collaboration with local stakeholders and is free to all residents of Worcestershire and Herefordshire.
From today, people will be able to create their own digital life story book. Images, text, video and audio can be uploaded and is fully customisable. The book is private however authors can invite others to view, contribute or oversee their book/s. The books can be downloaded as a PDF or shown as a video slideshow.
Life story work is known to be beneficial to improving well-being and initial research suggests that digital life stories may be even more powerful in triggering memories and enhancing relationships.
The second website, Know Your Place Worcester is a free online platform which gives access to hundreds of archive photos, historic maps and pieces of data about Worcester.
'Know Your Place Worcester' (www.kypworcester.org.uk) gives people a new, easy-to-use tool to find out more about their local area, reconnect with their past and explore the city's rich heritage.
Users will also be able to contribute their own knowledge, memories and images to the 'Know Your Place Worcester' site, ensuring that the content will grow and become relevant to an increasing number of people.
Agenda:
Welcome – Dr. Natasha Lord, Lead Clinical Psychologist & Sheena Payne-Lunn, Historic Environment Records Officer
Mayor speech - Councillor Jo Hodges
Know Your Place journey – Sheena Payne-Lunn, Historic Environment Records Officer
Know Your Place Worcester demonstration – Pete Insole
Life Stories Platform journey - Dr. Natasha Lord, Lead Clinical Psychologist
Importance of Life Stories – Dr Polly Kaiser, Consultant Clinical Psychologist
Life Stories platform demonstration - VerseOne
Q&A on both platforms – Chaired by Dr. Natasha Lord, Lead Clinical Psychologist & Sheena Payne-Lunn, Historic Environment Records Officer
Close - Dr. Natasha Lord, Lead Clinical Psychologist & Sheena Payne-Lunn, Historic Environment Records Officer