Event Information
Location
Russell Square Station
United Kingdom
A proper tour for those wanting to stroll and discuss life in 1815.
About this Event
Life & Times of Jane Austen's Emma
Explore the Regency and discover the best seller of 1815!Emma was Jane Austen's last book published during her lifetime, in December 1815. Some say it was her best. This walk is a celebration of that book.
We discuss real-life events that happened during the time that Jane Austen wrote the book, and how people lived during the time known as Regency England. Join your Regency-dressed tour guide as we "take the air in Brunswick Square", a favourable past-time for ladies of the day.Discover for the first time, or recall with delight, the story of Emma and the characters that make up this fantastic novel.
Is Emma loveable?
Is Frank Churchill a gentleman?
Can we be friends with Jane Fairfax?
Learn about why it's called the Regency, who was the Prince Regent, and how did he shape and influence London and the country. Enjoy gossip of the day, as we discuss the details of Princess Caroline's personal hygiene. Take instruction from a Lady of Distinction in order to make sure your etiquette is on par with other ladies of your stature.
An enjoyable tour that combines literature, London and life! 
This tour is available for private hire when it is not running on public dates.
Public Tour Dates for this walk will be in celebration of various relevant events:
Mother's Day: Sunday March 26
Saturday July 15
Kate Beckinsale's BDay: July 26
Emma Film Release Anniversary: August 2
Alicia Silverstone's Birthday: October 4 
Clueless Film Release Anniversary: October 20
Fans of Jane Austen's Emma celebrated it's 200th anniversary in 2015. This walk was created to celebrate that book, the film and the Regency. A delightful walk in the Brunswick Square area, this walk will be delivered in costume and discuss the characters, way of life in the Regency and more.
Starting near Russell Square Station the walk takes one and a half hours, finishing within walking distance to Russell Square Station.  You can check travel options at the Transport for London Journey Planner. 
For more walks from this guide, visit: www.AmericanTourGuideInLondon.com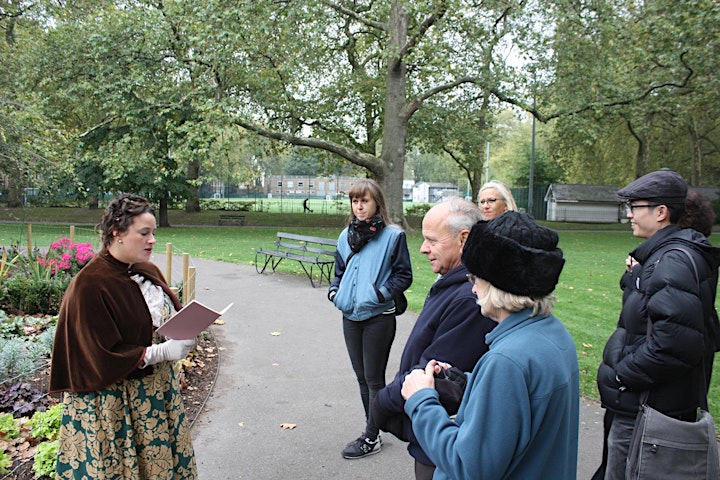 COVID-19 Guidelines
In order to safely conduct this tour for myself and my clients, I ask that all government recommended guidelines be complied with. I will be wearing a mask and would request that clients also comply to cover mouth and nose. I will use hand sanitiser before and after the tour, and recommend that clients bring their own sanitiser. Additionally, I recommend arriving a few minutes early to go to the restroom and wash your hands if you travel via the underground. Please wear a mask while on the underground. During the tour, we will maintain a safe distance of 1m apart. In the event that you are not well on the day, please do not attend the tour. If the guide is unwell, you will be informed the morning of the tour and full refunds will be administered. It is essential that we all look after each other and keep safe during this time. Phone number must be provided at time of booking for communication options related to your tour only.
Location
Russell Square Station
United Kingdom
Refund Policy