Description
Mark Bakers life without limits firewalk. the power of belief in action!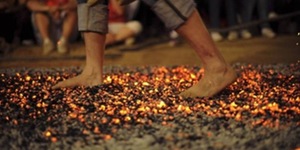 FIREWALK. INSPIRATIONAL TALK AND ARROW BREAKING!
Find out why so many people claim that this is the most life changing event that they have ever attended. So many of us want to change,  and attempt new things. Yet we continuously fail to act and dont know why. Months and even years go by and still nothing changes. The reason is due to the beliefs you hold about yourself at a subconscious level. Something that I have studied and taught for over twenty years with remarkable results. And during the one hour talk before the firewalk I will share with you some key insights that will change the way you think.
The firewalk is a symbolic metaphor for breaking through as by completing a firewalk we are challenging a long held belief . By completing a firewalk you are completing a feat that many have described as a peak experience which plays a major role in creating change. Firewalking is a powerful tool for creating change and we have had countless success stories during our events to prove it.

When you stand in front of a firewalk there is a membrane of fear between you and that fire. Everything inside you is screaming "Dont do it" but as soon as you move you realise that its all in the first step! and that is really life in a nutshell. simply having that courage to take that all important life changing first step!
Can firewalking change your life.....
Listen to the people who did it as they talk to Sara Palmer live on Jersey radio
If you would like to try it for yourself at the watersplash simply book your ticket through eventbrite,you dont need a paypal account, you can just click on the make payment button, and if you have any questions email me for further details at markbakerspeaks@gmail.com or just get your tickets from eventbrite.co.uk and search for firewalking in jersey. enjoy the radio clip
Rai El Toro Garcia-Singh with Mark Baker at Splash.
Fantastic evening with some amazing people.... I did the walk 3 times....everyone had a reason for doing this...and some profound reasons too..let go of the pas
t bring on the future....let go of those you don't need and let in those that will be good for you..the future is bright....changes are coming for everyone that did this today...
"Hi Mark At first when Firewalking was advertised I was doing it to support my wife,but as the day neared I began to change my reasons for doing the walk,at the forefront was still support to my wife but started to think on what I would get out of it on a personal level. Watching the flames engulf the timber dwindling down to glowing embers odd spark as spade and rack prepare walkway, atmosphere of fire walkers and supporters being there for their own reasons but united by the awaiting walk.My gut feeling was ready felt a strange at peace as took my first step onto the embers,in doing so fulfilling my support but conquering on a personal level that can be taken forward and applied to every day occurrences Thanks Mark"
Just completed fire walking in Jersey with Mark Baker, am over the moon that I walked on hot coals at 1200 degrees not only once but three times!.
Highly recommended for those of you who want to break down the barriers of life it will really change your attitude towards life and build confidence and challenge your
 fears, Go on take the first step!
Thank you mark for an empowering talk and the fire walking has reinforced my already growing positive attitude. I recommend this to all.
Thank you so much to Mark and his team, I did my first Firewalk with my Husband tonight and it was truly awesome and also broke an arrow with my throat. I can do it.....I did it. Well done one and all. x
Fiona Murphy
WE DID IT!!!!!!! with Karma Murphy
Our first ever firewalk, absolutely crazy experience. 
Massive thanks to Mark Baker for guiding us through, your life stories were so inspiring to hear.
Still can't believe we walked on coal over 500 degrees!!! Not once but twice!!!
This is a awesome experience for anyone who wants to break through limiting beliefs and face your fears head on..........it 's all starts with the first step!!
Congratulations to all who shared the night with us. x
Maureen McCabe
 This can be a life changing experience. I have accomplished this Firewalk with Mark Baker on two separate occasions and albeit my reasons for doing it on each occasion were extreme the results were equally exhilarating empowering. Do it for you
TERMS AND CONDITIONS
OUR MAIN CONCERN IS YOUR SAFETY AND YOUR ENJOYMENT, IF WE DEEM IT UNSAFE TO HOLD THE EVENT DUE TO WEATHER CONDITIONS WE RESERVE THE RIGHT TO POSTPONE THE EVENT AND YOUR PLACE WILL BE AUTOMATICALLY TRANSFERED TO THE NEXT AVAILABLE DATE. HOWEVER IF THE DATE IS NOT SUITABLE FOR YOU, YOU ARE FREE TO CHOOSE ANY OTHER DATE AT ANYTIME WITH US. WE HOLD ABOUT SIX FIREWALKS A YEAR SO THERE ARE ALWAYS PLENTY OF DATES TO CHOOSE FROM.  YOUR BOOKING IS NOT SUBJECT TO ANY PRICE INCREASES OR ANY ADDITIONAL FEES WHATSOEVER. Due to the fact that it costs us £25/30 for each participant to complete the walk we cannot offer refunds. But in fairness we offer an indefinite open ticket which may be redeemed for any event at any time.