Description
MAKE 2018 YOUR YEAR - TO STEP INTO YOUR GREATNESS
Watch The Seminar Introduction Video On YouTube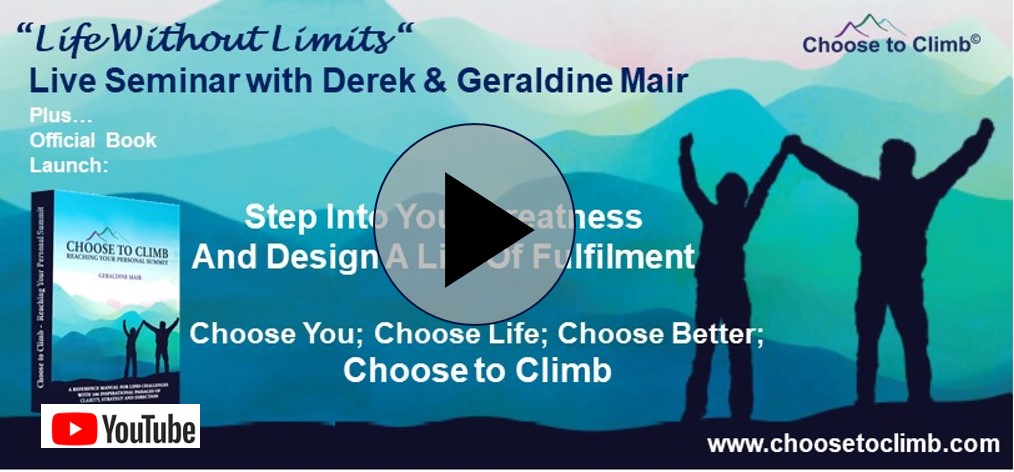 Join us for an informative, interactive & inspirational talk about YOU and YOUR choice to climb; transitioning your life from ordinary to extraordinary with deeper learnings from the book - 'Reaching Your Personal Summit' to help you reach yours…
You will learn how you can upgrade your mind, your wealth and your life, in fact we are so confident that you'll learn more about you and how to create the life of your dreams from this one seminar that if you do not walk away with at least 3 life changing strategies, we will refund your ticket money - no questions asked.
One thing is for sure, you will only ever hit what you aim at, therefore should you fail you had better aim at something high and at the very least you will be standing closer to your personal summit, with greater views and valuable learnings...
In your quest to achieve the quality of life you desire you must 'choose to climb'. Far too many live their lives just ambling in the foothills, so...
Whether your goal seems near or far - choose to climb!

Whether the way looks tough or difficult - choose to climb!

Whether the path becomes rocky or rugged - choose to climb!

Whether you feel weary and discouraged - choose to climb!

Whether you lose all hope and wonder if it will be worth it - choose to climb!

Whether you must stand up, stand apart or even standalone - choose to climb!
You risk absolutely nothing....
But your entire life can change if you give yourself a chance.



Here are three things we already know about you...
You want to improve yourself and your life.

You know it's possible to change your life for the better but dont know how.

You know that you need help to move you closer toward your goals and dreams.
YOU were each born with a seed of greatness in your heart and ony YOU can choose what to feed it, however YOU can't nurture it's growth alone... just ask any professional athelete!

It is your own thoughts, emotional patterns, beliefs, values and expectations that got you to where you are now but you simply can't get from where you are now, to where you want to be without changing them?
Start 2018 with a persoanl plan... Come along to this LIVE event, and we'll show you how...