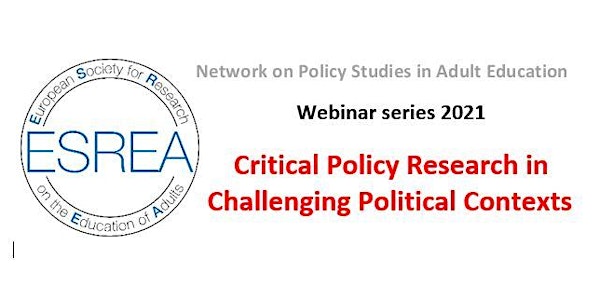 Lifelong Learning, Global Social Justice & Sustainability
Seminar 2: Lifelong Learning, Global Social Justice & Sustainability - Peter Mayo & Leona English
About this event
The online seminar series Critical Policy Research in Challenging Political Contexts explores how researchers operate in different political environments, how they negotiate the challenges involved, and the impact of growing control – and "creeping authoritarianism" – today. It is far from clear that liberal notions of academic freedom are or have been the norm. Recent contributions point to the growing significance of authoritarian and populist political movements and ideologies, and ask: how this will influence policy research in adult education?
About this seminar : Lifelong Learning, Global Social Justice & Sustainability - Peter Mayo & Leona English
Drawing on their recent book, Lifelong Learning, Global Social Justice and Sustainability, Peter Mayo and Leona English will discuss current neoliberal trends in learning. They critique neoliberal versions of lifelong learning, contrasting it with the notion of critical literacy, and the work of Paulo Freire. In the context of the COVID-19 pandemic, they draw on a gendered and intersectional perspective, arguing that configurations of social inequalities occur and take form within intersecting oppressions. With differing discursive locations, different people or groups have distinctive standpoints which need to be factored in when formulating policy. When developing lifelong learning policies and action, we must meet challenges concerning historically marginalized groups with our eyes wide open. Citizens need to remain politically alert in order to navigate the systems that are continuously shifting to privilege the already privileged.
Peter Mayo is Professor of Arts, Open Communities, & Adult Education at the University of Malta, and author or editor of over one hundred journal articles and book chapters, twenty-four books, and the Postcolonial Studies in Education book series. Leona M. English is Professor and Chair of the Department of Adult Education at St. Francis Xavier University, Canada, former co-editor of Adult Education Quarterly, former President of the Canadian Association for the Study of Adult Education, and former staff member of UNESCO Institute for Lifelong Learning, Hamburg. Their joint work includes Learning with Adults, winner of the Cyril O. Houle Award for Outstanding Literature in Adult Education. Borut Mikulec (Discussant) is Associate Professor for Adult Education at the University of Ljubljana. His research includes the role of transnational organisations in education policy, professionalization of adult educators, continuing vocational education and active citizenship. He is editor in chief of the journal Studies in Adult Education & Learning.
This is the second in the online seminar series Critical Policy Research in Challenging Political Contexts. The next online seminar is 'Study of Adult Education in Different Political Contexts & the Impact of Political Context on Research into Adult Education' (Wed 16 June).