Experts in lighting and soundscape discuss the contribution of these disciplines for the experience of heritage sites
About this event
Light and Sound for Heritage sites (Monday June 21st - 10-12h UK time)
This webinar is organized within the project "Influence of soundscapes and lightscapes on cultural heritage perception" funded by the UCL Cities Partnership Programme:
Schedule of the webinar:
Intro
Lorna Flores, Claudia Guattari, Tin Oberman, Francesco Aletta: Influence of soundscapes and lightscapes on cultural heritage perception
Soundscape and heritage
Pamela Jordan: Beyond soundmarks – identifying an historic soundscape
Antonella Radicchi, Dietrich Henckel: Combined sound and light walk as a method for collective inquiry and knowledge production. Reflections about potentialities and challenges for future research
Break
Lighting and heritage
Geraldine O'Farrell: Lighting historic buildings and places
Lodovica Valetti: Light and cultural heritage: Towards the definition of a nocturnal lightscape
Panel discussion:
Giuseppina Emma Puglisi (moderator), Francesco Asdrubali, Arianna Astolfi, Antonella Bevilacqua, Marco Frascarolo, Anna Pellegrino.
The event has been included in the list of events of the International Year of Sound 2020-2021. This is a global initiative to highlight the importance of sound and related sciences and technologies for all in society. The International Year of Sound will consist of coordinated activities on regional, national and international levels. These activities will aim to stimulate the understanding throughout the world of the important role that sound plays in all aspects of our society. As well, these activities will also encourage an understanding of the need for the control of noise in nature, in the built environment, and in the workplace.
The event is also supported by Associazione Italiana di Acustica (AIA) - the society was founded on 10th February 1972 as a not-for-profit, apolitical, scientific association, without any commercial or industrial objective, in order to promote and encourage the studies on acoustics and its related problems in the scientific, technical, normative, industrial, social, professional and educational fields.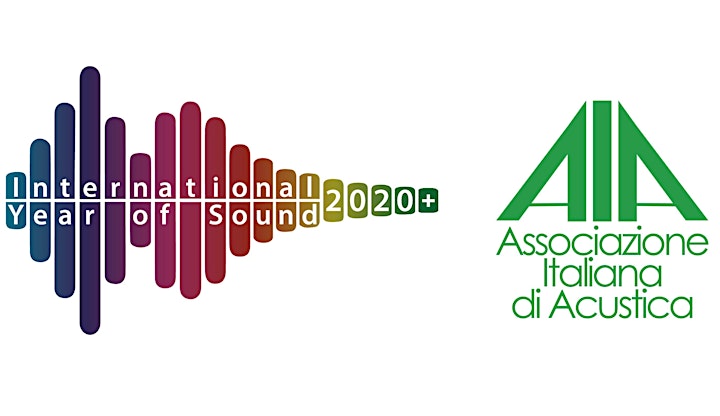 Organiser of Light & Sound for Heritage Sites