Like Riding a Bike: Co-creating a cycling environment for 9s to 90s.
Sales Have Ended
Ticket sales have ended
The ticket sale is now closed.
Sales Have Ended
Ticket sales have ended
The ticket sale is now closed.
A conference exploring how we can get people who used to cycle, or have never cycled, onto bikes, and the role of virtual reality cycling
About this event
Come and join us for a day full of informative talks, interactive workshops, cycle tours, an expert panel and demos and rides on ebikes and adapted bikes!
See the full programme and selection of workshops below.
Ticket price includes lunch and refreshments.
Event objectives:
Understanding how to create an age friendly locality, as a low traffic neighbourhood
Best practice case studies of effective interventions for active travel – linking soft and hard measures
Understanding the benefits of ebikes and how they can get people back cycling
Learning more about the opportunities that virtual reality can play in increasing activity for people who are housebound
Developing a post-conference guide to promoting uptake of cycling on the basis of the learning from this conference
The conference is organised by Cyclox, the cycle campaign for Oxford, and Oxford Brookes University and it follows on from the University's cycle BOOM research and current Co-CAFE project (www.cycleboom.org , www.co-cafe.org).
Who should attend?
Council officers, elected councillors, transport and environmental campaign groups (local and national), Cyclox members, community organisations interested in transport, active travel and health, local businesses and educational institutions, academic, other professional experts, and interested members of the public (whether you cycle or don't cycle).
Special thanks to the Midcounties Co-operative for their help in funding the event.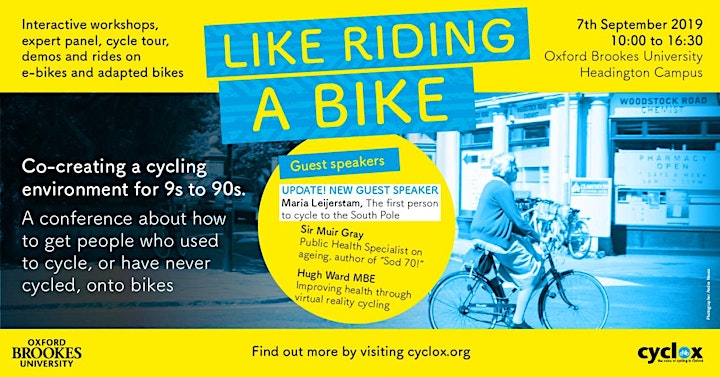 The programme:
10:00 Registration / Tea & Coffee
10:30 Opening and Welcome (Lord Mayor of Oxford, Alison Hill and Ben Spencer)
10:50 Introduction (Anneliese Dodds, MP Oxford East)
11:00 Cycling can lower your risk of dementia, and decrease the need for social care (Sir Muir Gray)
11:20 Workshop Session 1
12:30 Lunch
13:50 My cycle journey to the South Pole (Maria Leijerstam)
14:10 Enabling and Improving Wellbeing - Therapeutic (Virtual) Realities (Hugh Ward)
14:30 Workshop Session 2
15:40 Discussion Panel: Sir Muir Gray, Penny Thewlis (Age UK), Annette Venters (Chilterns AONB), Suzanne Bartington (County Councillor Witney North & East & Cycling Champion), Pat Kennedy (City Councillor for Lye Valley & Older Peoples' Champion)
16:30 Closing Remarks
Workshops
We will run seven different workshops (listed below) giving you the opportunity to attend two of them (one in the morning session and one in the afternoon session). You can select which workshops you would like to attend when buying your ticket (please keep in mind that the number of places available for each workshop is limited).
Workshop 1: Mini-Holland: Why not here?
run by Scott Urban (Oxfordshire Liveable Streets) and Danny Yee
This is the kickoff event of Oxford Mini-Holland Weekend. See a short video featuring Waltham Forest's radical pro-liveability changes and interviews with Waltham Forest politicians and residents. See Oxfordshire Liveable Streets' costings for a low-traffic neighbourhood in Florence Park. Breakout sessions on the impact of a low-traffic neighbourhood (LTN) and the political journey to get there.
This session complements the 'Safari to Florence Park Estate' session.
Workshop 2: Safari to Florence Park estate.
run by Tom Shopland (Oxford Brookes University)
This will be a curated safari by bicycle of the Florence Park estate, departing from and returning to Brookes. Participants will discuss the key elements of liveable street and neighbourhood design. Participants should bring their own cycle (and helmet if desired) to take part and also be comfortable riding in light traffic.
This session complements the 'Mini-Holland: Why not here?' workshop.
Workshop 3: Wheels for All - providing inclusive cycling facilities.
run by Steve Unwin (Wheels for All, Cyclox) and Kevin Hickman (Wheels for Wellbeing)
Our experience at Wheels for All - Oxford in using a wide range of adapted bikes to enable people with disabilities and other needs to benefit from the physical and mental stimulation of cycling - as well as having fun. Discussing the different types of bikes available and the adaptations that enable people with a range of needs to be able to cycle by themselves or with a carer and the positive experience this provides for both the participants and the volunteers.
In the afternoon session, this workshop will be accompanied by a segment on virtual reality environment and its role in improving well-being, particularly for people with disabilities (run by Hugh Ward).
Workshop 4: From theory to reality: how to actually get people onto electric bikes.
run by Alistair Kirkbride (CoMoUK)
The evidence for what types of people are attracted to ebikes and the resulting benefits is compelling and increasingly comprehensive. Ebike-share has been described as a gateway drug to cycling and ebike sales are booming. So yes, the news is inspiring, but a reality check means that total numbers are still small in the great scheme of things – and could be so much bigger.
This workshop will summarise what we do know about who uses ebikes, for what purposes, and the relative benefits of them doing so. We'll then use these blocks of knowledge to work out how we get from where we are to where things could be - to getting more people using ebikes more often.
Workshop 5: Cycle Boom: Best Invention Since Chewing Gum! The benefits and challenges of ebikes and the age friendly environment needed to get people back cycling. (afternoon only)
run by Ben Spencer (Oxford Brookes University)
The cycle BOOM research project (www.cycleboom.org) gave people 50 and over the chance to try riding an ebike for eight weeks. Find out about the many benefits they got from the experience and the challenges faced before helping to develop an age friendly manifesto for ebiking.
Workshop 6: Positive Spin: Cycling for people with Dementia and their families. (afternoon only)
run by Dave Dansky (Bikeability Trust, Bikeworks CIC) and Clare Morris (For Brian CIC)
An interactive Workshop exploring the benefits of cycling for people with dementia. Participants will develop ideas about how to engage the target group with cycling, the practical delivery to include positive risk taking, and how to evaluate both cycling outcomes and other benefits for people with dementia and their families.
Workshop 7: The Big Bike Revival
run by Susan Keywood (Cycling UK), Kath Cochrane (Windrush Bike Project) and Lesley Easter (Cycling UK)
Few things in life are better than a cycle ride, whether it's to visit friends, a daily commute or a trip into the countryside.
But we know it can be hard to get started. Around 42% of people in the UK own bikes but don't ever use them. The Big Bike Revival is all about overcoming those little barriers and to help people feel more confident about cycling, by providing free cycle checks, servicing, cycle maintenance workshops, cycle training and accompanied rides.
This workshop is all about this programme and how it is being implemented through the Windrush Bike Project. There will be opportunities to explore how it can be extended to other communities in Oxford, to get people back on their bikes.
Workshop 8: Virtual Reality Cycling (morning only)
run by Hugh Ward (Rezolutionz)
Cycling communities have a role to play in creating and improving vital societies. How can we use real and virtual cycling experiences to improve the individual and collective wellbeing and so reduce disorder, disease, disability, depression and dependence? At this workshop we will be engaging with you, the participants, in helping us address the challenge(s), develop ideas about the real need(s), explore possible solutions, consider how to implement, and explore the risks/opportunities.
______________
Getting there
The Headington campus is well-located for the city's Park & Rides and travel links to London, and is connected to Oxford train station by our U1 BROOKESbus service.
We generally do not provide parking for attendees and we strongly encourage you to arrive by bike or public transport. However, if you do require a parking space, please get in touch with us directly at margo.socha-2016@brookes.ac.uk.
You can find further transport information on Brookes website and bike routes and a journey planner on Cyclox website.
______________
Pen portraits of presenters and panel members
Alison Hill Chair of Cyclox, Chair of the Bikeability Trust Alison qualified in medicine from Bristol University. She was director of public health in Buckinghamshire and Milton Keynes and then managing director of Solutions for Public Health, an NHS unit providing public health information and knowledge services. Having been an everyday cyclist all her life, Alison was able to weave her interest in cycling into her professional life by bringing together research and data about the benefits of active travel to health and wellbeing. She was on the board of Cycling England for its duration. She was nominated as one of the 100 women in cycling in 2019.
Alistair Kirkbride is a freelance developer of ebike and other visitor transport schemes He is currently involved in the implementation of a visitor distributed e-bike rental scheme in the central Lake District and designing another for a Hebridean island. He set up Bikeplus (now www.como.org.uk) – the national charity for bikeshare in 2015 - delivering the DfT funded Shared Electric Bike demonstration programme. He designed the Lake District's leisure travel LSTF GoLakes Travel programme (2011-2015). He has worked on demand management in the public, private and third sectors for over 15 years, with a particular interest in shared transport and applying progressive mobility thinking to visitor travel and rural communities.
Anneliese Dodds Labour and Co-operative Member of Parliament for Oxford East Anneliese was elected in June 2017, and has been a shadow Treasury minister since July 2017. She lives on Rose Hill with her partner Ed and two children Freddie and Isabella. Anneliese represented Oxford from 2014 to 2017 as our MEP. In that role, Anneliese served on the Economic and Monetary Affairs Committee, focusing especially on clamping down on tax avoidance by big companies. She was also responsible for tightening rules on financial services, to help prevent any repeat of the global financial crisis. Before becoming an MEP, Anneliese worked for many years as an academic. She also chaired a local debt and welfare advice centre.
Annette Venters People and Society, Chilterns AONB Conservation Board, Director of the Chilterns Tourism Network Annette has 25 years experience in leisure, tourism and countryside access, developing and promoting recreational opportunities in both urban and rural locations. She has worked for local authorities and for a tourism consultancy specialising in sustainable tourism. Annette grew up in the Chilterns and after many years working throughout the UK she returned to work for the Chilterns Conservation Board, developing new access and leisure initiatives to encourage greater use and appreciation of the AONB. Annette is passionate about getting people active outdoors and has developed new cycling initiatives such as the Chilterns Cycleway and the 3 year LSTF funded Cycle Chilterns project.
Ben Spencer Research Fellow at Oxford Brookes University, Cycle BOOM project Ben Spencer is a Research Fellow at Oxford Brookes University and has a background in urban design, community development and lifelong learning. Ben's research work has focussed on gerontology, mobility, health and wellbeing and designing healthy environments. He was a researcher on the cycle BOOM (www.cycleboom.org) and Healthy Urban Mobility projects (www.hum-mus.org). He rides bikes for transport and pleasure, mostly quite slowly.
Clare Morris Director, For Brian CIC Clare Morris has a background in Speech & Language Therapy and is a UKCP registered psychotherapist who has worked with people with dementia and their families for 30 years. Personal Construct Psychology (PCP) is the theoretical underpinning for her work, a creative approach to understanding how people in any context make sense of events. PCP assists us in standing in the shoes of a person experiencing progressive and fluctuating cognitive impairment and construing the perspective of different road users in the goal to encourage active travel. In addition to training professionals from health, organisational and business settings in the application of PCP, Clare develops therapeutic approaches for people with dementia and their families, including yoga and cycling. For Brian CIC is her latest endeavour, a company set up to empower people with dementia and their families and friends, to co produce sustainable activity for brain health which is both inclusive and accessible.
Craig Simmons Lord Mayor of Oxford Councillor Simmons lives in East Oxford with his partner and teenage daughter. He has represented the area on the County and then City Council for more than 20 years. He works in East Oxford for a locally headquartered, international sustainability consultancy. Craig is a keen cyclist and community campaigner having established the East Oxford Farmer's Market and Low Carbon East Oxford as well as co-founding the Cowley Road Carnival and local car club. His supported organisations for the coming year are Asylum Welcome and The Lord Mayor's Climate Change Fund.
Danny Yee Director of Oxfordshire Liveable Streets. Danny lived in Sydney before moving to Oxford ten years ago, when he gave up civil liberties activism and took up transport activism instead. He is a director of Oxfordshire Liveable Streets.
David Dansky Business Development Manager, Bikeworks CIC, and associate at the Bikeability Trust "David is an ex-teacher who left teaching to work for the Cooperative Cycle Training UK as Head of Training and Development. He was involved as a member of the Cycle Training Reference Group in the development of the Cycle Training National Standard and Bikeability, later becoming one of the founding Directors of The Association of Bikeability Schemes. Currently David works as an associate of the Bikeability Trust and works for Bikeworks CIC as Business Development Manager. David has developed some pioneering projects such as Safe Urban Driving for Lorry and Bus drivers, Positive Spin Cycling and Ride Side By Side, a cycling project for people over 60 or with issues of mobility, a DfT funded innovations Challenge project"
Kath Cochrane Windrush Bike Project Co-founder Windrush Bike Project Kath co-founded the Windrush Bike Project in 2016. The WBP runs cycle training in over 23 schools in West Oxfordshire, has a community workshop delivering bike mechanics training for adults and young people, and runs an annual series of events as part of the Big Bike Revival. We also campaign for better infrastructure for cycling in West Oxfordshire. Kath has a wealth of practical experience in getting people onto cycles, and an understanding of the barriers people face in using cycles for everyday journeys.
Kevin Hickman Trustee of Wheels for Wellbeing
Mr Hugh Ward MBE Director Rezolutionz Commissioned into the British Army/Royal Engineers in 1986, Hugh has served in mechanised, light infantry and commando units on operations from warfighting to peace keeping. Completing his MSc in Defence Simulation in 1998, he was assigned to the Ministry of Defence's Procurement Executive. In 2002, Hugh became a Member of the Order of the British Empire. Joining Saab Technologies in 2004, Hugh worked on the design and improvement of defence and security operational capabilities. Highlights included: the design and delivery of deployable training solutions in Kenya/Belize, a solution to help detect Improvised Explosive Devices for operations in Iraq/Afghanistan and the creation of learning environments which enable the collaborative exploration of Threat – Need – Solution Continuums. Moving beyond Saab in 2019, Hugh created Rezolutionz to continue his work on creating and improving environments where people are safe to flourish. Pastimes include walking, sailing and exploring what history can teach us about the impact of leadership and strategy on human endeavours. Happily married to Eve, since 1989, with 2 wonderful children: Rose and Jack."
Pat Kennedy Oxford City Councillor for Lye Valley, Older People's Champion I became active in the Labour party on my retirement as a secondary school teacher/FE lecturer. In 2012 I was elected as a city councillor for Lye Valley; currently I am the Older Peoples' Champion. I seek to influence council services so that the needs of older people are considered in the planning and delivery of services. I am also working in partnership with Age UK Oxfordshire and groups for older people to ensure that Oxford becomes more age friendly. I have led a weekly Health Walk since 2011 from Hinksey Park. I was a keen cyclist but I now have concerns about buses and HGVs on city roads.
Paul Gasson Waltham Forest Mini Holland Paul has extensive experience within organisations largely managed & operated by volunteers including 3 years as chair of the London Cycling Campaign (LCC), as Camden Cycling Campaign coordinator for 10 years, and a number of leadership & other roles in Waltham Forest. See http://paulgasson.com/biography/
Penny Thewlis Chief executive officer, Age UK Oxfordshire Trained as a teacher, Penny has worked in the statutory and voluntary sectors in the disability field, has taught social work students and spent 10 years as Chief Officer of Oxfordshire Community Health Council. She joined Age UK Oxfordshire in 2000 to undertake a study of the needs and aspirations of older people in rural Oxfordshire and stayed to work alongside older people and communities to implement the recommendations of that study. Becoming CEO in 2017, Penny is passionate about improving the quality of later life by creating more age-friendly approaches and challenging negative stereotypes of age and ageing.
Scott Urban Director Oxfordshire Liveable Streets Scott Urban is a director of Oxfordshire Liveable Streets (OLS). OLS is a not-for-profit organisation promoting a Dutch approach to transportation and the public realm, in Oxford and in Oxford's towns and villages. Scott is also a trustee of People, Place and Participation Ltd. ("Flo's") in Florence Park. He teaches on the visiting student programme at Hertford College, Oxford, and is Senior Advisor (International Finance) at Oxford Analytica. Scott holds a DPhil from St Antony's College, Oxford. He grew up in Colorado, USA and worked and lived in Beijing, China before moving to Oxford in 2001.
Sir Muir Gray Consultant in Public Health in Oxford, author of "Sod 70!", consultant for UK Active Throughout his career he has had an influence on health care policy for screening, knowledge management, and value in healthcare with running through the whole career an interest in preventing the problems people wrongly ascribe to ageing. The problems that people face as the live longer are due to loss of fitness, (physical mental and social), disease , much of it preventable, and negative attitudes. He has long seen that activity - physical, cognitive and emotional, for example cycling in a group - is the true panacea which helps people live longer better. He is particularly interested in getting a million people to restart cycling, at least 500,000 cycling in virtual reality groups. He is the author of "Sod70! – The Guide to Living Well" and with Diana Moran, the joint Author of "Sod Sitting, Get Moving". He is a Consultant in Public Health for www.ukactive.com.
Steve Unwin Cyclox membership secretary, volunteer at Wheels for All - Oxford Steve is a lifelong cyclist in particular using a bike for commuting and everyday travel. He was also an early adopter of electric bikes and continues to advocate their use for getting more people to cycle, more often and for longer journeys. He's a long standing member of Cyclox and is now the membership secretary. He has been a volunteer with Wheels for All - Oxford since it was set up in 2012 and took over running it earlier this year with a colleague Jennifer Tait and is actively looking for more volunteers so they can run more sessions.
Susan Keywood Cycling UK Project manager, Big Bike Revival England, Cycling UK
Suzanne Bartington Oxfordshire County Councillor for Witney North & East Division, Cycling Champion Suzanne grew up in Oxfordshire, returning to the local area after completing a medical degree at the University of Cambridge and postgraduate education at UCL and Imperial College London. She is now a lecturer and Honorary Consultant in Public Health at the University of Birmingham. She was elected as Oxfordshire County Councillor for Witney North & East Division in 2017 and appointed as Cycling Champion for the County. She is a committed advocate of sustainable development, health improvement and social justice.
Tom Shopland Co-founder Mountain Bike England and Trail Unknown Cycle Tours Tom Shopland is a qualified mountain bike leader and has co-founded Mountain Bike England and Trail Unknown Cycle Tours. Tom feels strongly about promoting exploration of wild places for improving society's well-being and spreading the love for the natural world. Tom works part time at Oxford Brookes University on the 'Co-Creating Age Friendly Environments' project, looking at how cities are designed to encourage walking and cycling.
Organiser of Like Riding a Bike: Co-creating a cycling environment for 9s to 90s.