Linguistics in and beyond the languages classroom: why and how! A webinar with Sarah Campbell

Tuesday, 14 July 2015 from 20:00 to 21:00 (BST)
Event Details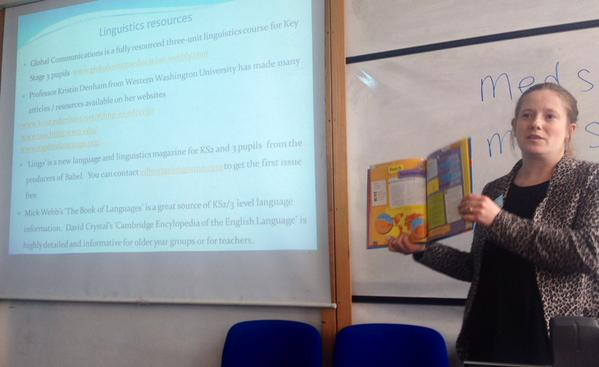 ALL London organises webinars open to all teachers.  We hope that you will like us and want to join!
We were extremely impressed with a talk given by Sarah Campbell at Language World 2015 and invited her to share her ideas even more widely by presenting a webinar for us.  This picture was taken by the European Commission's Paul Kaye during the session.   Language lovers cannot fail to be enthused and motivated by this presentation!  Here is her description of the session:
 Linguistics in and beyond the languages classroom: the why and the how!
 Whether or not you studied linguistics yourself, introducing linguistics into the languages classroom is an effective way of enhancing pupils' language, literacy and problem solving skills. This practical session explores the crosscurricular benefits of linguistics, and provides ideas and resources, including information on how to access support.
 About Sarah ....
Sarah Campbell is a linguist and experienced MFL teacher who currently combines stay‐at‐home motherhood with work for the Linguistics Association of Great Britain (LAGB) and United Kingdom Linguistics Olympiad (UKLO). She led the development of an award‐winning KS3 linguistics course, and currently manages a UKLO team designing KS2/3 linguistics resources.
Joining a Webinar - Guidelines - Etiquette
Please read the Webinar page of our website for more information about how to join a Webinar.  It is very easy - you just click on a link and you can see and hear!  Please do not pass the link to people who have not signed up and read the etiquette as this can cause problems.
http://www.all-london.org.uk/webinars.htm
We look forward to seeing you!
Do you have questions about Linguistics in and beyond the languages classroom: why and how! A webinar with Sarah Campbell?
Contact ALL London
Organiser
We are the London branch of the national  Association for Language Learning. (ALL)  See our website for full details and join the Yahoo mflresources group which we moderate for on-going discussion and sharing.
We organise regular London-based events throughout the year for local members to encourage close and sustainable networking between  people.  We are inclusive!  Although we strongly encourage people to join ALL which supports work done at a national level,  our events are open to all those who care about language learning, and we love it when people join us from other parts of the country (or the world!)
Our local events  complement events organised at a national level.   An enthusiastic and lively committee plans the  events  as shown by the online diary.  Please  contact us for further information in any way which suits you best.  
Linguistics in and beyond the languages classroom: why and how! A webinar with Sarah Campbell