Description
Link4Business with Intent
Would you like to be amongst a community of business owners where everyone was looking out for each other. Where fairness, honesty and trust were the key drivers. Where you knew that each person was confident about the skills and abilities of others. Where everyone was on your side, willing you on to succeed?
Visit our SW Herts Link4Business site: https://sites.google.com/view/swhertsl4b
Link4Business is an initiative to bring together entrepreneurs and businesses owners in the town to do exactly the above, through innovation and creation. Not only innovate and create for ourselves but to inspire others to think outside the box too. To consider alternative ideas and solutions to the challenges we each face, and collaborate with intent to improve not only our own businesses, but in turn, the local business economy."
Many of us are conditioned to try and find solutions to our challenges from within the box... what about daring to look beyond the 'traditional', 'the way it's always been done' ... what we know... what about experimenting and new ideas... new thinking? ... that's Link4Business-i … with Intent.
Actually if you would like to be amongst a group of mavericks, people who don't want to follow, but perhaps take a chance... lead... innovate... and take a bit of a risk... then maybe Link4Business-i - Link for Business with Intent in SW Herts is for you...
NB: This isn't for those who want to tell others what they do... and try and sell to others. This is for people who want to 'open the box' and start thinking..
For members the event is free. For non members you can visit free for your first Link4Business event (use the promotional code '1stVisit'), thereafter the event is £12 to attend. You can pay via paypal using the link above.
When
4th Thursday of every month - 6:30 pm to 8:00 pm.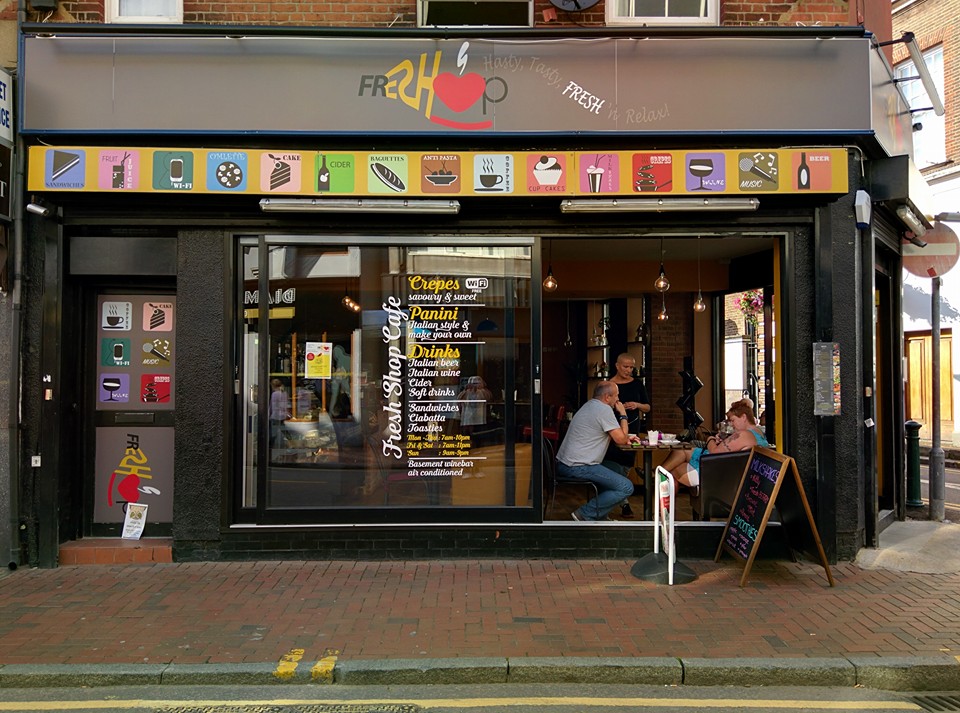 Where
Fresh Shop
2 Market Street
Watford
How does it work?
Link4Business is the business support organisation of the Link4Growth portfolio. Its purpose is to bring local businesses together through structured and educational business networking to develop and grow relationships that lead to success.
Everyone is able to attend their first event for no charge, so please come along and experience for yourself.
One of the most common challenges in business is getting your message to a wider audience. At Link4Business our mission is to assist you in raising your profile and that of your business locally and nationally, at events, and online too.
Totally inclusive, no lockouts so all businesses are welcome. People in the same business arena often collaborate and assist each other

Gain help and support from others in the Link4Business and Link4Growth community

Be a speaker and share your experience with others
What is the benefit of attending?
Get to know other local business owners, meet, talk, listen, learn, connect, share and inspire.
Link4Business is about recognising that the 30% of people that are in business need additional things above and beyond that which Link4Growth offers. Business is a part of community, and the engine room that finances the community activity. A thriving local business environment leads to everyone benefitting.
Link4Business is about bringing all local businesses together under the banner of #L4GBuyLocal and working as a team, sharing contacts, promoting each other and raising the profile of all our brilliant local businesses. We also know that most people would like to contribute to society, by making businesses aware through L4G of the local community and charity organisations everyone can find some way to contribute doing something they love to do, not just standing on street corners with a bucket.
Additionally take advantage of all aspects of the Link4Growth community. Workshops and Training through Link4Skills (become a trainer yourself?), L4G.tv, our national TV station with our very own Business Channel and... Online Mentoring Groups (OMG) for peer to peer mentoring and accountability.
Parking
Close by paid for car park.
Payment Info
Members are free.
Non-members must pay £12. Please register for the event and pay at the top of this page, the first one is free, details shown above.
Or you can be part of Link4Business and attend as many events as you like nationally for only £12 per month.
Refreshment Details
People buy any food/drink that they would like.
More info
If you have any questions regarding this event please contact:
Name: Chris Ogle
Email: watford@link4business.co.uk
Telephone: 07834 754000
Twitter: @link4growth

If you would like to get the full benefits from Link4Business and join the network then CLICK HERE and become a member today. We will get you a slot to speak at the next event where possible. educational networking environment for businesses. It's an event where businesses can not only come and network and increase contacts but also learn from each other too.