About this Event
POSTPONED TO JUNE 2020
Due to the recent developments with Covid-19, we are sorry to have to be postponing the April 23rd event at Chilworth Manor Hotel. Your health and well-being is our top priority.
We will resume LinkedIn Local Southampton just as soon as it is deemed safe to do so. We already had June 11th booked at Chilworth Manor, out on their lovely terrace, so we will keep that date pencilled in for now as a possible 'postponed to' date.
That is 11 weeks away and so there is a likelihood that it will also need to be postponed but, for now, we are adopting a 'Prepare for the worst, hope for the best...' approach and are keeping that option open. We will reassess at a later date.
It is easiest for us to carry everyone's tickets over to the next event, to reduce admin. and continue building the attendee list with something to look forward to vs. starting over. However, if anyone needs a refund, one can be arranged. Please drop me a quick line at Baz@YourBest.uk and we'll get it done.
In the meantime, we have some exciting news that can't all fit on this post.
Please visit: www.LinkedInLocalLive.com for further details.
====================================
LinkedIn Local Southampton lets you 'Meet the People Behind the Profiles!'
Reserve your tickets now before they sell out - Spaces are limited!
Only £15 per ticket - to include Canapes, Wine, Beer and Sparkling Elderflower
Sponsor an additional £25 and display your pull-up or roll-up banner and your materials. Put your brand in front of Over 150 businesses present, and in the many social media pictures that will result from this event!
If you haven't been to a LinkedIn Local Networking Event before, you need to be at this one. If you have been, you know you can't miss it. A Global Phenomenon, LinkedIn Local focuses on Collaboration not Competition. There's a reason LinkedIn Local Events always sell out.
Please contact the LinkedIn Local Host, Baz Croall, if your company is interested in sponsoring LinkedIn Local Southampton.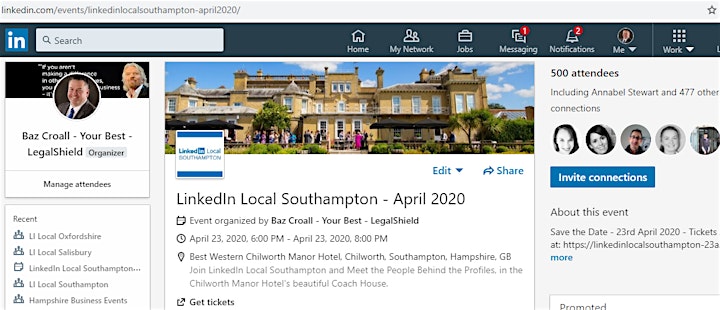 LinkedIn Local Southampton has nominated Oakhaven Hospice Trust
LinkedIn Local events are hosted on a non-profit basis, to network and build community and relationships, and to share best practices. We seek sponsorship of events and also nominate charities to support through the LinkedIn Local events and group activities.
LinkedIn Local Southampton has chosen to support Oakhaven Hospice Trust.
The Oakhaven Hospice Trust's free of charge services have now grown to provide comprehensive specialist palliative care to over 140,000 residents.
Learn more at: www.OakhavenHospice.co.uk
Oakhaven Hospice video:
Where and When is LinkedIn Local Happening?
LinkedIn Local Southampton is on the 23rd of April, 2020, from 6pm to 8pm, at:
The Best Western Chilworth Manor Hotel
University Parkway, Chilworth, Southampton. SO16 7PT
Chilworth Manor Hotel is set in 12 beautiful acres of Landscaped Gardens and Conservation Area. You may wish to arrive early and walk the grounds...
We will be using The Coach House for this event, which has its own entrance to save you walking through the whole hotel to get to it. We would suggest that you park to the far left end of the Main Entrance, or behind The Club @ Chilworth Manor (See the floor plan below...), then enter the Coach House as marked.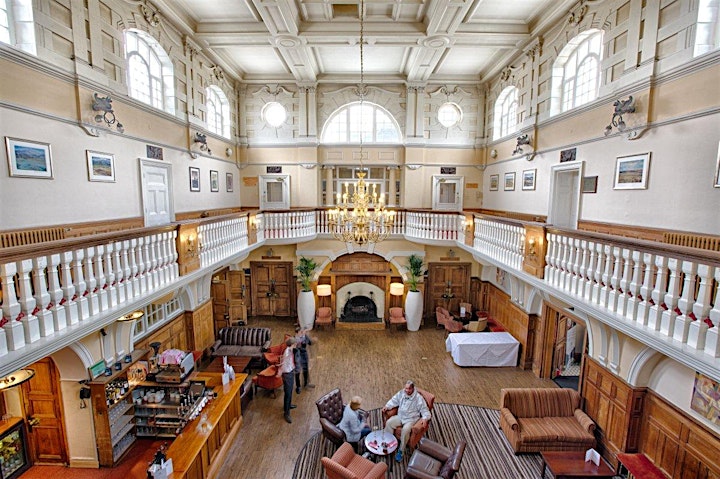 What is the Agenda for this LinkedIn Local Southampton Event?
While we have promoted this event to run from 6pm to 8pm, you are most welcome to come and go as you please. You will be relieved to know that there are no sales pitches or lengthy introductions to listen to.
All we do ask is for your attention for just a few minutes at 7pm to welcome you all, and to introduce a couple of key people and organisations that make these events possible.
Other than that, you are welcome to enjoy the company of key businesses, and network with the movers and shakers from in and around Southampton, meet old friends and make new ones, and sample the wonderful selection of tasty canapes that will be provided. Your Ticket also includes a couple of glasses of red or white wine, beer or sparkling elderflower.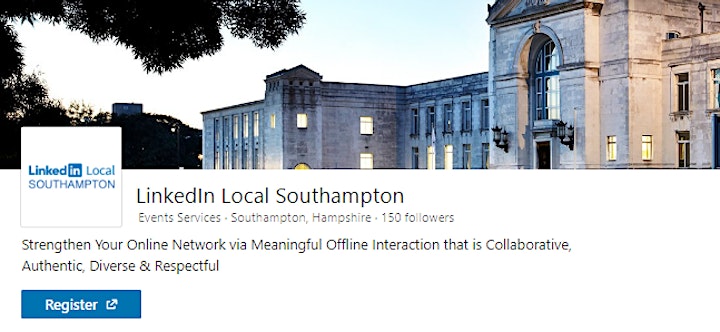 LinkedIn Local Southampton Company Page and Group:
If you're not already a Member, we invite you to Join "LinkedIn Local Southampton".
1. Follow us at: www.LinkedIn.com/company/LinkedInLocalSouthampton
OR
www.LinkedInLocalSouthampton.com
2. Then, Click 'Register' to Join the "LI Local Southampton" Group. There is No Cost to Join.
3. Please Share with Your Network
The LinkedIn Local Southampton Group was created so that people who attend LinkedIn Local Southampton events can continue their relationships with people they have met or start conversations with people that they didn't get to speak to at an event. Additionally, the Group can act as a springboard for suggestions and ideas for things that you'd like to see at future LinkedIn Local Southampton events.
Event Details are also available at: www.LinkedIn.com/events/LinkedInLocalSouthampton-April2020
We look forward to seeing you there..!!
Baz Croall - LinkedIn Local Host
Follow Baz Croall's Organiser Profile on EventBrite for Future Events
Disclaimer:
LinkedIn Local Groups and Events are not sponsored, endorsed, or operated by LinkedIn. They are, however, encouraged and supported by LinkedIn.
LinkedIn Local Events are Hosted by Local Individuals under Terms and Conditions provided by LinkedIn.
Terms and Conditions:
All tickets are sold on a first come first served basis.
Payment is required at time of booking your ticket(s) on EventBrite. Please Contact Baz Croall - Your Best if you need to make other arrangements for payment.
Cancellation of a booking 7 days or less prior to the event will need to be charged at 100%. Prior to 7 days can expect a refund, although the EventBrite Fee element within the cost cannot be refunded.
By confirming your booking, you are agreeing to the use of any photographs or video taken at the event for future publicity by 'Your Best' and 'LinkedIn Local Southampton'. If you do not wish to have your photograph taken please make this known to the Host.
By confirming your booking you accept these terms and conditions and are willing to comply with them.