Online workshop teaching the actions that generate consistent visibility, engagement and leads from your LinkedIn profile and company page.
About this event
As a business owner, entrepreneur or director your LinkedIn profile is the most powerful way of building your personal brand and growing your business.
When you meet new people as part of your business the first thing they are likely to do is to Google your name and LinkedIn is going to be the window into your reputation and capabilities.
Learn how to build an effective LinkedIn strategy that will increase the visibility, engagement and leads your business generates from the platform.
Learning Outcomes
You will learn how to:
➡️ Write a profile that attracts potential clients & builds your reputation
➡️ Build a targeted network of high-value connections
➡️ Post content that generates visibility, engagement & leads
➡️ Engage to build reputation & trust
➡️ Generate leads without alienating your audience
This workshop is free to attend and will be hosted via Zoom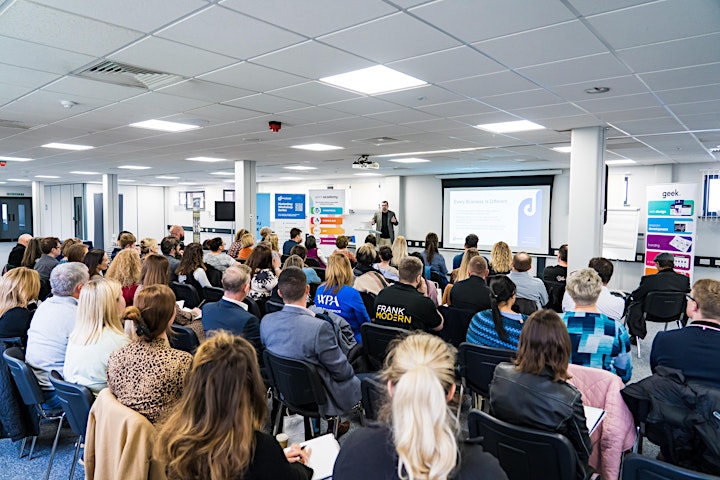 Workshop Speaker - Kristian Downer - Head of Training
Kristian has been delivering LinkedIn strategy, training and coaching sessions for over 5 years in person and via Zoom. Sharing his expertise via regular key notes and talks to local business leaders and fellow digital professionals on social media strategy.
As an established expert in his field, Kristian is not only an Enterprise Nation and Facebook Accredited Social Media Trainer but also a published author and former contributor to Metro Sports.
His experience, creativity and comprehensive knowledge of the digital marketing landscape has allowed him to grow and build his reputation as an authoritative figure and voice within the industry.
Host Company - DowSocial Marketing Training
DowSocial has nearly a decade of experience providing social media and marketing training to businesses across the globe from our offices in Peterborough, Cambridgeshire.
We work with businesses of all sizes from start-ups and solopreneurs to marketin g teams and CEOs of multi-national PLCs
We work directly with the largest social media organisations in the world, and we Enterprise Nation and Vodafone Connected advisers.
Having worked with hundreds of companies to help them reach new audiences, nurture new leads and grow their business through the use of social media and content, we have the knowledge that can help you grow your business.