A social OFF media event where we get together and get to know the people behind the profile. Great things happen at LinkedInLocal events.
About this event
#LinkedInLocal October is set to be a sold out fantastic event. We now have over 950 business followers and can only offer 100 tickets at the most. Come and join us at this social off media, not for profit event and meet the people behind the profiles. The theme for this event is 'Digital Marketing' with some great speakers and showcase companies. More below about TOM WRIGHT. We will also have a short talk from Daniel Scarborough about his business rewards app RIFU.
Everyone loves LinkedIn Local Bournemouth and Poole and this is set to be a superb event. Meeting people away from their business profiles and finding shared interests and arranging to meet up after the event. We offer you some food and drinks and we have had fantastic collaborative groups forming previously. Sponsorship for drinks and basic foods will be provided by BizSpace and we would like to thank Gordon Staines, Manager at BizSpace for that generosity. There will be a cafe available for additional purchases too.
Previously we have had a walking group, marketing group and talk of a cycling group. Of course you are welcome whatever your interests are and we have had some incredible business collaborations happened from these events.
We will have name badges and literature for you to take away thanks to Steve Groom at Vissensa too.
Photos and video will be taken by Wayne Ferguson and Massage and Reflexology will be provided by Kalmology.
If you are interested in sponsoring future events or have an event space to offer, please let Beverley know and she will keep your details safe for the next event.
So what will be happening throughout the evening.
Welcome drinks followed by open discussion, meeting existing and new contacts in an informal networking area. There will be tables available if you wish to sit and talk and also some small meeting rooms should you wish to have a private conversation.
We have two spaces left for showcase companies, so please let me know if you would like to take part (at 10/6/2021)
NEXT: We will then take a more structured approach for about 30 minutes and have a fantastic and knowledgeable award winning speaker for you.
Tom Wright is a data-driven advertising expert. For over 10 years, Tom has run award winning campaigns for the likes of Amazon, Pizza Express, Greenpeace and other household brands with his work recognised by E Consultancy as their Rising Star in 2013 and the Biddable Media Awards in 2018 as their Trading Desk of the Year. By partnering with the latest advertising and AI technologies, Tom now provides advertisers a single point of access to connect with their audiences across the Open Web, spanning millions of publishers and apps with display, video and audio ads across all connected devices worldwide.
https://www.biddablemediaconsultancy.co.uk/ Tom sent the following words for you:
'The Digital advertising landscape is the most accessible, measurable and efficient form of marketing used by start ups through to multi national corporations. However, its rapid evolution combined with the complexities of AI and privacy evolution leaves even the most seasoned marketers scratching their heads as to how it all fits together. In my keynote, I'll be talking about how the digital 'connected' landscape looks today, where it's headed, and how the service level that exists between the ad technology and advertisers and their customers is critical in extracting the most out of digital advertising budgets.'
COME AND GET INVOLVED WITH THIS INCREDIBLE #LinkedInlocal concept, just 4 years old and is now in 650 towns and cities worldwide in over 90 countries.
More Here: https://linkednlocal.com/
Read the Manifesto
Here is the page on LinkedIn for you to follow and have a look at previous events.
https://www.linkedin.com/company/linkedinlocal-bournemouth-and-poole/?viewAsMember=true
We look forward to seeing you and getting to know you offline.
Our charity for the event is MYTIME young carers.
Best wishes,
Beverley Poole (Host)
Matthew Thomas and Matthew Smith (Co-hosts)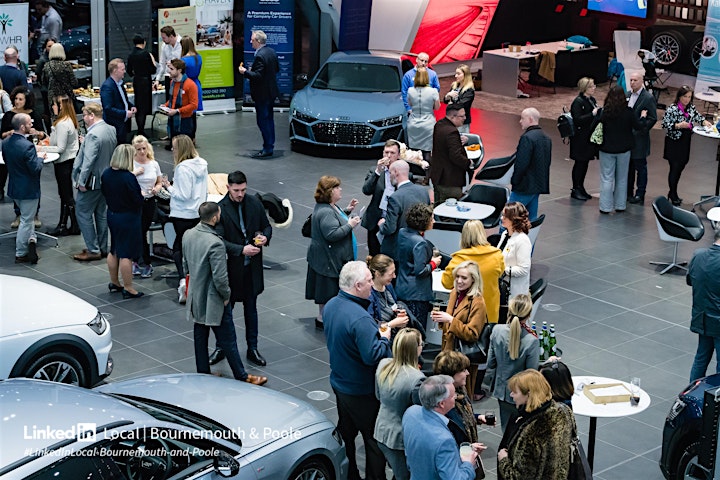 Organiser of #LinkedInLocal Bournemouth and Poole - We're back!