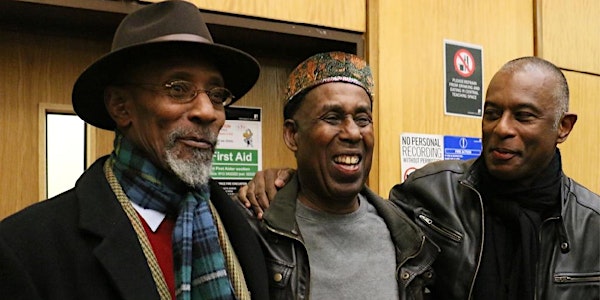 Linton Kwesi Johnson: in conversation and reading for David Oluwale.
Event Information
Location
West Indian Community Centre
10 Laycock Place
Leeds
LS7 3AJ
United Kingdom
Refund policy
Refunds up to 7 days before event
Description
The internationally famous poet and activist Linton Kwesi Johnson (above, left) will be in conversation with Dr Emily Zobel Marshall, and he will read his poetry, including those he wrote in the 1970s referencing David Oluwale. Linton was one of the first British artists to create work that reflected on the killing of David Oluwale, in two memorable poems: Night of the Head (1975), Time Come (1979). Time Come appeared on his Forces of Victory album and can be heard here https://www.youtube.com/watch?v=chIHgTqX3Dk, with the Dennis Bovell band. Linton was an active member of the London Black Panthers and then the Race Today Collective. His poetry often responds to black people's experience worldwide, offering a fierce critique of oppression by race, class or gender. He has 18 albums to his credit. He is only the second living poet to have a volume in the Penguin Modern Classics series. More on LKJ here https://en.wikipedia.org/wiki/Linton_Kwesi_Johnson#Awards_and_honours

Linton will be in conversation with Dr Emily Zobel Marshall, of Leeds Beckett University's School of Cultural Studies and Humanities, where she teaches Linton's poems on the BA English Literature course. More on Emily here https://www.leedsbeckett.ac.uk/staff/dr-emily-zobel-marshall/
Please book your ticket now. This is a paid event, but there will be 50 "pay as you feel" tickets on the door.
Photo: L-R: Linton Kwesi Johnson, Arthur France MBE (member of the original RememberOluwale committee) and Caryl Phillips (Patron of RememberOluwale), at the Oluwale Now! event at Leeds University organised by Prof Andrew Warnes, 26.2.19. © Max Farrar.
Date and time
Location
West Indian Community Centre
10 Laycock Place
Leeds
LS7 3AJ
United Kingdom
Refund policy
Refunds up to 7 days before event