Location
St Luke's Chapel
Radcliffe Observatory Quarter
Woodstock road
Oxford
OX2 6GG
United Kingdom
Lisa Appignanesi talks to Hermione Lee about her life-writing, prolific body of work, and major contributions to the literary world.
About this event
Please note that this event will take place at St Luke's Chapel, not the Leonard Wolfson Auditorium as previously advertised.
Lisa Appignanesi is a writer, novelist, a Vice President of the Royal Society of Literature, and one of the most influential figures on the British cultural scene. She was former chair of the Royal Society of Literature and the Freud Museum, president of English PEN and deputy director of the London-based Institute of Contemporary Arts for 10 years. She chaired the 2017 Booker International Prize won by Olga Tokarczuk.
She has written 11 novels, including The Memory Man (2005) and Paris Requiem (2014). Her non-fiction includes Freud's Women (with John Forrester, new ed. 2005), Simone de Beauvoir (2005), Losing the Dead (2013), Mad, Bad and Sad: A History of Women and the Mind Doctors from 1800 (2008), All About Love: Anatomy of an Unruly Emotion (2011), Trials of Passion (2014) and most recently Everyday Madness: On Grief, Anger, Loss and Love (2018). As a cultural commentator, she has edited many volumes, written for The Guardian and The New York Review of Books, amongst others, and broadcasts frequently for BBC radio.
Professor Dame Hermione Lee is a biographer and Emeritus Professor of English Literature in the English Faculty at Oxford University.
This event will take place in St Luke's Chapel (more information). OCLW strongly advises that attendees wear face coverings while indoors and use and LFT prior to the event.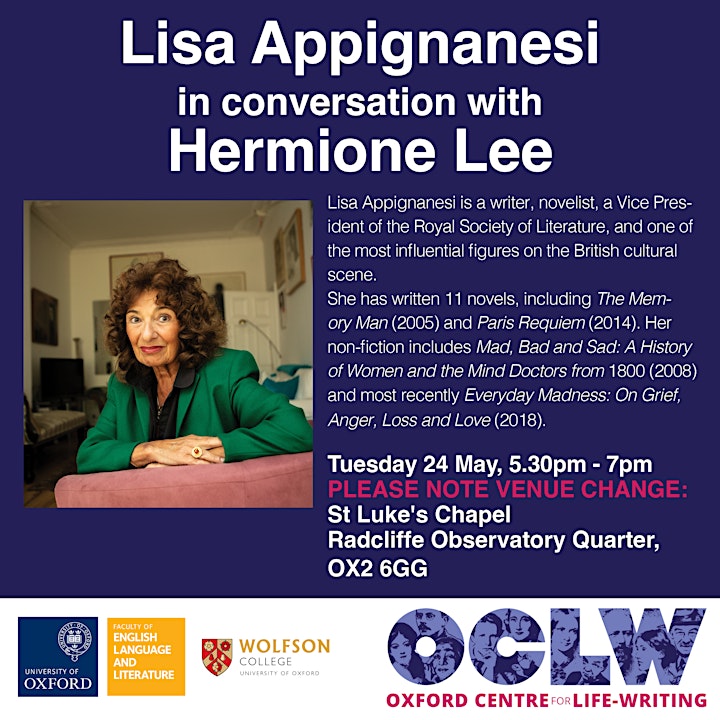 About OCLW: The Oxford Centre for Life-Writing (OCLW) is a leading centre for the study of biography, diaries, memoir, and life-writing in all its forms. We are attached to the Faculty of English and based at Wolfson College, Oxford University.
Become involved or support us: