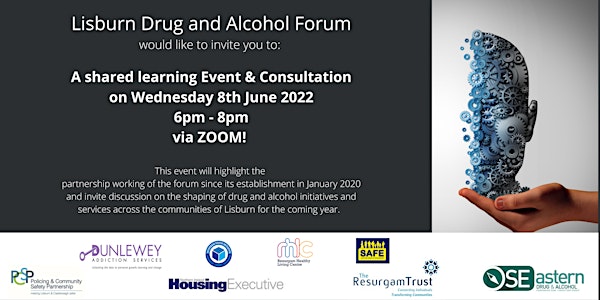 Lisburn Drug and Alcohol Forum - A Shared Learning and Consultation Event
The Lisburn Drug and Alcohol Forum would like to invite you to a shared learning and consultation event on the 8th June 2022 @6-8pm.
About this event
The Lisburn Drug and Alcohol Forum was established January 2020 to support the co-ordination and communication of drug and alcohol issues and services across the Lisburn area.
The forums membership consists of various organisations who are committed to addressing drug and alcohol issues as a partnership approach.
This event will give an overview of the forums membership, and highlight an example of the partnership work that has been carried out since their formation.
The event will also invite members of the Lisburn community to offer feedback on the drug and alcohol issues they feel the forum should focus on within their new two year action plan 2022 - 2024.